Blog
article
Fast Company Award: Rob LoCascio on leading the "#1 Most Innovative AI Company in the World"
Q&A with LivePerson CEO and Founder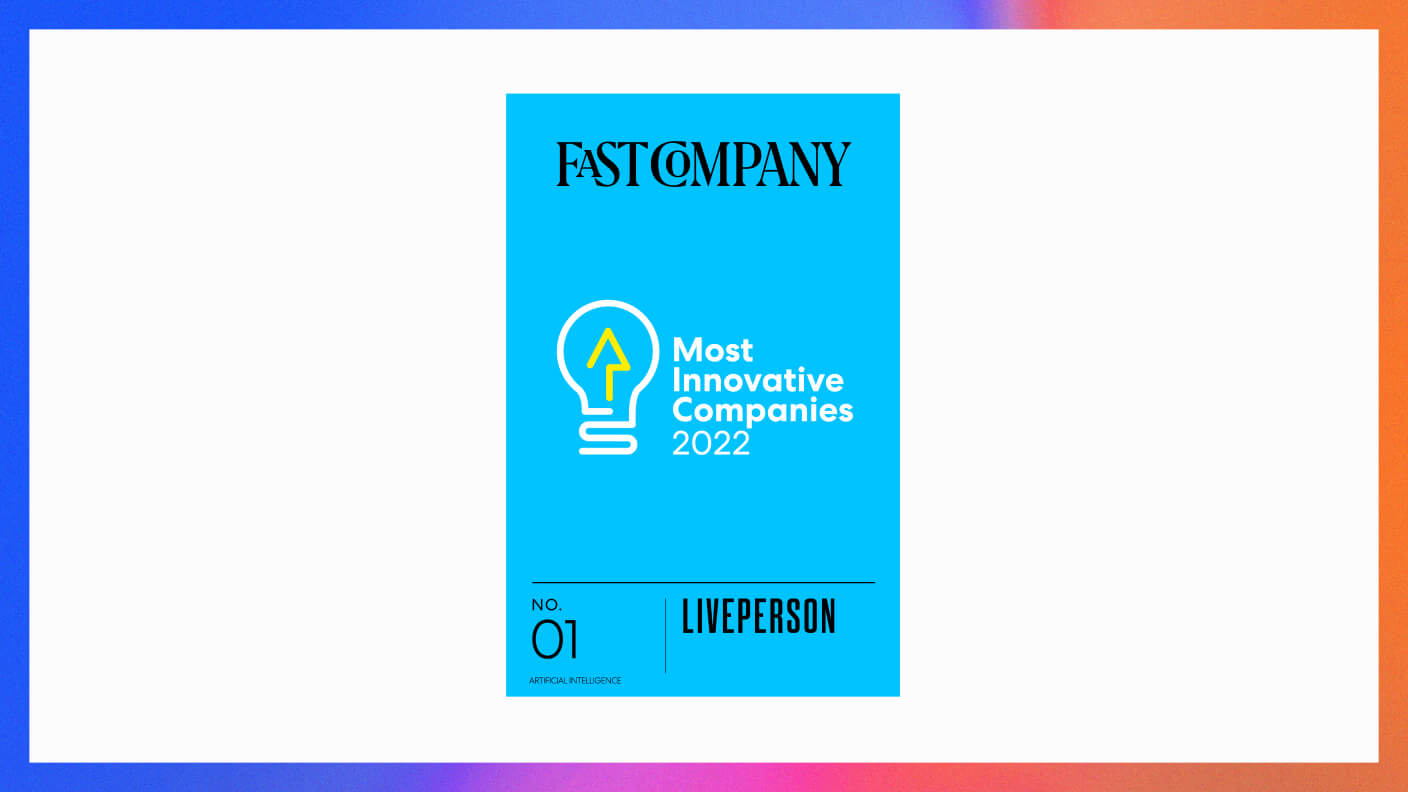 ---
The LivePerson editorial team sat down with the company CEO and Founder to get his take on earning the top honor in the AI category in this year's prestigious "World's Most Innovative Companies" awards from Fast Company, the standard-setting publication on innovation in technology, business, and design. Keep reading for insights into what makes our AI #1.
---
LivePerson: First off, let's take a look at the rankings! What do you think led to our top placement at #1 this year?
Fast Company listed LivePerson at #1 on its World's Most Innovative Companies in Artificial Intelligence list, as well as #21 on its overall World's Most Innovative Companies list. These achievements recognize the company's world-class AI solutions for customer care and commerce across industries including retail, healthcare, financial services, travel and hospitality, and more. 
Rob LoCascio: I want to call out that this award is a recognition of the tremendous teamwork everyone at LivePerson has contributed to, from our incredible data scientists and engineers behind our AI technologies to our marketing and sales teams who see to it that our products and services get the light of day they deserve. All of us here at LivePerson play an important role in leading our advancements toward more industry recognition like this. I'm proud of us, to say the least. Together, we've been working toward the same shared goal — to deliver Curiously Human™ digital experiences to customers at every touchpoint they encounter with a brand. It's those immediate and personalized experiences that customers want today, and we'll continue to build upon them.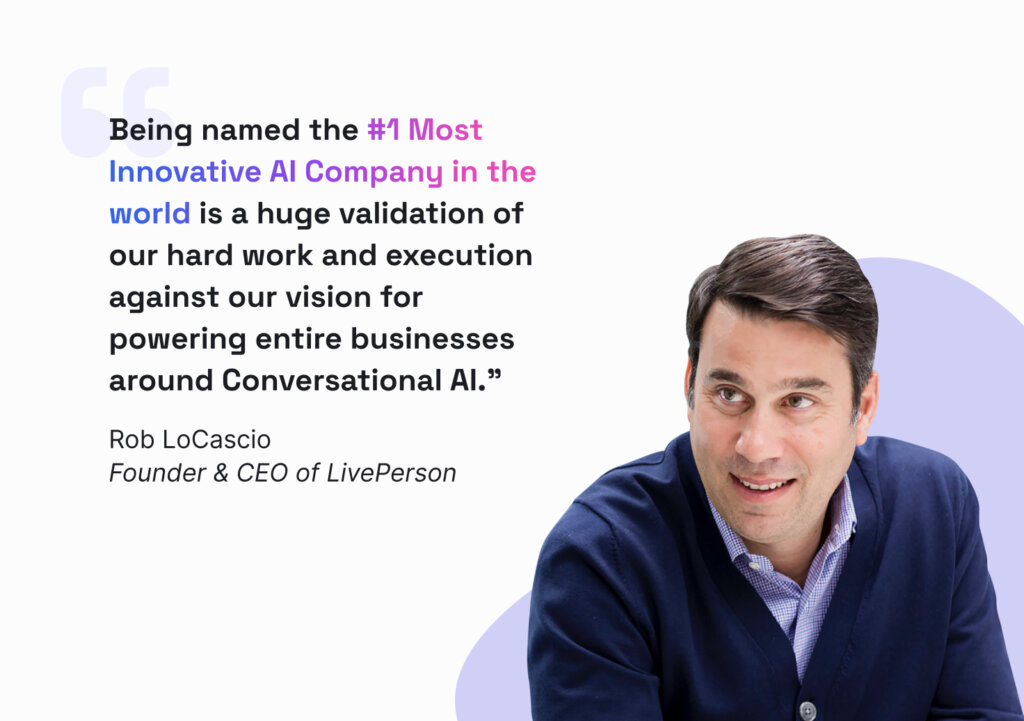 ---
LP: Can you share more insight into those accomplishments we've made that granted us the #1 spot in AI innovation for 2022?
RC: LivePerson has a 25-year history of continually innovating. That entrepreneurial spirit is part of our DNA. One of the big drivers we've seen over the past couple of years was making Conversational AI an essential part of our sales and marketing experiences:
We put the "commerce" in Conversational Commerce and brought it to new heights.
We also made Conversational AI for customer care more powerful than ever, with new AI tools and solutions that offer greater customer support.
We've also steadily empowered brands across industries to better deal with the impacts of the pandemic, including unpredictable volume surges, through AI-powered customer care.
Last but not least, we've designed Conversational AI to be smarter, more empathetic and "human," while also giving non-technical workforces the tools to participate in the creation of AI platforms and experiences to prepare them for the AI-led economy — just to name a few.
---
LP: Thanks for sharing all of that, Rob. What more would you share with our community about what makes LivePerson a leader in Conversational AI, enough to stand out to the Fast Company judges?
RC: Our Conversational AI platform is powered by over 20 years of conversational data accumulated from helping thousands of clients, including the world's largest brands, message with consumers at scale, without losing that personalized interaction that consumers truly want. We also hire and develop the world's top Conversational AI talent. Our unique data set, talent, intellectual property, and execution against our vision all drive the company ahead of competitors in the contact center space, competing with the biggest names in tech when it comes to quality Conversational AI.
---
LP: For a business to be successful today, it needs to not only offer super competitive products or services, but also develop and live out its values to make sure those products and services do good in the world. What is LivePerson doing in this area?
RC: As AI implementation accelerates across all kinds of organizations, concerns about biased AI do as well. We are committed to reducing unconscious bias in the development and use of artificial intelligence. In fact, LivePerson is a proud founding member of EqualAI, a nonprofit organization and movement whose goal is to do just that. 
I encourage every company to take the EqualAI Pledge for innovative, responsible, and inclusive artificial intelligence. The Pledge is a public commitment to use AI as a tool to reduce harmful bias, not replicate and spread it. You can commit to supporting AI that is designed to serve and protect a broader cross-section of our population.
---
LP: Finally, Rob, what's the next ideal recognition you'd like to see for LivePerson, now that we've won the #1 spot on Fast Company's World's Most Innovative AI Companies?
RC: Let's keep going! As rewarding as it feels to win awards from top publications like Fast Company, what's most important to me is recognizing the strides we're making for our customers and their consumers through our Conversational AI technology.
I love hearing directly from our customers about how their online sales conversions have increased 10x versus traditional websites, as well as how they're seeing 50% lower labor costs and agent attrition.
Customer service, sales, and marketing professionals across retail, financial services, and travel — just to name a few — are reaping the benefits that Conversational AI brings to their roles, from automating aspects of customer service and the sales process to upleveling the careers of their agents. And the companies benefit from increased customer loyalty, improved efficiency, and an upskilled workforce, all of which drive revenue acceleration.
So, awards are amazing and rewarding, and we'll never stop getting excited about winning them. But what makes me most proud is the feeling we as a company get from seeing the success of those we help through our award-winning Conversational AI. That's what we're here to do.
---
Explore more ways this Conversational AI company stands out
---