Conversational AI in telecom & cable
Turn troubleshooting into trust building
Supercharge your telecom company with conversational AI. Reduce resolution times, improve customer satisfaction, and unlock new revenue streams — in the channels your customers prefer.
Get a demo
Trusted by thousands of telecommunications industry leaders
Conversations that drive results
Telecom companies using conversational AI solutions have seen:
50%+
decrease in cost of care
4x
increase in converted sales
20%+
increase in customer satisfaction
70%+
telecom chatbot containment
Use cases for conversational AI in telecom & Cable
It's not about the AI, it's about
keeping customers connected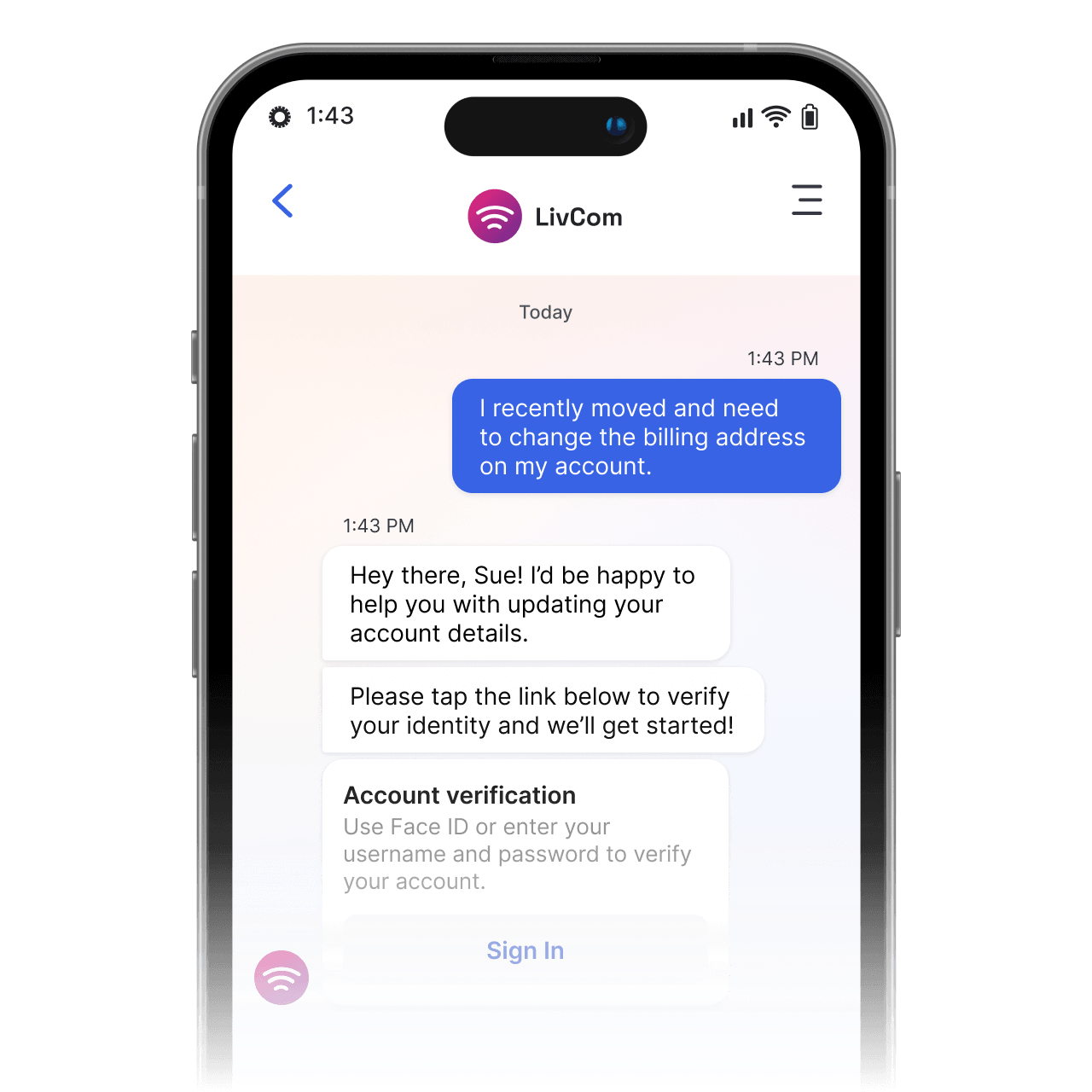 Account management
Simplify account changes, billing inquiries, and other routine tasks with intelligent telecom chatbots across digital channels, freeing up your agents for more complex issues.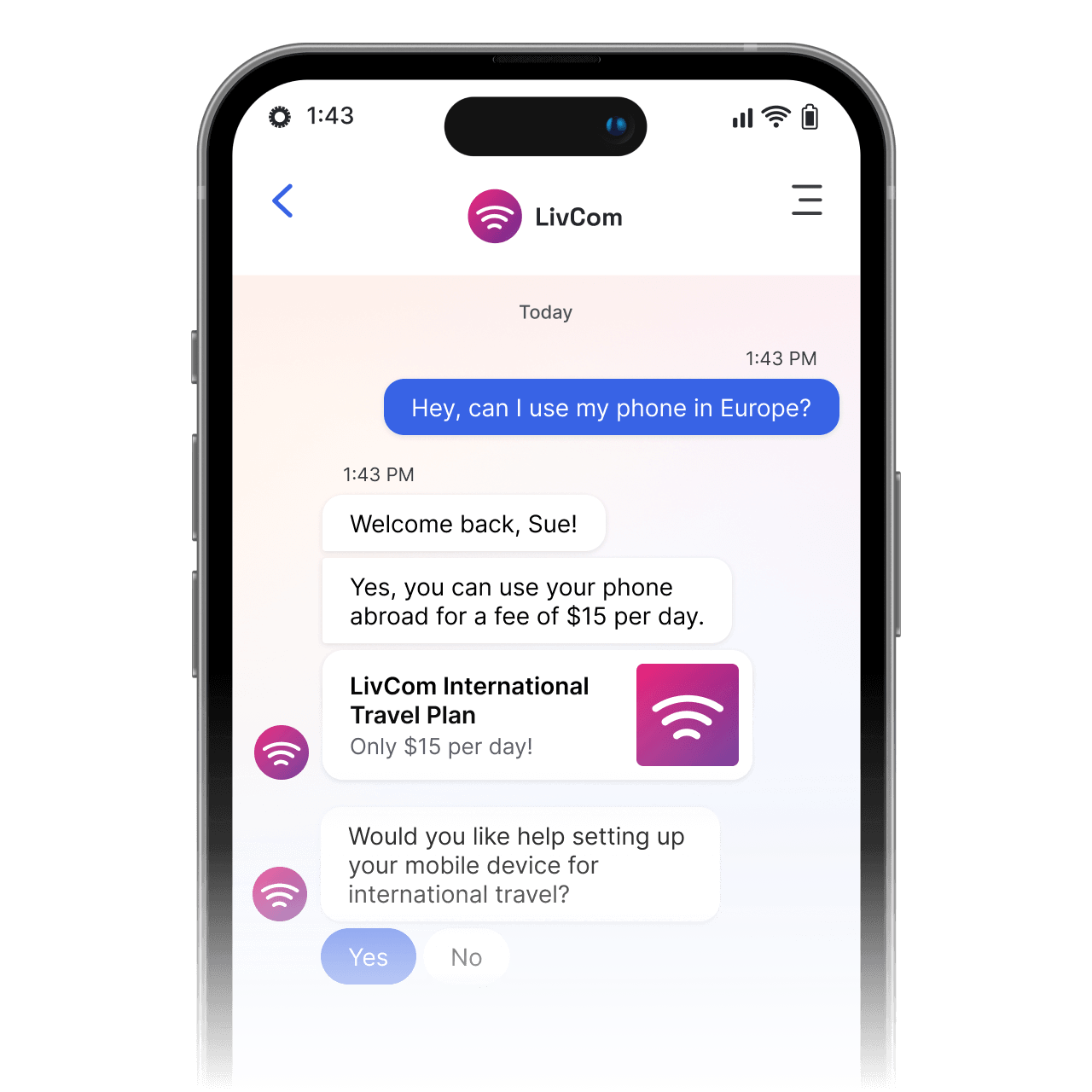 Troubleshooting + support
Don't let connectivity issues cause disruptions. Offer real-time solutions for network glitches and coverage gaps without overwhelming your human agents.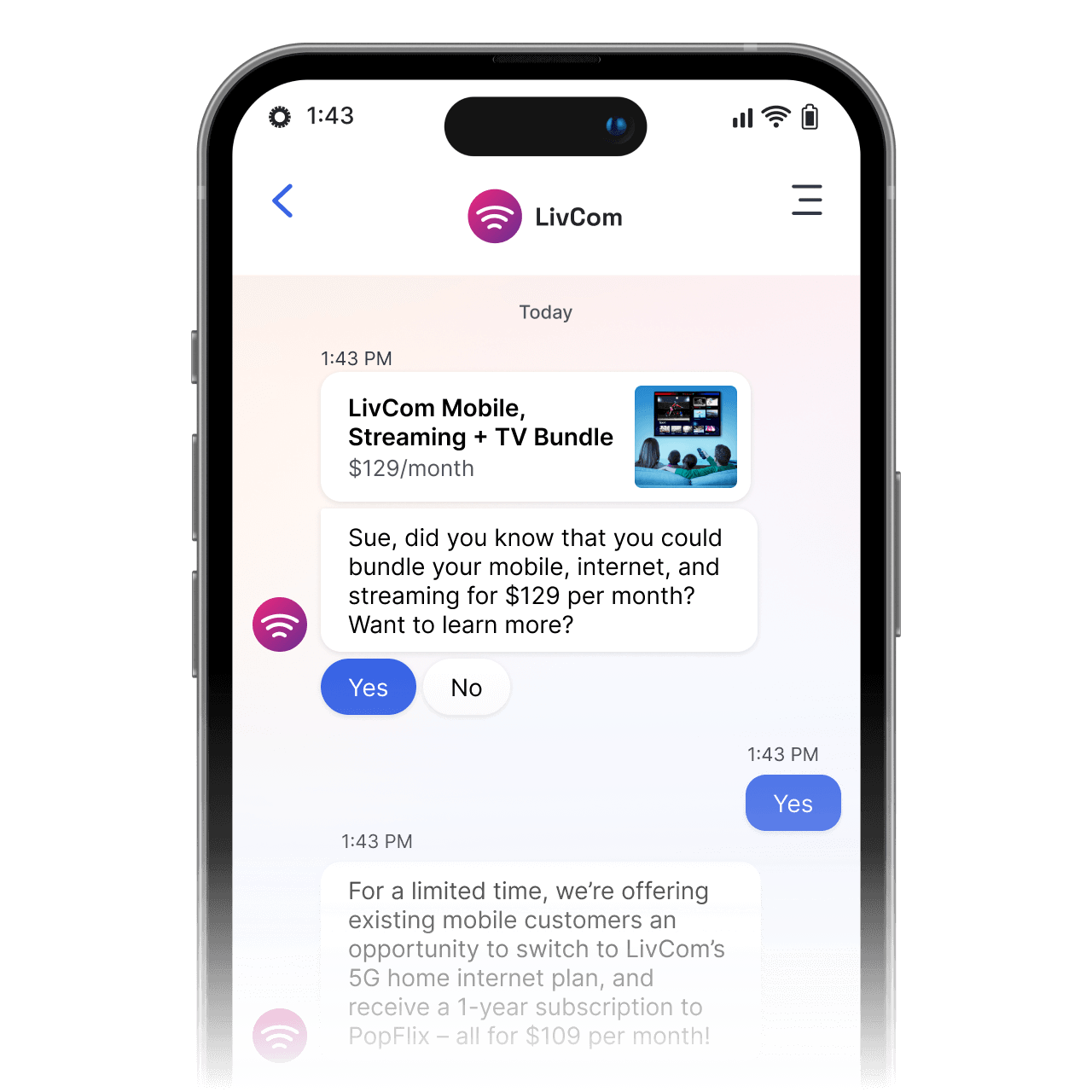 Services + promos
Stay connected and automate the delivery of upgrade options and special offers with conversational engagements, making it effortless for customers to seize opportunities.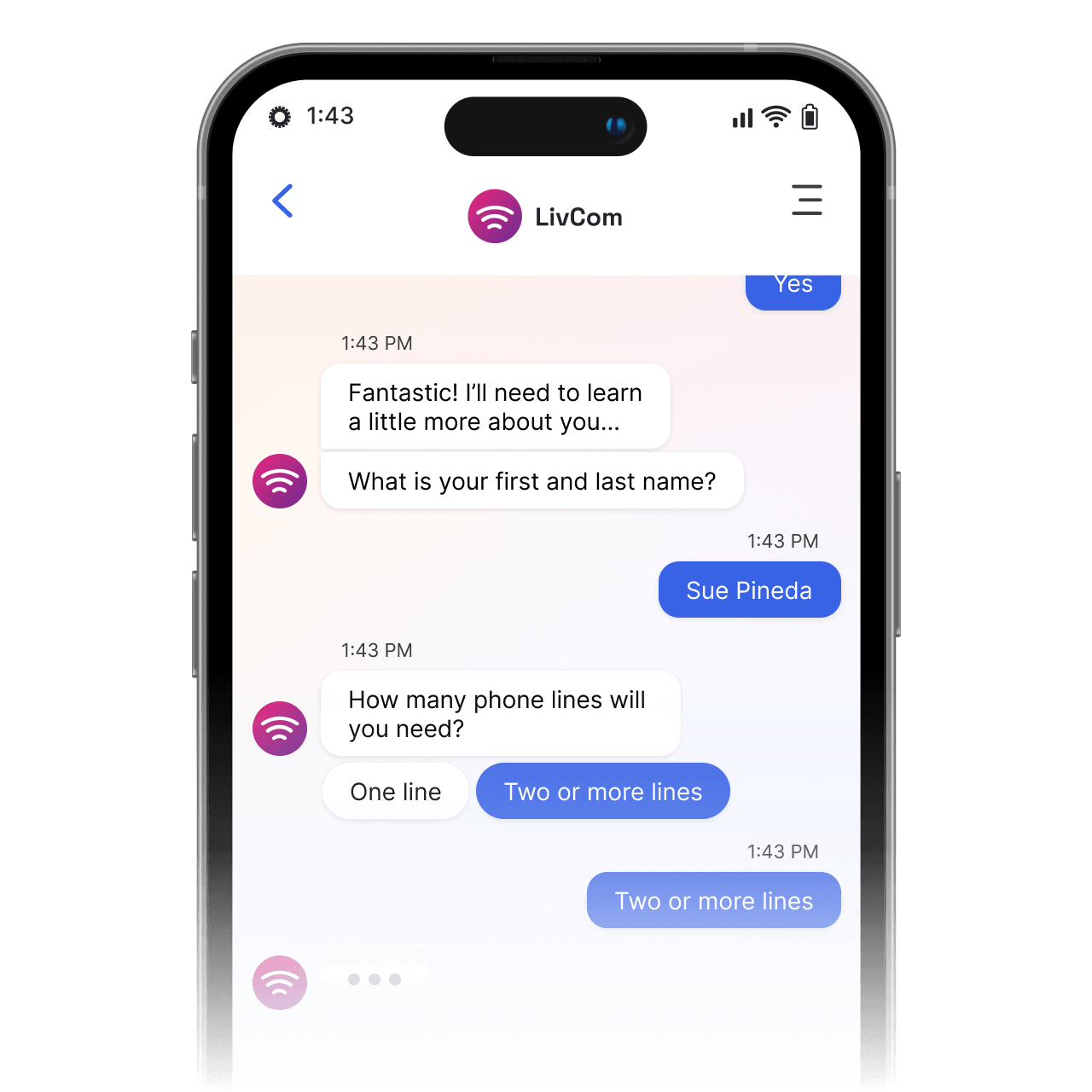 Customer onboarding
Streamline a new, more positive customer experience from activation to service selection, all through automated conversations with a telecom chatbot.
More use cases for conversational ai in Telecom & Cable
The conversation is just the beginning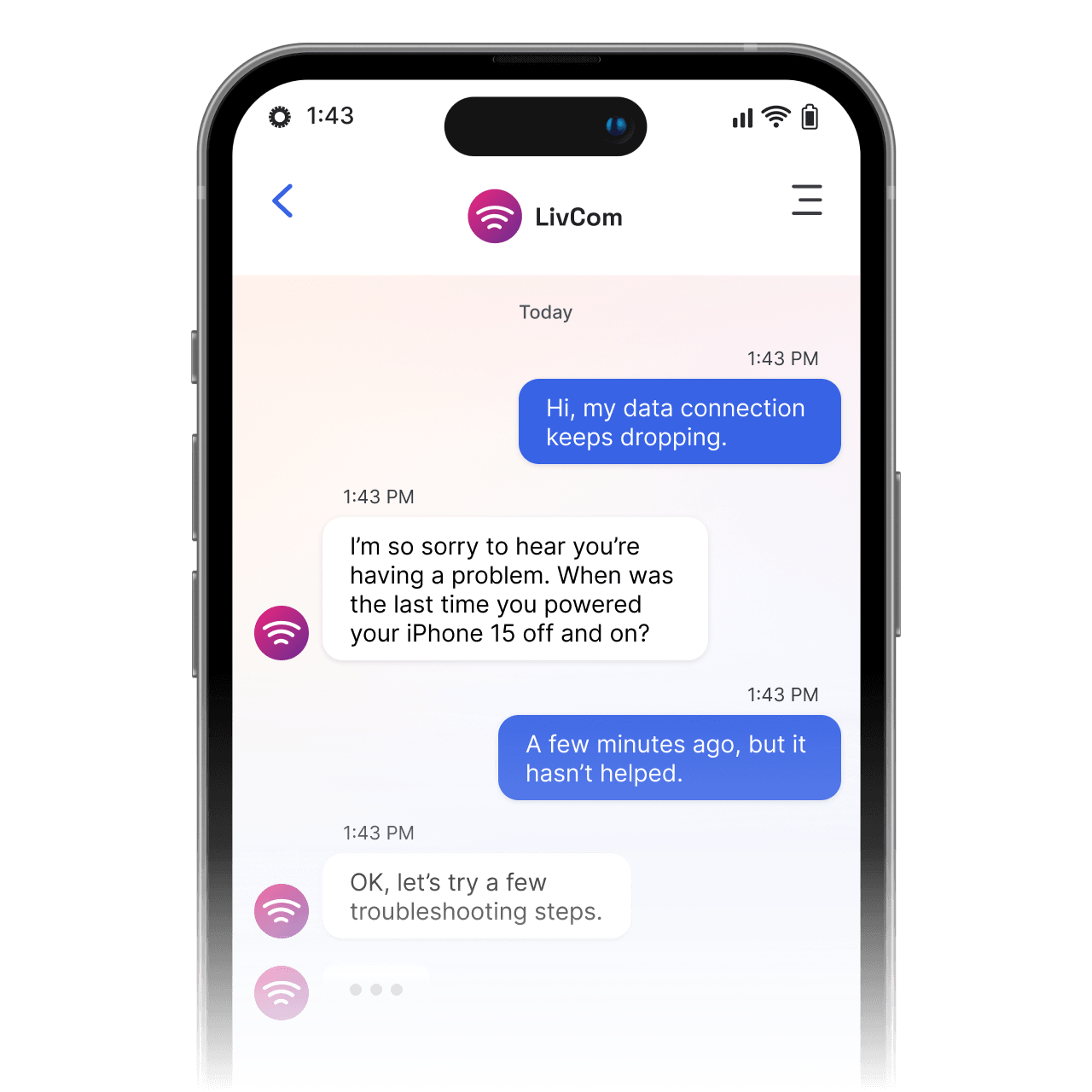 Device support
Be there for customers around the clock, assisting with device setups, troubleshooting, and software updates with efficient automation.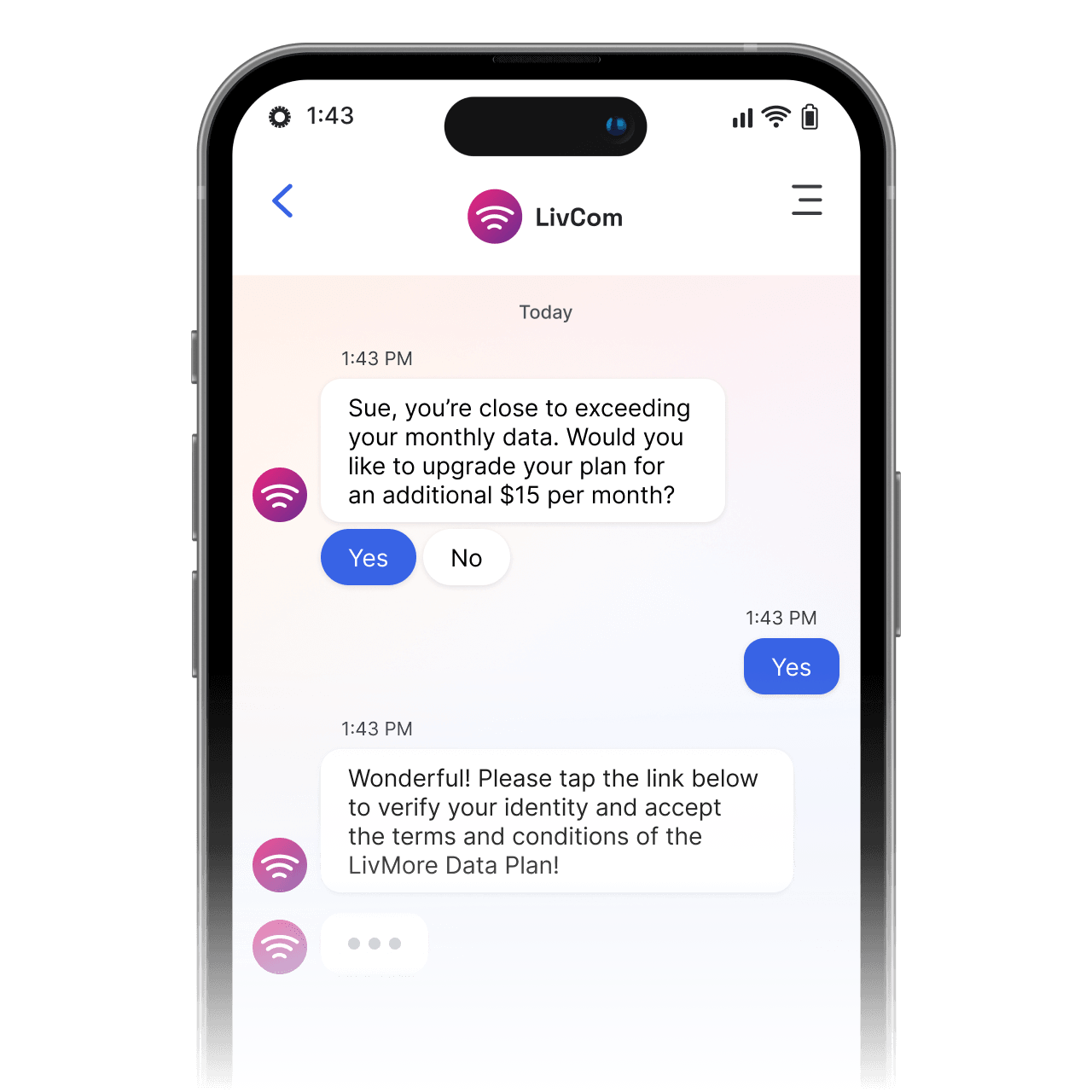 Data plans
Automate the process of selecting and changing data plans, making it a breeze for customers to manage their usage.
Billing + payments
Add ease to the payment process with automated billing reminders and quick payment information and options.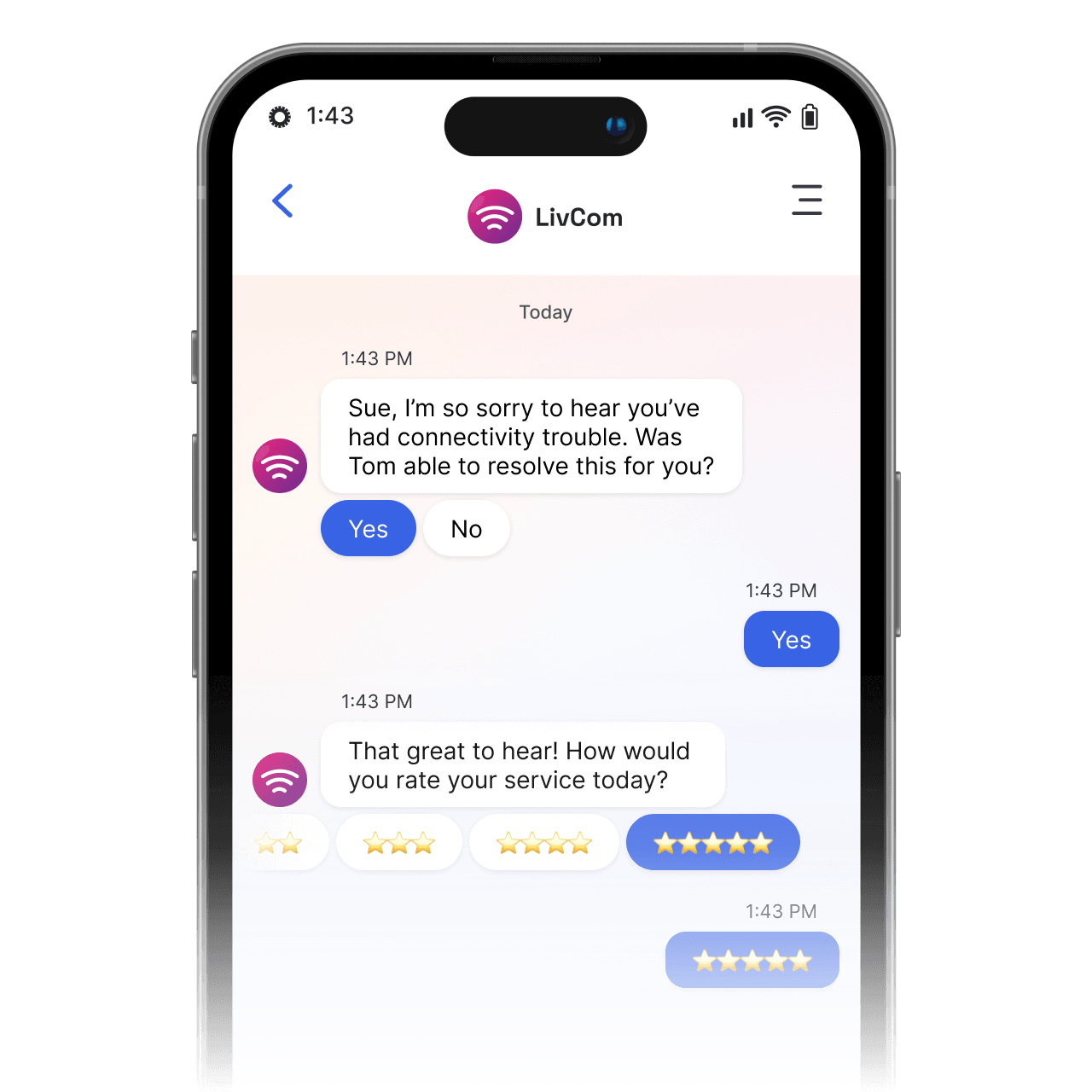 Customer retention
Automatically send personalized offers, account benefits, and surveys to keep customers engaged and loyal.
Success stories from telecom industry leaders like you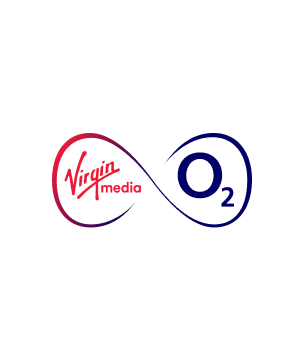 "With LivePerson, we maintain consistency in our customer engagement model, regardless of the channel that the customer enters in and with zero deterioration across those platforms because, ultimately, the whole idea is to meet customers where they are, not where we want them to be."
Read their story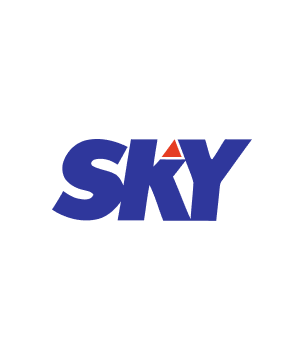 "When you are messaging Kyla, it's like you are talking to a live agent. It's very conversational. I'm receiving lots of positive feedback from the customer. The great thing is [customers] can send messages to our customer service and receive immediate action."
Read their story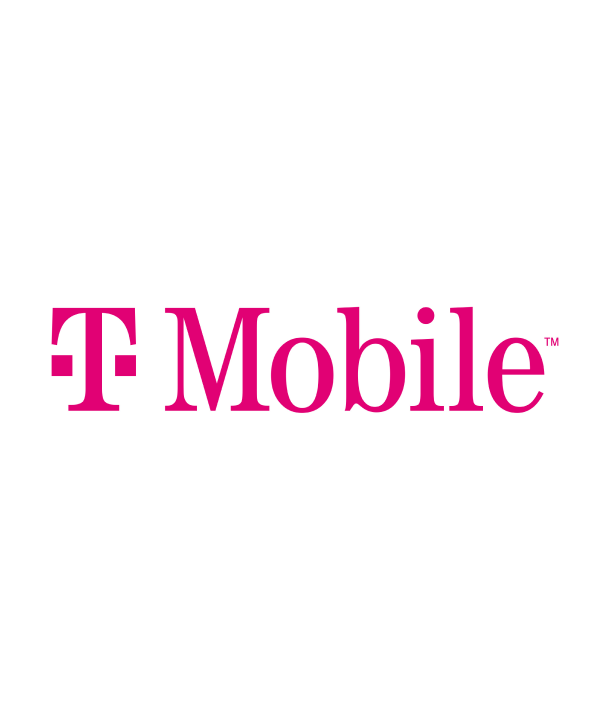 "We were one of the first companies to launch asynchronous messaging in 2016, and we've continued to build out this capability across a variety of digital channels. Our customers love the convenience of messaging us like they do with their friends – it's the primary way most of us communicate every single day."
Read the press release
Telecom solutions that put customers first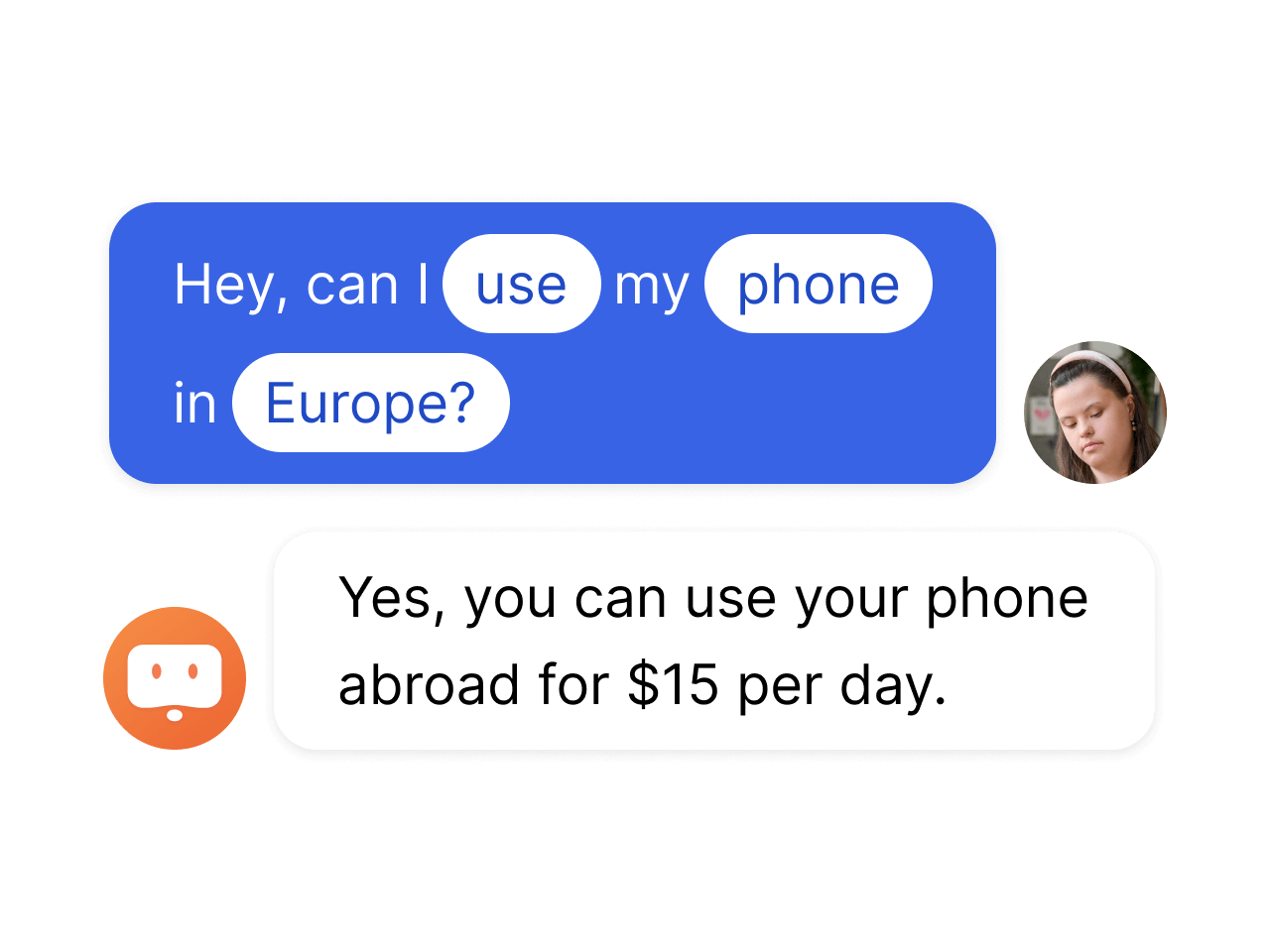 Conversational intelligence + Agent tools
Empower your team
Equip your agents with the conversational intelligence tools and actionable insights they need to offer personalized solutions, resolve issues faster, and create happier customers.
Check it out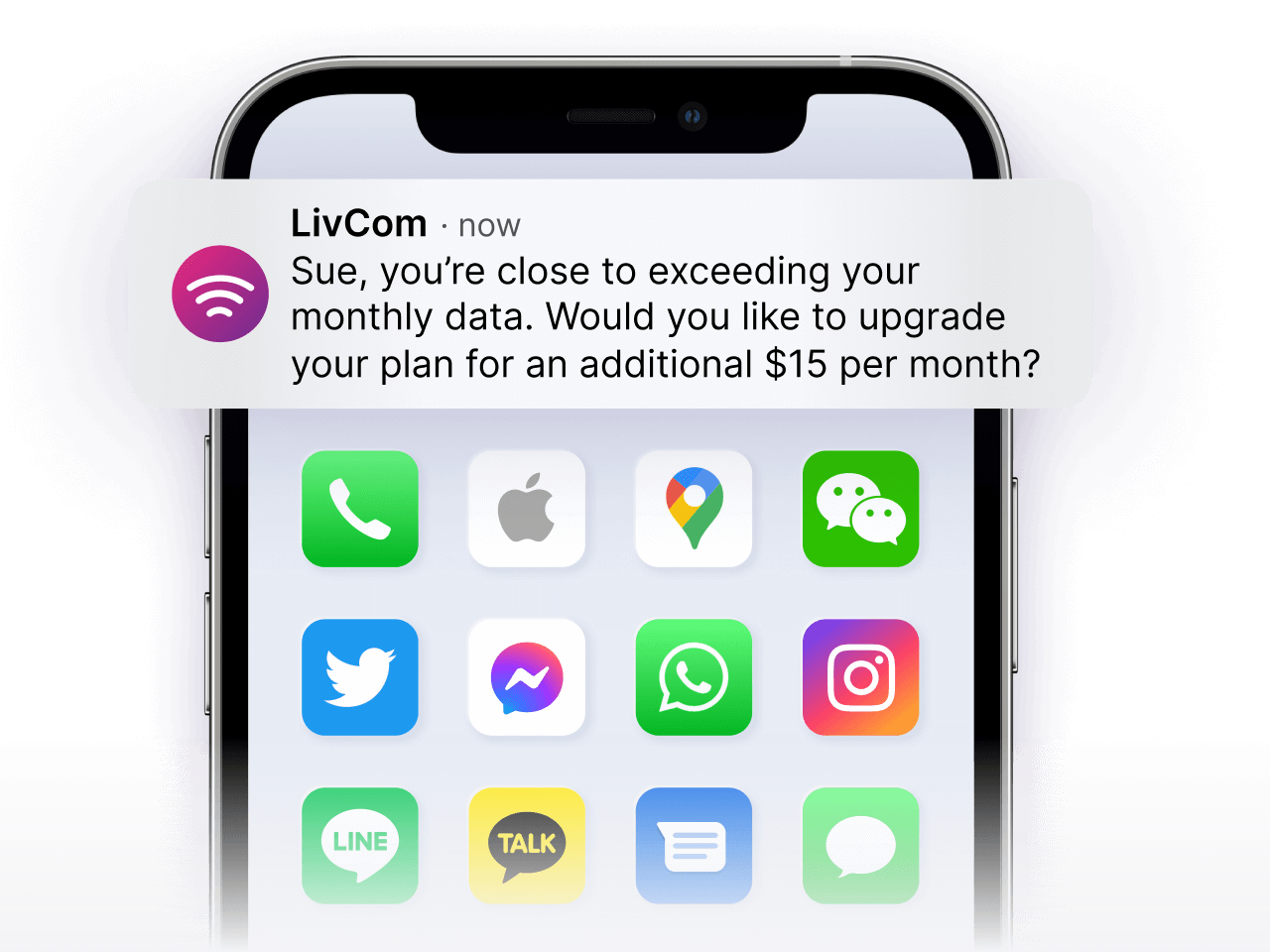 All the channels
Shift to digital
Redirect customer conversations to the messaging apps they already use in their daily lives. Discover untapped revenue streams by meeting customers where they are.
See the channels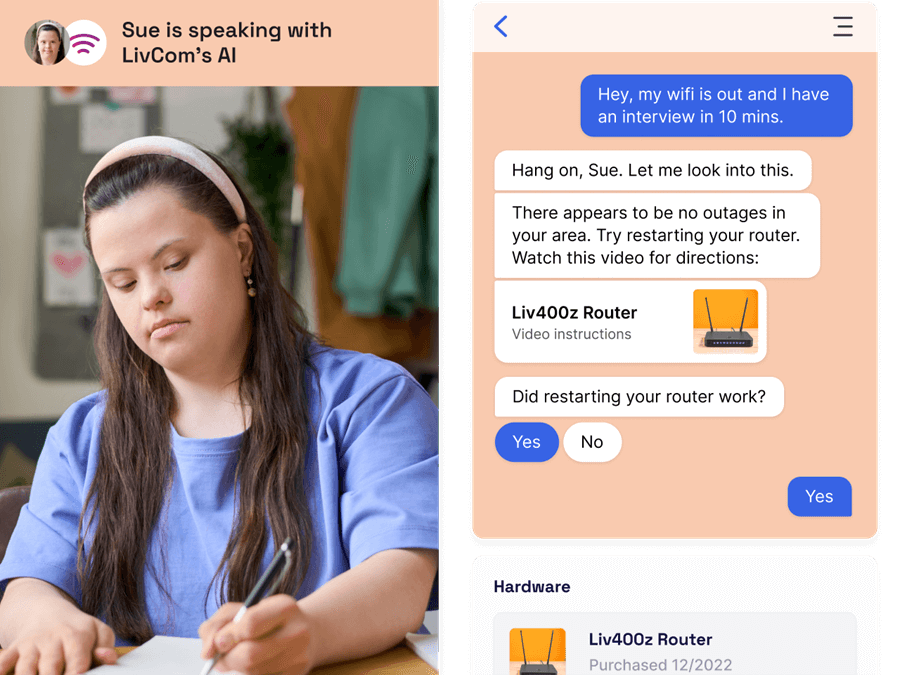 platform + integrations
Embrace automation
Use AI chatbots and AI-powered tools to automate frequent telecom interactions like account inquiries, data usage checks, and troubleshooting steps.
Learn more about AI
Explore integrations
Get started with this guide
Stop putting positive customer experience on hold
There's a better way to handle customer inquiries. Learn how to save time and money with these 7 call reduction strategies.