Blog
article
Creating a positive customer experience with AI during an uncertain economy
While reactions to an uncertain economic climate might be to cut spending on the customer experience, investing in the right Conversational AI tools can actually increase bottom lines, as noted in Forrester's Total Economic Impact report of LivePerson Conversational Cloud®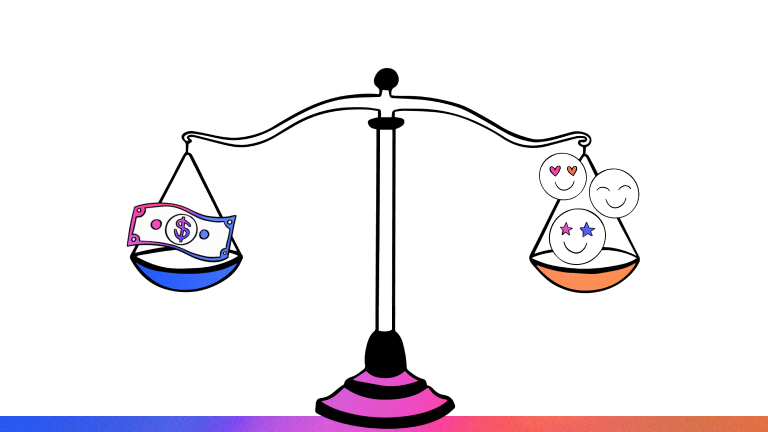 ---
When it comes to customer experience, brands have a dream scenario: increase customer satisfaction without increasing costs.
It's something of a dream because it seems like an impossibility — unless you have the right tools in place. Brands that do are racing past their competitors, because they know something others don't. That an AI-powered customer experience strategy can make it happen.
---
How the right AI can improve customer interactions for all
Achieving that dream scenario across the entire customer experience is even more critical during an economic downturn as brands look to keep customers happy and engaged, while also looking to trim short- and long-term costs wherever possible. Brands that have turned to LivePerson for their automation needs have seen an ROI of 191% and a net present value — benefits minus actual costs — of nearly $22 million over a three-year period, according to a recent Total Economic Impact (TEI) report of LivePerson Conversational Cloud® published by Forrester. 
"Messaging is so much less expensive than phones. When I go on chat, I can do twice what I am doing on phones, and with SMS, I can do five times what I'm doing on phones," a director of product management for the contact center experience team at a retail organization stated in the TEI report. "With these numbers, you must start asking yourself, 'Why am I not taking more advantage of that [LivePerson] opportunity?'"
---
Investing in creating a positive customer experience
That was part of a recent webinar discussion, too — how Conversational AI-powered customer experience solutions can act as protection during economic uncertainty for businesses. Those solutions can (surprise!) increase customer satisfaction while reducing overall costs. 
Participants in the webinar with Forrester and Verizon Business, hosted by LivePerson, wondered how the immediate impulse during economic uncertainty is typically to cut spending, often at the expense of a positive experience. But if the last recession taught us anything — when brands that invested in service for the entire customer journey increased their bottom lines — it's that positive customer experience always wins, economic downturn or not.
That investment has benefits beyond cost savings, according to customer feedback in the Total Economic Impact report. Those benefits include improved agent experiences, in part because of reduced turnover and more career development opportunities; better overall customer experiences, evidenced by higher Net Promoter Scores and average lifetime value; and protecting brand reputation by shortening response times and reducing the risk of scammer attacks.
"We've been able to give a set of messaging agents a career path that's out of contact center into this exciting world of AI and bots by helping to develop chatbots on the LivePerson low-code platform," a global head of conversational banking said in the report. "This diverges from the classic headline of, 'AI is going to take your job' — it's giving people a career opportunity to work in AI. It's a good success story for us."
---
Discover more ways to increase customer loyalty with exceptional service powered by AI
---