Blog
INFOGRAPHIC
Benefits of Conversational AI: Forrester Total Economic Impact (TEI)
Learn what Forrester's recent report uncovered about LivePerson's Conversational AI platform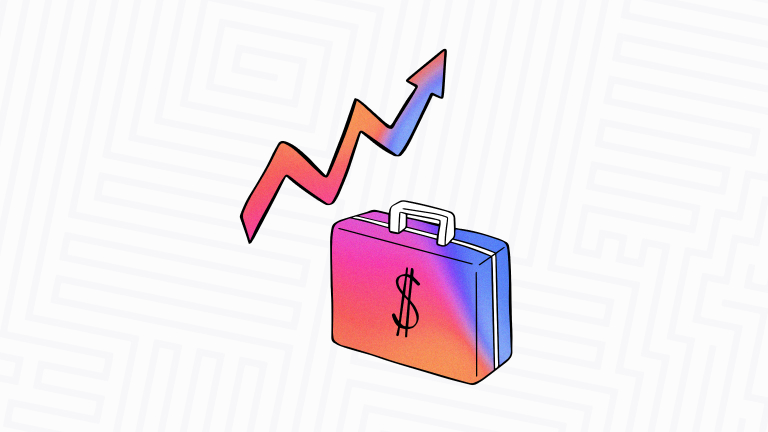 ---
In today's ever-changing landscape, businesses need a customer engagement strategy that leverages conversational artificial intelligence (Conversational AI) to deliver effective, measurable results at scale without breaking the bank. According to a Forrester Research report, LivePerson's Conversational AI platform offers a wide range of benefits, from an improved customer experience and empowered agents, to cost-effective automation and enhanced brand protection.
After all, just think of what your business could do with an extra $20 million…
In Forrester's Total Economic Impact report, they found that brands who automate with LivePerson experience a net present value (NPV) of almost $22 million over three years.
But that's just the beginning.
Click to dig into more benefits of Conversational AI in the following infographic or continue reading below: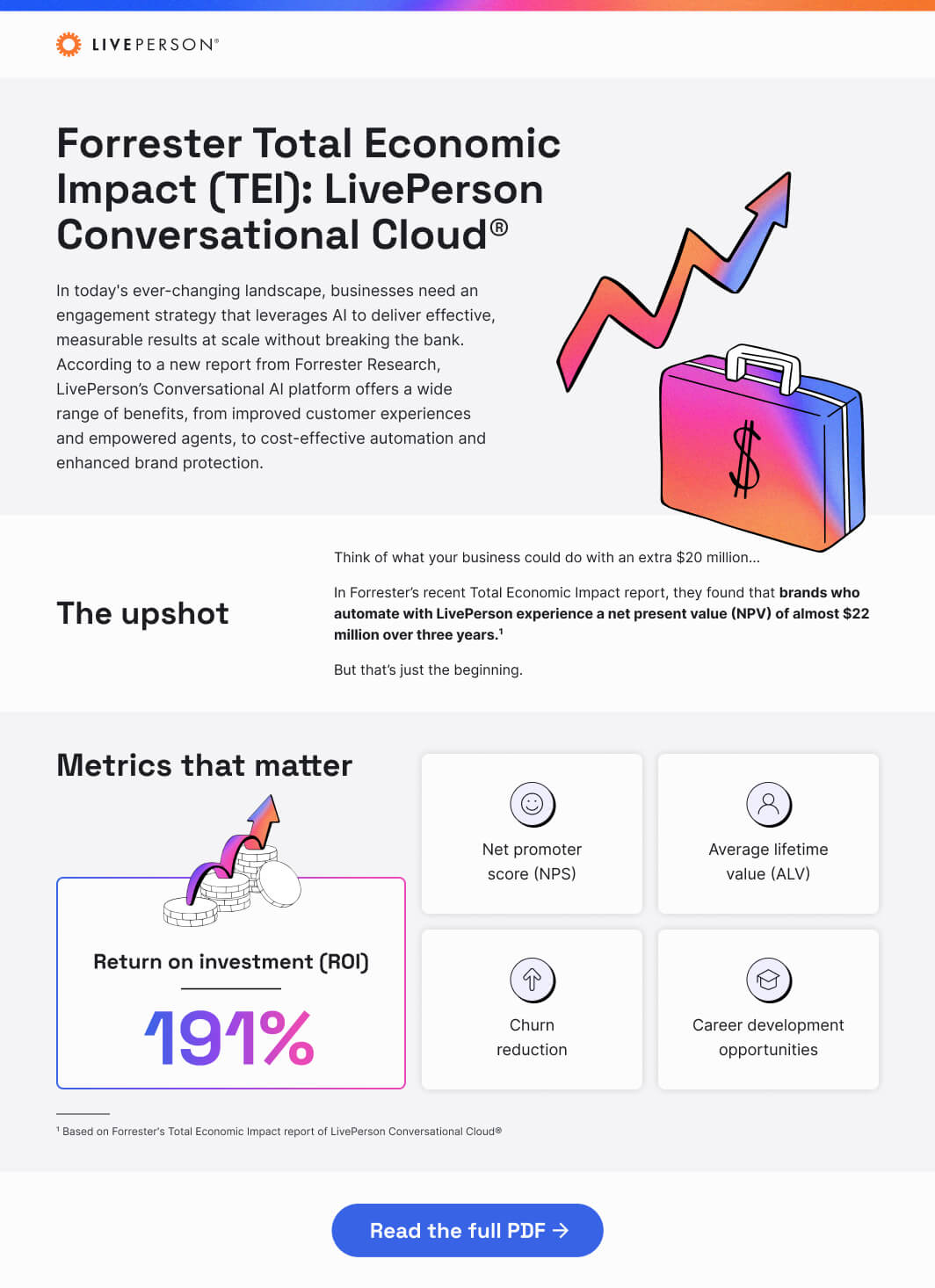 Metrics that matter: The transformative impact of LivePerson's Conversational AI
Along with a return on investment of 191%, LivePerson customers were able to improve their Net Promoter Score (NPS) and average lifetimes value (ALV), reduce churn, and boost career development. Take a look at some customer feedback about the benefits of Conversational AI and LivePerson as shared in the full report, then dive into more case studies here:
Increase customer satisfaction and cost savings
Deliver personalized, cost-effective customer engagement with advanced messaging across various digital channels, enabling customers to interact with your brand in their preferred apps. The result? Improved satisfaction scores, increased customer retention, and extended average lifetime value.
"If we know the cost to respond on messaging is lower — and it is 15% to 20% lower than voice — and the CSAT is higher, and there's a demand, then when you put all of those things together, you say, 'Why aren't we doing more of it?'"

~ Head of Digital Trading, Telecommunications
Empower agents and boost performance
Equip agents with cutting-edge artificial intelligence, automation, and concurrency capabilities, enabling them to deliver more efficient, effective, and consistent customer service. The result? Reduced agent turnover and new career opportunities through the development of Conversational AI chatbot virtual assistants.
"We've been able to give a set of messaging agents a career path that's out of the contact center and into this exciting world of AI and bots by helping to develop chatbots on the LivePerson low-code platform. This diverges from the classic headline of 'AI is going to take your job' — it's giving people a career opportunity to work in AI. It's a good success story for us."

~ Global Head of Conversational Banking, Financial Services
Protect and enhance your brand's reputation
Keep customers from going to external support channels that can expose them to scammers and other malicious actors. The result? Faster resolution times for support tickets, which inspires consumer confidence and brand loyalty.
"We needed something that was enterprise-grade scale that we could operate in multiple locations across the world, with very high standards of cybersecurity and uptime and reliability [and] with a track record of a lot of other similar institutions that have worked with them."

~ CMO/CDO, Loans
---
What other industry leaders are saying
For the contact center striving to be more efficient…
"The main differentiator that I saw in LivePerson was the functionality that wasn't available in many other vendors, which is concurrency. We had a previous tool to manage our telephone platform that offered basic web chat, and concurrency was one-to-one. [The previous tool] didn't have anything that would help agents serve three or four conversations per agent and then manage it automatically. With LivePerson, we have a higher productivity for agents in this way."

~ GM for Digital Service & Innovation, Health Insurance
For those who'd rather message than wait on customer support calls…
"Initially, we were looking for lower inbound calls and quicker responses, but the ultimate goal was around the core value of putting the customer at the center of everything we do, and customers wanted to be able to message or chat with us and not have to call. At the end of the day, it was a customer request and a customer satisfy-er. It also has been coupled with savings for us as a company by lowering inbound call volumes."

~ CMO/CDO, Loans
For the data-divers interested in analysis and reporting…
"[Legacy tools] were not able to handle the volume of messaging interactions, especially during holiday seasons when the volume was higher. There were instances where the chat button would just disappear. Another big issue was around data and analysis. We were not able to save conversations and easily get the transcript and analysis. We are very much a data-driven company, so this was a big gap."

~ Head of Digital and Connected Commerce Shopping, Retail
For leaders looking to save costs — and customers…
"From a productivity perspective, the main benefit comes from concurrency, 100%. When we compare voice interactions, retail interactions, and messaging interactions, the messaging interaction is the most cost-effective by at least 40%."

~ GM for Digital Service & Innovation, Health Insurance
---
The choice in enterprise-grade Conversational AI is clear
In an uncertain economy, success is all about making smart investments. And while many struggle to choose between cutting costs and improving customer satisfaction, LivePerson Conversational Cloud® empowers you to do both at the same time.
---
Ready to start your LivePerson transformation?
---