Blog
article
What is conversational marketing?
How AI-powered messaging transforms your marketing strategy to exceed business goals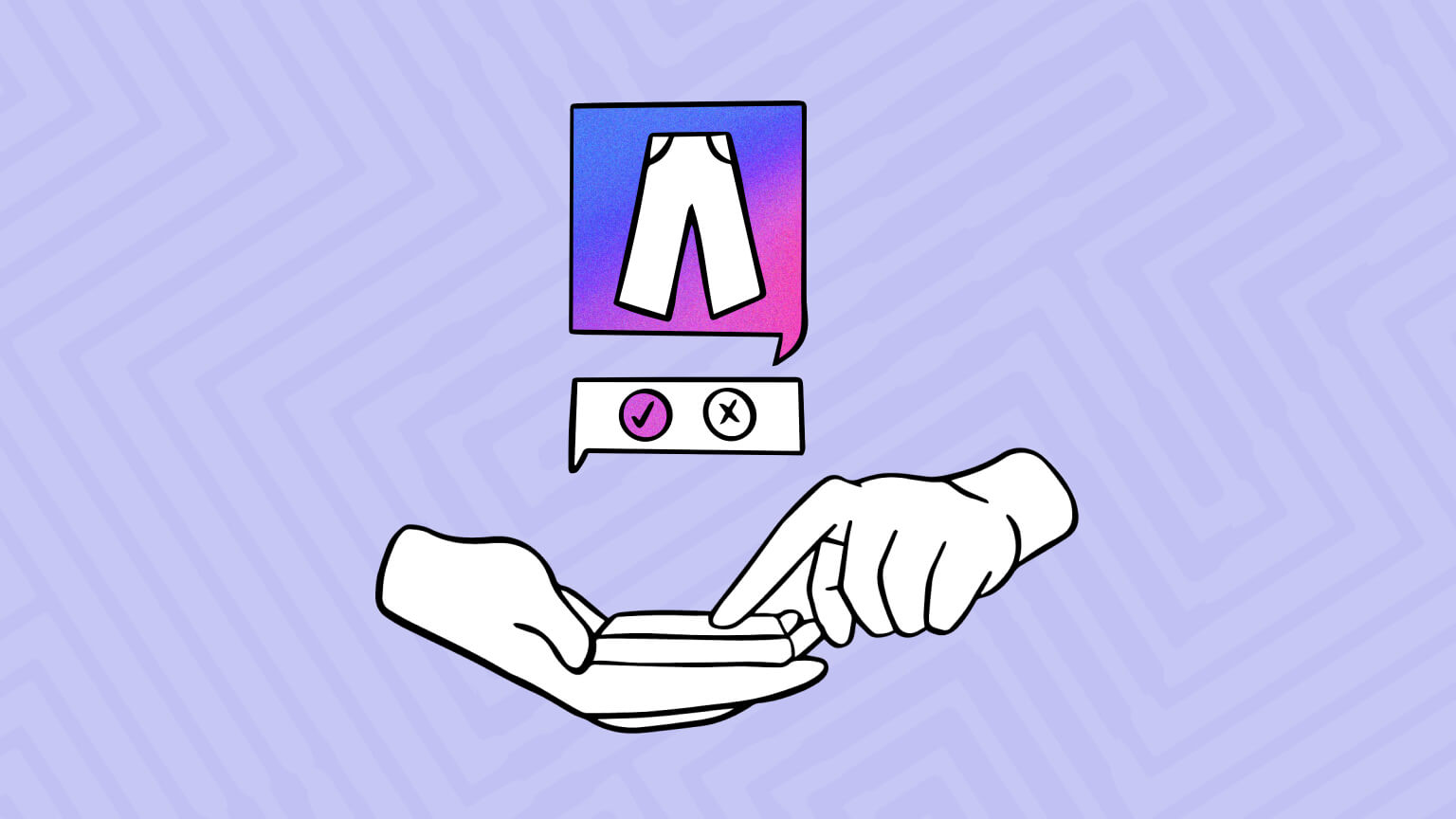 ---
Every year, the holiday shopping season is the ultimate data set for consumer shopping trends. We see reports focused on record-breaking highs in digital revenue, the hottest retail categories of the season, and the latest take on how social media is changing the landscape. 
Last year's holiday season looked a little different, though. Inflation worries and layoffs across industries acutely impacted the biggest spending season of the year. The main takeaway was that consumers were being more particular about spending their dollars — a natural result of widespread shifts in financial security. 
Even with that economic uncertainty, this can be an opportunity for retailers to double down on foundational elements — marketing, digital shopping experience, in-store experience — ultimately benefiting your brand and your customers. 
Our solution? Conversational AI marketing.
---
What is conversational marketing and where does AI fit in?
Conversational AI is often, and understandably, associated with customer support, contact centers, and AI chatbots. But Conversational AI and messaging also support brands throughout the entire customer journey. 
Conversational marketing uses AI-powered messaging to turn every marketing experience into a commerce experience. Key traffic sources lead directly into the conversational marketing channels that make the most sense for the customer at that moment — think SMS and messaging apps like WhatsApp, Facebook Messenger, and Apple Messages for Business. Instead of aimlessly navigating web pages or apps, customers can start a conversation right from your display ads, web pages, or app. With the help of AI-powered bots and agents, they can ask questions, get shopping advice, and even complete secure transactions.
The best part? Conversational marketing has proven to increase conversion rates by 20% or more and speed up the sales cycle by up to 30%. 
This conversational marketing strategy can help brands adapt to those key trends and customer shopping habits from the 2022 holiday shopping season.
---
2022 holiday shopping trends and conversational marketing examples
Trend: Deals and discounts were in demand
By the end of the holiday shopping season, customers were seeing an average sales discount of 21% compared to 19% the previous year, according to Salesforce data. This is thought to be brands' response to a disappointing start to the shopping season, widely attributed to the looming threats of a recession.
Solution: AI-powered Proactive Messaging
If you're carrying strategic discounts into your 2023 retail strategy, outbound messaging is a great way to inform your customers. But instead of the one-way SMS blasts that link out to your web page, AI-powered Proactive Messaging allows customers to respond in the same channel. 
So, say you're a makeup retailer and you message your customer Michelle reminding her of her annual 10% birthday discount. You send a proactive outbound message saying "Happy Birthday! Don't forget to use your 10% off discount by 2/28. Would you like some suggestions?" She responds "Yes!," and your bot shows her some of the current best-sellers through rich in-messaging images and links. Soon enough, she's decided on an eyeshadow palette that's been all over TikTok and completes an in-messaging transaction with your bot's support.
That's AI-powered conversational marketing at work.
---
Trend: Returns skyrocketed
This past holiday season, returns were up 63% YOY, according to Salesforce. It's not a far stretch to say that, at least in part, customers are more concerned with spending their money on the right products right now. That's a problem for brands — on average, returns cost brands about 66% of the item's original price. Plus, new customers may not be likely to return if their first go with your brand was a flop.
Solution: Guided shopping over aimless browsing
A successful conversational marketing strategy can help ensure more satisfactory purchases by directly connecting customers to guided shopping support at the beginning of their buying journey. Whether you're connecting them to an AI-powered bot, human sales reps, or a little bit of both, customers can get recommendations and suggestions that help them get what they are looking for, reducing the likelihood of returns. 
Say you're a jewelry retailer and your customer, Mike, clicks on a static ad for a diamond ring.  Right from the ad, Mike is invited to a conversation with a bot asking him what he's looking for. After a little information gathering, Mike is passed to a human fine jewelry expert in the sales team. Mike wants to buy a diamond ring but insists it's not an engagement ring. The agent kindly suggests that he save himself from an awkward encounter with his partner and go for diamond earrings instead. He agrees it's the right move and makes the purchase — again, all within messaging.
---
Trend: BOPIS was king
Buy-online-pickup-in-store was a surprise hit of the 2022 shopping season, with brands that offered BOPIS reporting 7x higher sales after the ground shipping window closed than those that did not, Salesforce reported. 
We can infer a couple things here. First, customers delayed holiday shopping more this year. Also, it seems people weren't up for paying for expedited shipping — once again reminding us that shoppers are spending mindfully.
Solution: A seamless online-to-offline experience
Conversational marketing can encourage online-to-offline shopping experiences. By placing text codes or QR codes on out-of-home ads, packaging, or commercials, customers can start directly engaging with your brand for shipped or BOPIS purchases. 
For example, an athleisure brand rolls out a new campaign that allows customers to get on the list for a limited edition sneaker release. Liam sees a subway ad with a QR code for the list. A few weeks later, he gets a message saying he can now purchase the sneakers. He converses with the bot to reserve his preferred size and color, but mentions that he's usually between sizes. The bot lets him know that, since it's a limited release, they can hold one of both sizes at his nearest store for 48 hours so that he can try them and choose. Liam heads to the store that afternoon, and leaves happy with his new kicks. 
---
Trend: Social media is influencing buyers more than ever
Brands saw a 23% YOY increase in social media referrals over the holiday shopping season, making up 12% of mobile traffic, Salesforce noted. If we keep in mind the theme of customers being more careful of where they spend their dollars, we can extrapolate that seeing a product on social media — especially if it's endorsed by a trusted content creator — can pique buyer interest.
Solution: Conversation marketing from your social ads
What's missing from this trend are conversion rates. It's great to pique your customers' interest, but at the end of the day, you want them to follow through on purchases and become repeat customers. That's where the benefits of conversational marketing come into play. Conversational social ads allow you to invite customers into a conversation in that platform's messaging channel to gauge their interest in the product, answer any questions, make recommendations, and more. 
Let's say you're a trendy no-proof-low-proof cocktail company and your customer, Jaime, taps on your Instagram ad. He's routed to a conversation within IG messages where a bot greets him and gives him these options: I know exactly what I want, show me your best sellers, help me make my favorite cocktail. He chooses the last option, and tells the bot his favorite cocktail is a negroni. The bot clarifies if he prefers low- or no- proof and then sends him the appropriate products. Jaime decides to give it a try and completes the purchase — all without leaving Instagram.
---
Now you know
AI-powered messaging has the power to influence the entire sales cycle — from the moment a customer searches for a brand or item, to checkout, to support, to long-time loyalty. By implementing a conversational marketing strategy, your ad dollars go further, your acquisition and retention spend are more justified, and your customer experience is more seamless than ever. 
Right now, we're in the middle of tough times for our customers and businesses. But we believe that by investing in the right technology and focusing on strengthening customer relationships through best-in-class experiences and meaningful conversations, brands will be prepared for growth and scale in any environment.
---
Learn how to differentiate retail brands with scalable customer engagement
---