In the News
2021 Newsweek Most Loved Workplace: LivePerson named a top 100 company for employee satisfaction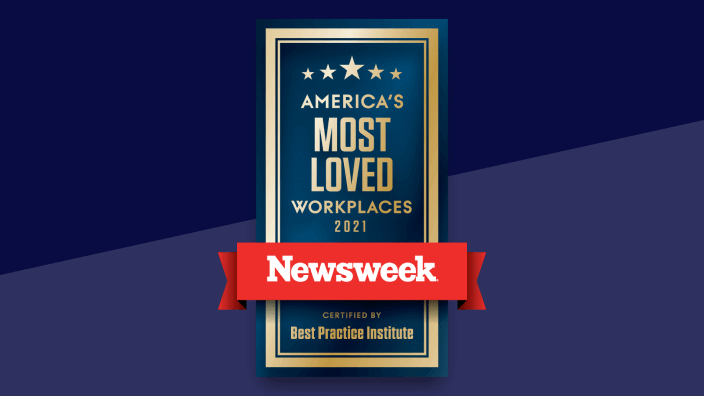 ---
Newsweek has released its ranking of the Top 100 Most Loved Workplaces in the United States, and LivePerson is on the list, thanks to outstanding employee sentiment and satisfaction! Produced in collaboration with the Best Practice Institute (BPI), a leadership development and benchmark research company, the Newsweek list results were determined after surveying more than 800,000 employees from businesses with workforces varying in size from 50 to more than 10,000.
---
What makes LivePerson special for employees
Monica Pool Knox, Chief People Officer at LivePerson, weighed in on the award:
"Our employees love working with our cool technology and a diversity of interesting brands from around the world, but what makes LivePerson special is our culture of highly collaborative, team-oriented people who are incredibly talented, purpose-driven, and care deeply for others – inclusive of the wellbeing and success of our customers and each other." 
How LivePerson was selected as a Most Loved Workplace
To identify the top 100 companies for the Newsweek ranking, companies were evaluated and scored as follows: 
35% of the initial score was based on employee survey responses.
25% was derived from analysis of external public ratings from sites such as Comparably, Careerbliss, Glassdoor, Indeed, and Google.
40% came from direct interviews with and written responses from company officials.
Newsweek conducted additional research into every company on the list, as well as the top runners-up, to determine the final list of 100 companies and their ranking. 
(The list includes both U.S. firms and companies with a strong U.S. presence that are based overseas.)
We're honored to be recognized by Newsweek for outstanding employee sentiment and satisfaction. "While we offer things like flexible work and care days to help employees recharge, it's our people who inspire me every day with their passion and commitment to grow this business and build a great company together," adds Pool Knox.
---
Want to work with us?
---