In the News
2021 Digiday Technology Awards: LivePerson honored as best technology for ecommerce site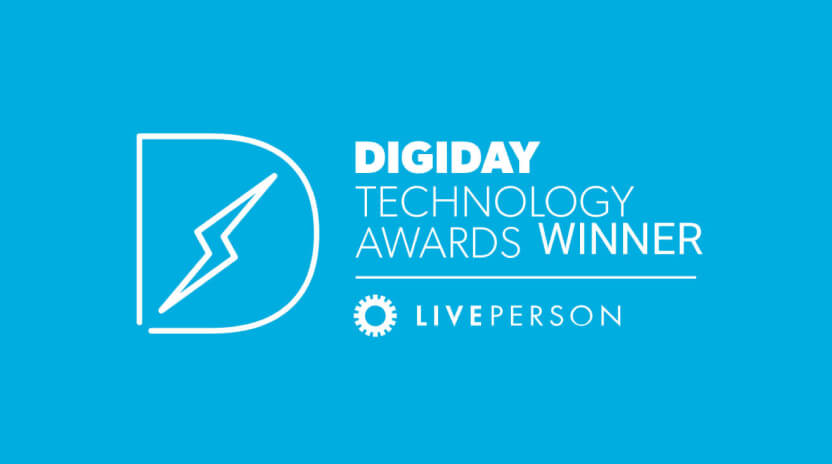 ---
LivePerson is thrilled to be recognized by Digiday as the best technology for ecommerce sites, and one of the top tech companies influencing the digital media landscape with AI innovation and personalization to better the customer experience. Digiday's Best E-Commerce Technology award comes as a result of our AI-powered Conversational Cloud platform, which gives brands the ability to efficiently connect with consumers through the messaging channels they are already using every day.
---
Why connection matters for an online store (and all businesses, really)
Consumers' personal contact and shopping preferences have evolved right along with everything around them. In an increasingly digital world, consumers no longer have to wait in store lines to buy goods, or on call-hold times to speak to an agent about sensitive issues. In fact, waiting to make in-person interactions is a customer experience of the past — one that can cause a business to lose out to those who are leveraging Conversational AI and chatbots as part of their ecommerce platform technology stack to engage more shoppers and win more than awards.
Digiday, an online trade magazine that fosters change in media and marketing, recognizes LivePerson as a leader in AI that's bridging the gap between the physical and digital retail experiences to better engage customers. 
---
How LivePerson improves the ecommerce website experience
The Digiday judges pointed to how the LivePerson AI technology helped a major retailer when the pandemic caused a massive decrease in foot traffic. Consumer interest in buying didn't wane, only their preference in how to shop. LivePerson helped combat those decreased in-person sales with Conversational AI, giving customers the option to browse products, message with virtual concierges, and buy directly from the retailer on their favorite messaging apps. This conversational ecommerce approach delivered results:
Higher customer engagement and satisfaction during a global crisis that catapulted store closures
Contributed to 110% increase in sales year-over-year 
That's a win-win for the business as well as consumers! 
---
Ready to improve your ecommerce business?
We're honored to be recognized for helping brands drive performance, win new customers, and bridge the gap between physical and digital retail experiences with convenient conversations. Explore how Conversational AI can give your business the best ecommerce tools and technology to meet your challenges around traffic, automation, sales, customer experience, and more.
---