In the News
LivePerson wins Best Ecommerce Technology at the 2023 Digiday Awards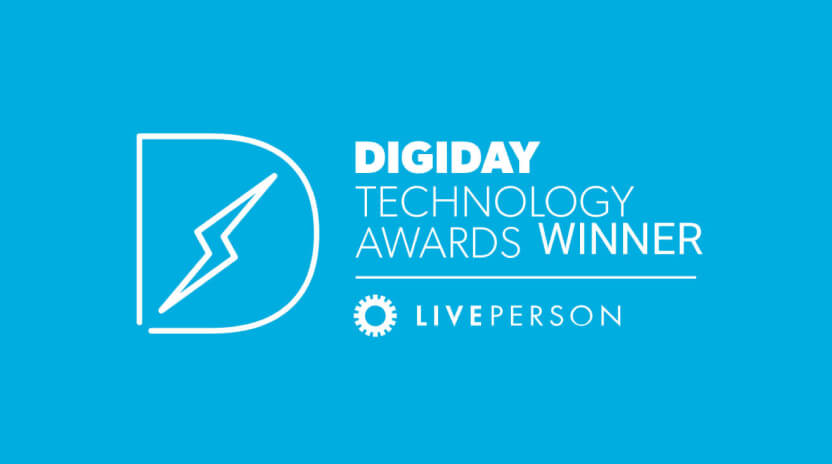 ---
LivePerson, a global leader in conversational AI, is thrilled to be recognized by Digiday once again as the best ecommerce technology and one of the top tech companies modernizing media and marketing. Digiday's Best E-Commerce Technology award, coming on the heels of a win in the same category in 2021, was awarded to LivePerson in 2023 for helping brands leverage artificial intelligence to engage with their customers, making it the year's best technology for enhancing the online shopping experience.
---
Why scalable connection matters for an online store (and all businesses, really)
Ecommerce technology trends prove that consumers' personal contact and shopping preferences have evolved right along with everything around them. In this digital world, consumers no longer have to wait in store lines to buy goods, or on call-hold times to speak to an agent about sensitive issues. In fact, waiting to make in-person interactions is a customer experience of the past — one that can cause a business to lose out to those who are leveraging conversational AI and AI chatbots as part of their ecommerce platform technology stack to engage more shoppers and win more than awards.
LivePerson's conversational AI helps bridge the gap between the physical and online retail platform experiences to increase customer satisfaction. 
---
How LivePerson improves the ecommerce website experience
The 2023 Digiday judges pointed to Liveperson's long-time partnership with Virgin Media and how it helped the telco brand meet customers on their channels of choice with digital conversations supported by AI and automation. The awards program highlighted that after implementing LivePerson's Conversational Cloud, Virgin Media saw the following improvements in their digital conversational channel…
Conversational commerce sales increase by 20%
Cost-per-acquisition decrease by 29%
And all that while maintaining a high customer satisfaction score of 86%
Learn more about Virgin Media's approach to conversational selling.
"Winning Best E-Commerce Technology is a testament to our long-standing commitment to deploying AI in ways that truly redefine customer engagement. We're proud to be recognized for creating better outcomes for both sides of the conversation, and as always, we're proud to partner with incredible brands like Virgin Media that bring these experiences to life on our platform."

~ John Collins, Interim CEO and Chief Financial Officer of LivePerson
---
Ready to improve ecommerce businesses?
We're honored to be recognized for helping brands drive performance, win new customers, and make selling more convenient with AI-powered conversations across mobile apps, voice, and all the digital channels.
---
Explore how conversational AI can help you take advantage of the latest ecommerce technology trends, meeting your challenges around traffic, automation, sales, customer experience, and more
---