Success Story
Transforming SKY's support team with messaging and chatbot automation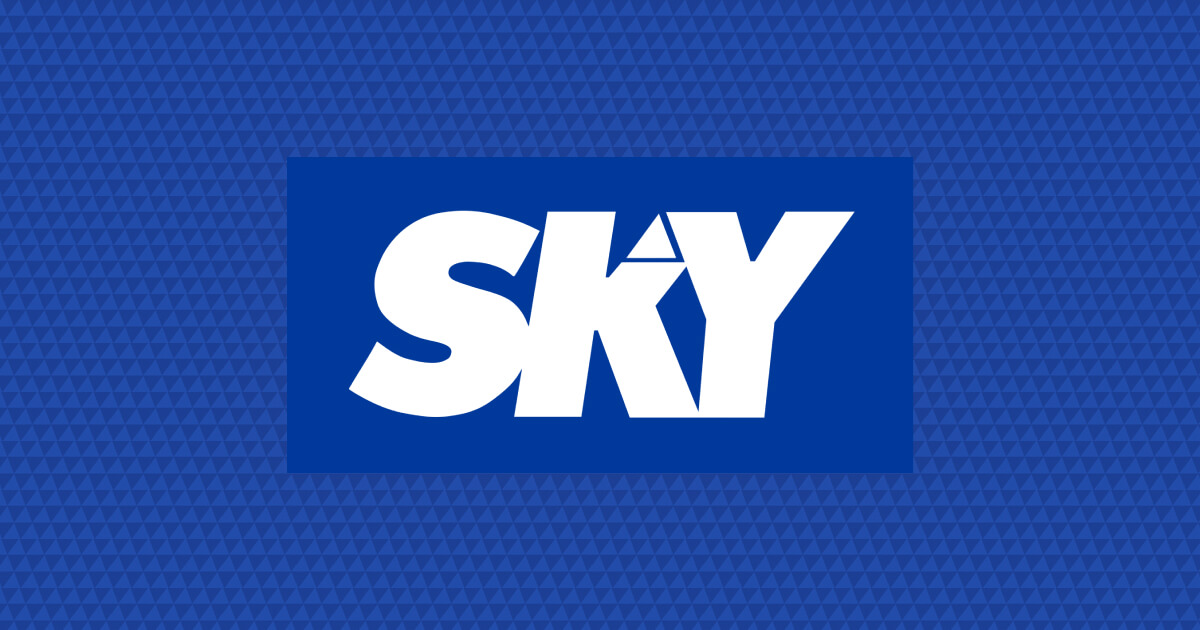 ---
SKY Cable Corporation (SKY) is a broadband and cable TV provider in the Philippines serving more than 700,000 customers. This case study will show how they transformed from a traditional live call centre into a fully remote, multi-channel support team in the midst of a global pandemic.
---
The problem
The COVID-19 pandemic changed the way we think about connectivity. As people around the world were sequestered in their homes, connection through multiple platforms with calls, texts, videos, chats, and streaming services became essential. With brick-and-mortar stores closed and customer contacts skyrocketing, SKY sought to modernise their traditional live call centre to meet the increasing demand.
---
The artificial intelligence solution
Through the power of LivePerson's Conversational Cloud™, SKY launched support via Twitter, Facebook, and Viber, while simultaneously investing in designing and launching an artificial intelligence program to help manage growing contact volume.
Meet Kyla — SKY's chatbot automation

The introduction of Kyla, SKY's automated chatbot, meant that customers could now enjoy a normal messaging conversation without worrying if they're talking to a machine or a live agent. The difference is in the intent-driven technology that applies natural language processing technology (NLP) to customer responses, resulting in more fluid conversations, increased agent efficiency, and a big boost to customer satisfaction.
In just 6 months since automating business processes with their chatbot technology, the SKY team saw incredible results:
Hours to minutes – average customer handle time reduced
1 in 5 conversations are fully contained by AI-powered chatbots
77% average CSAT score for bot-contained conversations
70% improvement in CSAT after 2 months
155k closed conversations per month
35% agency efficiency increase with automation
What they're saying:
When you are messaging Kyla, it's like you are talking to a live agent. It's very conversational. I'm receiving lots of positive feedback from the customer. The great thing is they can send messages to our customer service and receive immediate action. And I've spoken to the internal Kyla team, and they are very, very happy. They've provided a lot of positive comments.

Lenor Namoc, Head of Contact Centre
I'm pleasantly surprised at where we are now after 6 months. Prior to making this leap, I was doing a lot of research into what other companies were doing in terms of their messaging mix of phone and other channels. All that data was pre-pandemic, and at that time the thinking was that you still had to keep up a large % on phone. I'm a convert now after seeing the performance of the messaging platform.

Arnel De Vera, CIO
---
Let's take a deeper look at the transformation
1 – Acceleration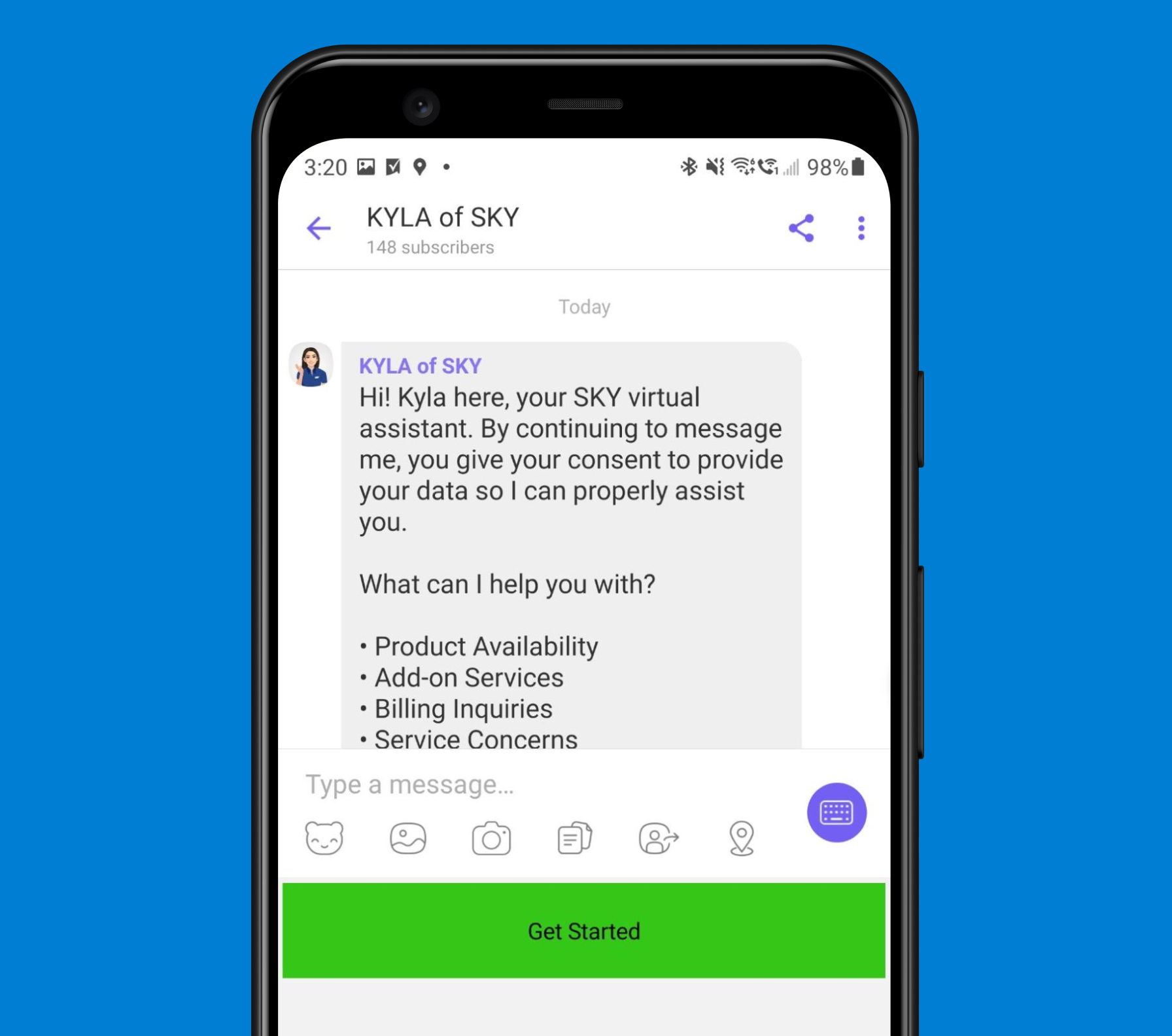 As COVID-19 changed the nature of social connectivity, an increased emphasis on work, play, and a sense of belonging emerged. This sudden change had a twofold effect for SKY, increasing demand for both their product and their customer service team's support.
Some of the most pressing customer issues included:
Expanding or upgrading packages to account for more competing devices and services.
Billing statements requested due to pandemic-caused disruptions in usual bill delivery process.
Technical support while setting up their systems without in-person SKY support for the first time.
Needless to say, this perfect storm caused SKY's contact volume to skyrocket.
Enter: Conversational AI.
2 – Reaction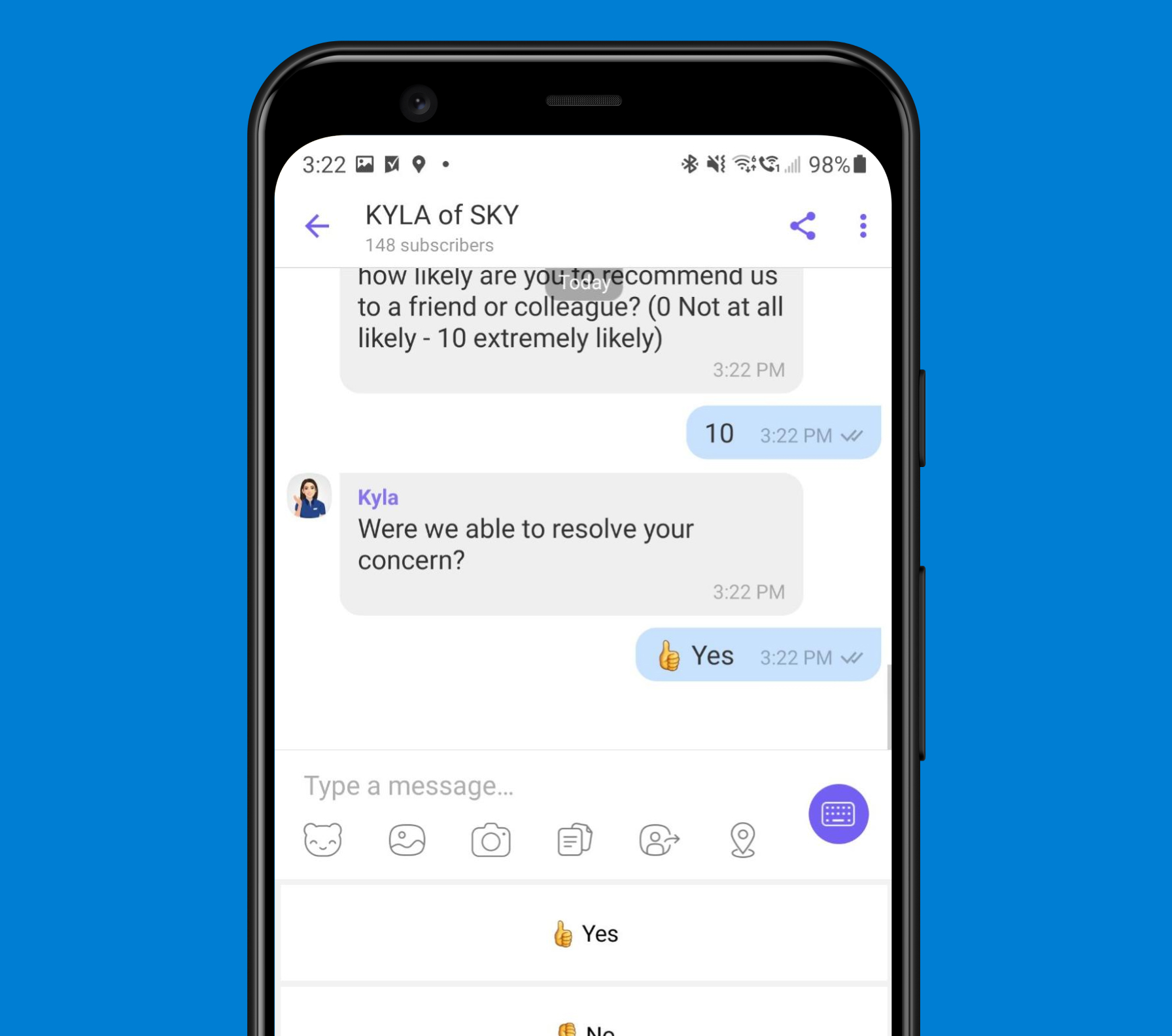 In order to provide world-class support to their customers, SKY knew they needed to provide a consistent customer service experience no matter what channel they chose to engage in.
By harnessing the potential of LivePerson's Conversational Cloud, SKY launched messaging via Twitter, Facebook Messenger, and Viber channels they knew their customers frequented in their personal lives.
In addition to launching these Conversational AI-powered channels, they invested in designing a chatbot automation program to manage the higher contact volume. This way, human agents would have more time to support customers with complex or emotional issues, while bots could answer users' questions instantly regarding FAQs, COVID-19 policies, and DIY enquiries.
3 – Execution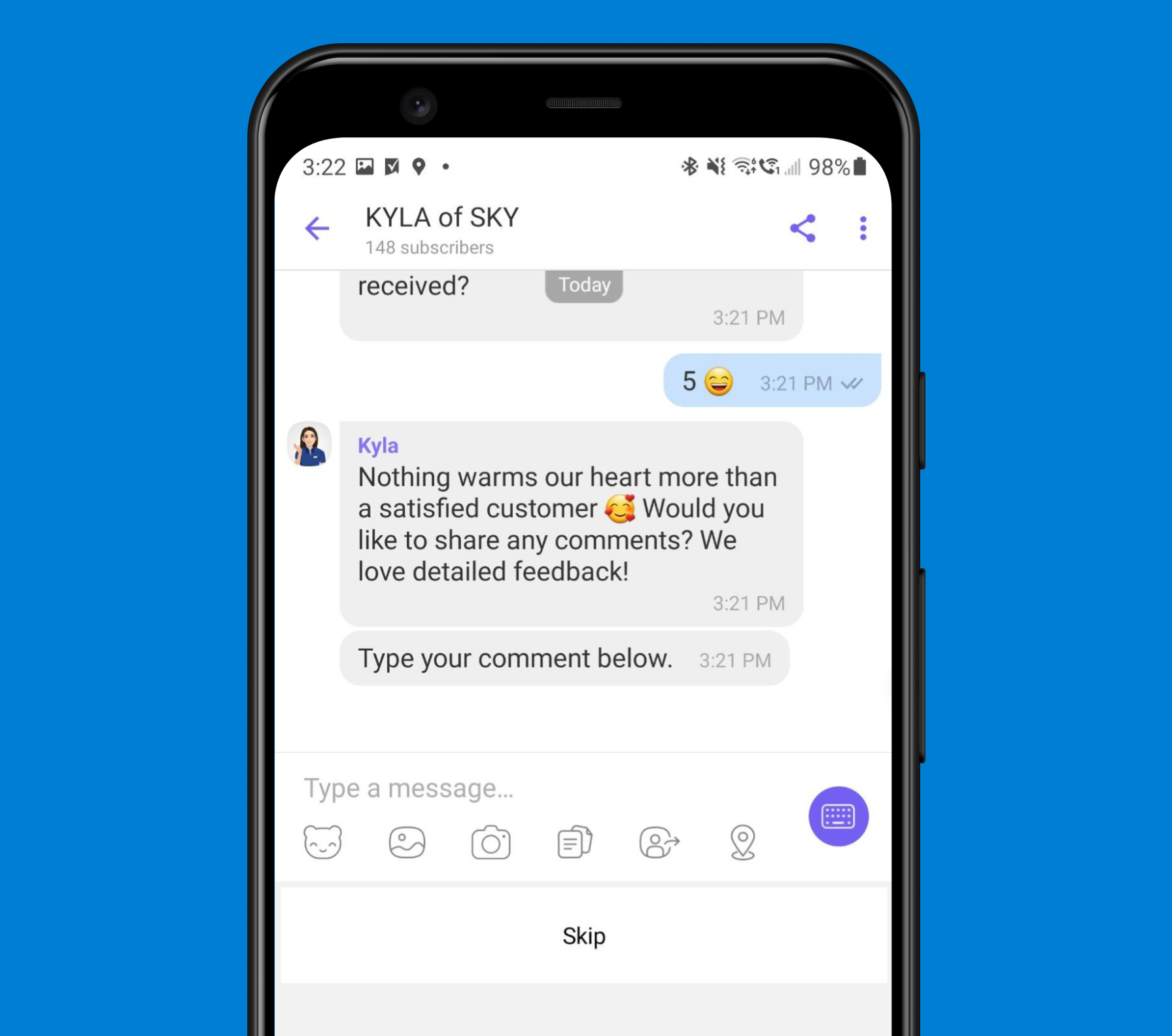 Agents and customers alike have had a strong positive response to Kyla, SKY's chatbot automation. Instead of working through an endless backlog of emails, agents are now able to manage multiple channels on one easy-to-use platform.
Agents report that they love being able to see the intent of the conversation before they begin engaging. Plus, support from bots and AI have given them more time and permission to focus on customers who really need human support for their issue.
Within months, SKY Cable saw their Conversational AI approach massively decrease average handle time from hours to mere minutes.
---
The numbers speak for themselves*
~155k
closed conversations per month
*Closed conversations: The number of fully completed customer interactions, from first contact to resolution. Before integrating LivePerson's Conversational Cloud, SKY was handling a small fraction of their current closed conversations. In the first half of 2022 alone, they've averaged a whopping ~155k closed conversations per month thanks to Kyla, their automated messaging bot.
CSAT improvement: SKY has seen rising customer satisfaction (CSAT) since launching Kyla, largely due to predictive automation and the option for customers to reach out in the channel of their choice.
Bot containment: The percentage of customer engagements that are complete without ever reaching a live agent. SKY has seen 1/5 of all new enquiries handled entirely by their AI-driven messaging bot, further validating the notion that many simpler issues are best solved by intelligent automation.
---
And so do their customers:
"Keep this online chat for customers. Not all of us have a landline to contact your hotline number. This online customer chat is a big help."
"So much easier to get results through SKY Viber! Thanks for this new support platform. It is really helpful."
"This messaging feature is very helpful! We can send messages directly to customer service, and we can receive immediate action. Keep this up and more power!"
"The live chat is very helpful given Covid situation. Thanks to the live agents for assisting me. I really, really appreciate it and a lot, lot more."
---
What's next for SKY?
After the amazing early results and positive response from agents and customers, SKY is looking to expand their use of Conversational AI by bringing the LivePerson customer engagement platform and chatbot automation to other subsidiaries.
---