Blog
article
LivePerson community of Conversational AI leaders: Happy to be "Live" and in "Person" once again
Our first in-person event in 2 years for our global community of Conversational AI leaders revealed extraordinary digital transformation stories that are elevating customer experiences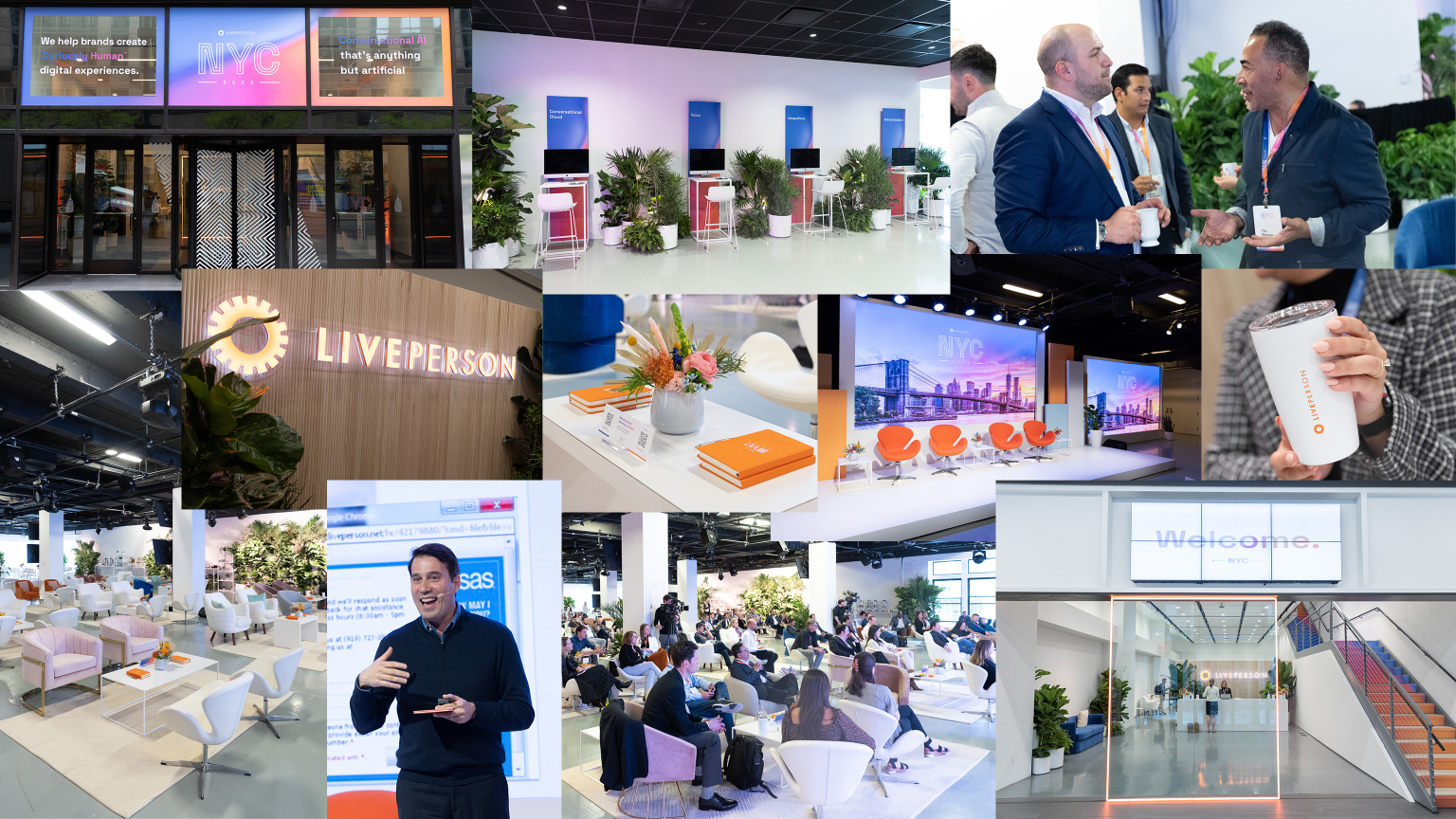 ---
---
Grateful and unabashedly energized to gather in person once again, in our home hub of NYC
This shared consensus, on the heels of celebrating the achievements and brand successes of our Conversational Cloud™, a customer engagement and leading Conversational AI platform, is putting our sheer enthusiasm mildly. Early 2020 marked the last time we were safely able to host such a large-scale event, bringing together an executive community of world-class brand leaders, luxury vendors, and fellow LivePersons.
The common goal for all attendees? To not only celebrate being together again but also to coalesce over our culture of co-innovation, the trust and security of our Conversational AI platform, and how we're all prioritizing meaningful connections within our community of industry peers and business users.
Follow along as we break down the May event's highlights and can't-be-missed conversational moments worth sharing.
---
The scene: An exclusive environment to inspire and exchange ideas on using conversational interfaces to create unmatched customer experiences
Executives from close to 100 of the world's most influential brands co-mingled with some of the biggest LivePerson customers (and Conversational AI leaders) within the hospitality, retail, software, financial, and healthcare sectors in the heart of Manhattan. As guests made their way through our trademark gradient-bedecked rooms to find matching macarons and swag bags, the A-list speakers took center stage. 
The room was already vibrating as a boisterous leader in the restaurant/hospitality space took us through an energetic presentation of positive brand outcomes
This Conversational AI leader led the audience through their lively journey to "spice" up their customer experiences, thanks in part to the brand's very popular AI-powered chatbot with the most fitting name. The Senior Director of Guest and Employee Experience for the North American restaurant also shared how their customer service strategy — unifying the brand's entire ecosystem for more seamless and efficient customer service — has been a proven success in reaching their experience-driven goals. By the time the attendees broke to mingle and network, whispers of tacos on the event menu were received with enthusiasm as everyone was suddenly hungry after that brand leader's presentation. 
LivePerson's Gainshare teams helped a luxury e-tailer with implementing Conversational AI technologies to bring empathetic, personalized experiences to VIP clients 
The e-tailer's contact center team was facing a huge backlog of communications — nearly two months of missed interactions — due to operational volumes and staffing issues. Prior to adopting our Gainshare managed services, the brand's primary contact methods were email and voice, where wait times were hours to days (sometimes even weeks). After the team brought on Gainshare, with live deployment in only 6 weeks, our managed services made a huge impact on the contact center team overall. They launched Apple Messages for Business and SMS conversational channels, and dove into their customer experience journeys to identify and solve for areas with the most friction. The Vice President of Client Services for the e-tailer left the audience with three key takeaways: 
Automation is easy. Contact center teams were able to get up and running with no-to-low-code solutions effortlessly. 
Automation does not mean impersonal—the opposite in fact! Our Conversational AI solutions help to create more meaningful, personalized engagements at the scale of billions. 
Have fun with this tech! Data is abundant and fosters creativity. Call center agents are able to see the entire customer journey in a single workspace (whether managed by a human agent or virtual assistants) and use data to improve experiences at every touchpoint.  
A leading pharmacy and healthcare provider painted a picture for improving health outcomes with digital messaging 
The patient journey is a complex one. Conversations address deeply personal and sensitive topics, with delicate solutions needed in real time. Healthcare is even more complex and includes not only consumers but also doctors, providers, and insurers, too. Therefore, conversations must be catered to each individual user, include the most accurate and current information, and support the latest business processes, as medical adherence is a huge predictor of health outcomes. 
The Head of Digital Pharmacy Solutions painted a vision for authenticated messaging experiences that allow agents to support patients through medication questions, concerns about side effects, scheduling follow-up appointments, and more. It was a lively discussion and proof that Conversational AI was created and continues to be innovated to better our daily lives, especially in times when we need immediate solutions most. 
---
All things conversational continued with smaller roundtables, executive masterclasses, 5-star dining, and social experiences
This extraordinary and successful New York gathering marked the return of our signature in-person Executive Community events, including our first EMEA region event on June 16 in London. These international meetings bring Conversational AI leaders and VIPs from the world's top brands together to learn how their peers in customer care, marketing, and sales work with LivePerson to transform the customer experience through innovative AI and conversational technologies. Our CEO and founder put it best:
"We're excited to resume these marquee events, which are proven differentiators driving meaningful dealflow for our business, by bringing the possibilities of AI to life for brands of all kinds. We're extremely grateful to our team and customer speakers who delivered an exceptional experience befitting our storied Executive Community."

~Rob LoCascio, founder and CEO of LivePerson
Discover how to get involved and join our Executive Community of Conversational AI leaders with our Peer Exchange series
---