Blog
article
Opus Research names LivePerson as a Leader in Conversational Intelligence, customer experience, and employee experience
Evaluated against 15 providers, LivePerson earned the report's highest possible designation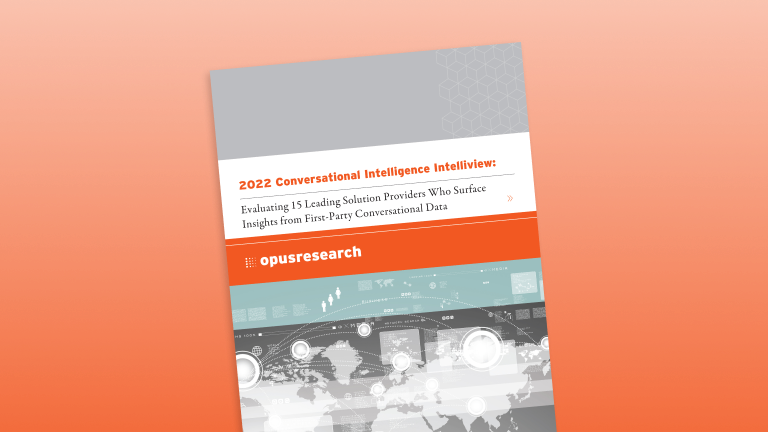 ---
Opus Research has named LivePerson a Leader in its latest Conversational Intelligence Intelliview report, highlighting platform features, track record, and key differentiators in the field of AI-powered customer engagement.
The report recognized LivePerson as a Leader based on these critical assessment criteria: product completeness, performance, business impact, and vision. It also cited LivePerson's volume of data, which flows through the Conversational Cloud® platform every month to power robust and unique AI models.
Opus Research evaluated 15 providers based on how well they enable businesses to apply speech and conversational analytics, natural language processing, and machine learning technologies in contact centers, marketing, and sales. LivePerson was named a Leader in both the overall Intelliview report and its evaluation of Conversational Intelligence for Customer and Employee Experiences (CX and EX). The report noted that LivePerson "exceeds standards" in both its features and strategy.
"With AI-powered conversations now serving as the 'front door' for brands of all kinds, the ability to draw real-time insights from conversations across all channels has become mission-critical. We're proud to earn this validation of our product, business impact, and vision as we help the world's best brands connect with millions of consumers as personally as they would with one."

~ Rob LoCascio, LivePerson founder and CEO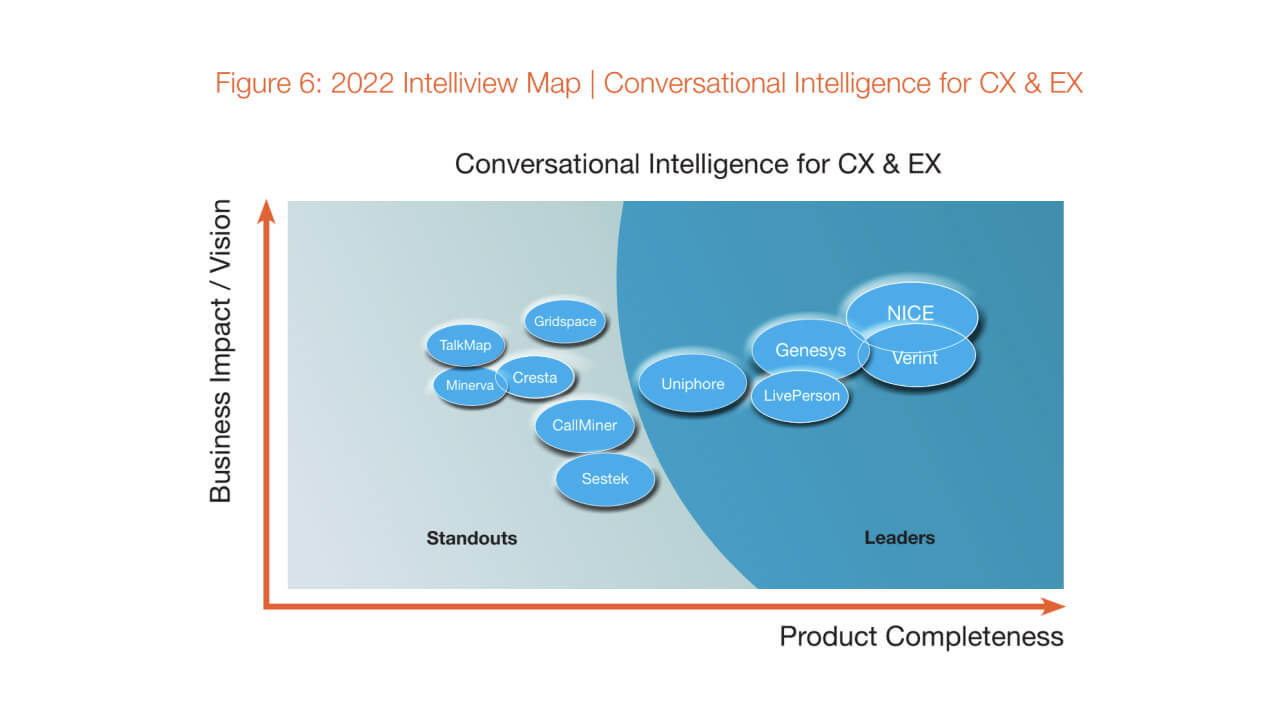 ---
Conversational intelligence technology differentiators
According to the report, LivePerson's differentiators as a Leader in Conversational Intelligence include:
Scale of data: LivePerson powers nearly 1 billion conversational customer interactions per month, and over 34 billion API calls each month, providing a strong foundation to continually improve its AI-powered capabilities.
Open platform: LivePerson enables customers to export conversational intelligence data from its platform to be leveraged within their existing environment and tools. It also enables customers to import conversations from third-party systems into its data pipeline via API to leverage LivePerson's analytics on 100% of their conversations.
Robust AI capabilities: LivePerson's advanced modeling surfaces key business metrics from conversations, such as intents, Meaningful Conversation Score (MCS), and Meaningful Automation Conversation Score (MACS). MCS and MACS differentiate LivePerson by providing proprietary efficacy measurements of chat, messaging, and AI chatbot conversations.
"Consumers are more comfortable than ever using automated assistants, and they're looking for brands to do more with these technologies. As a result, conversational intelligence has taken on first order importance among customer experience, contact center, marketing, revenue generation, product management, and digital transformation teams to deliver insights that fuel more impactful conversations," said Derek Top, Senior Analyst & Research Director at Opus Research. "LivePerson is a leader in this space, particularly in employing conversational intelligence to help brands drive engagement that feels more natural and human."
---
Read the full conversational intelligence technology report
---