Blog
INFOGRAPHIC
Customer engagement strategies that win: The transformative, cost-effective power of Conversational AI
These AI-powered customer engagement strategies have proven results — no matter what industry you're in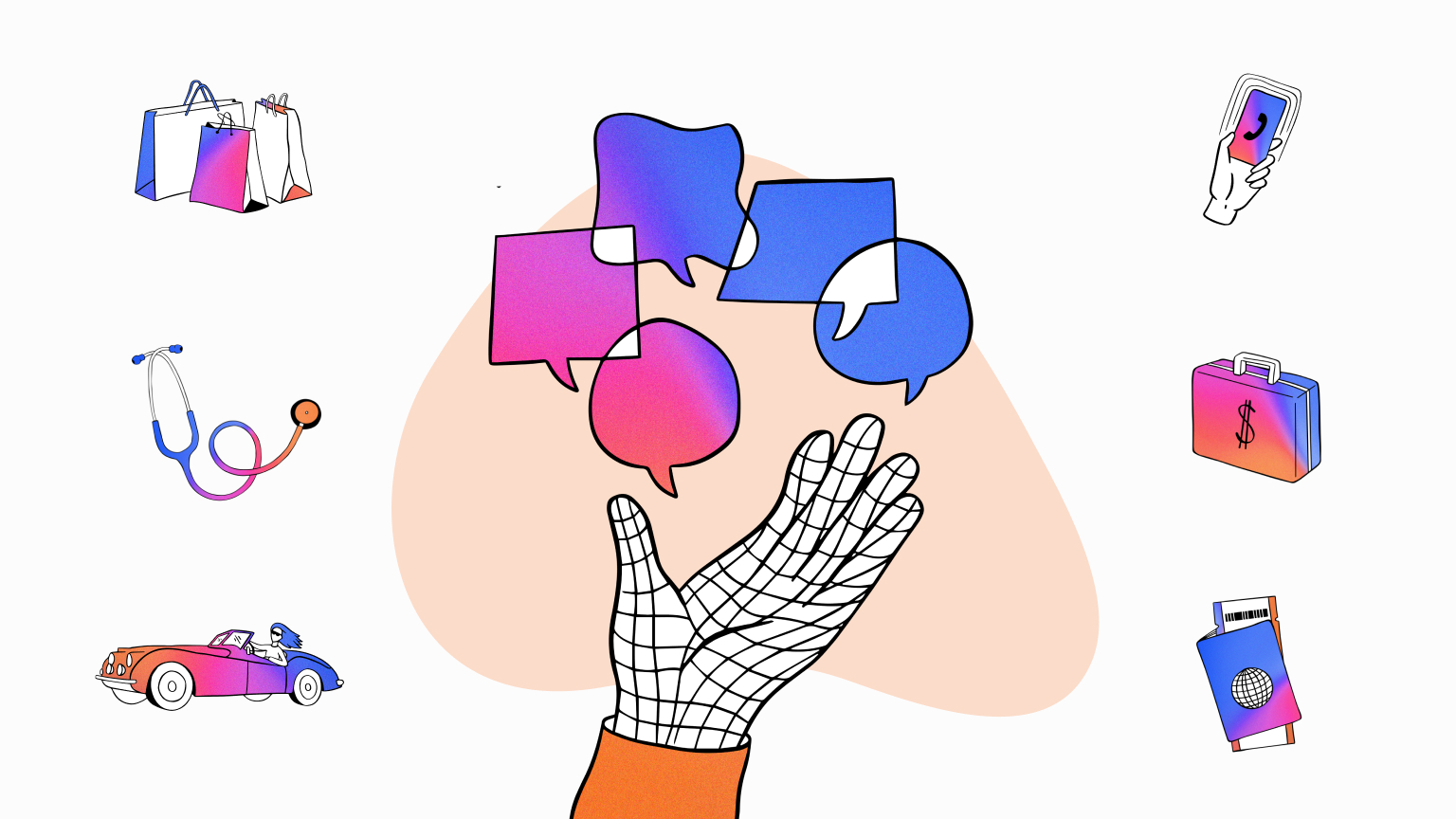 ---
A solid customer engagement strategy will help you increase customer loyalty while reducing operational costs with added efficiencies. Take a look at how asynchronous messaging across multiple channels, backed by AI chatbot support, has helped brands meet customer expectations for a better experience, reaping bottom-line results:
10x increase in sales conversions
Reduce operating costs 30%
Boost customer satisfaction 20%
Browse the industry-specific customer engagement examples in the infographic, or read below:

Retail customer engagement
Build trust and customer loyalty with digital personalization.
Increase sales conversions by engaging customers while they browse.
Watch efficiency soar as friendly customer service representatives are empowered to do more with less.
Open opportunities for new revenue streams with AI-driven customer data, conversational analytics, and insights.
Discover more Conversational AI for retail use cases here.
---
Healthcare customer engagement
Reduce operational costs by up to 50% with AI-powered chatbots handling basic inquiries.
Integrate with messaging channels that offer HIPAA certification and protect patient information while still offering a more convenient customer experience.
Maximize agent efficiency with asynchronous messaging, which enables them to manage multiple customer interactions at once
Discover more uses cases for a healthcare chatbot and customer engagement plan here.
---
Automotive customer engagement
Enable sales through automated messaging for every step of the customer journey
Unify your customer engagement strategies with full AI integration with familiar 3rd-party listing sites like Kelley Blue Book and Autotrader.
Reduce overhead with Conversational AI automations for service requests and virtual assistance.
Discover more automotive use cases here.
---
Cable and telco customer engagement
Reduce call volume, increasing customer satisfaction and cost effectiveness.
Design and optimize chatbots to manage up to 65% of conversations, enabling more human-driven revenue generation.
Increase customer retention and gain a competitive edge with personalized service and proactive support as part of your customer loyalty program.
Discover more telecom chatbot and engagement strategies here.
---
Finance customer engagement
Increase efficiency and reduce customer care costs by 50% with the right balance of agents and chatbots.
Use LivePerson's secure form tool to enable PCI-compliant, AI-powered client engagement messaging.
Simplify and improve the customer experience with the automation of routine account inquiries and billing.
Discover more use cases for a financial services chatbot and messaging.
---
Travel customer engagement
Reduce costly overhead with chatbot automation.
Drive trust and customer satisfaction with proactive messaging about delays, reservations, and other common inquiries.
Enable more conversion across the entire traveler journey with personalized customer engagement.
Discover more ways to engage customers in the travel industry.
---
LivePerson's Conversational Cloud® helps deliver on these strategies, putting your brand at the forefront of a new era in customer engagement. Its smart, automated intelligence gives you the power to leverage the voice and messaging channels your customers prefer — all with a single solution.
---