Blog
article
Winning Conversational AI: LivePerson recognized as Overall Leader for digital customer service technology and impact
Why Quadrant Knowledge Solutions placed us at the top of their 2022 SPARK Matrix™ analysis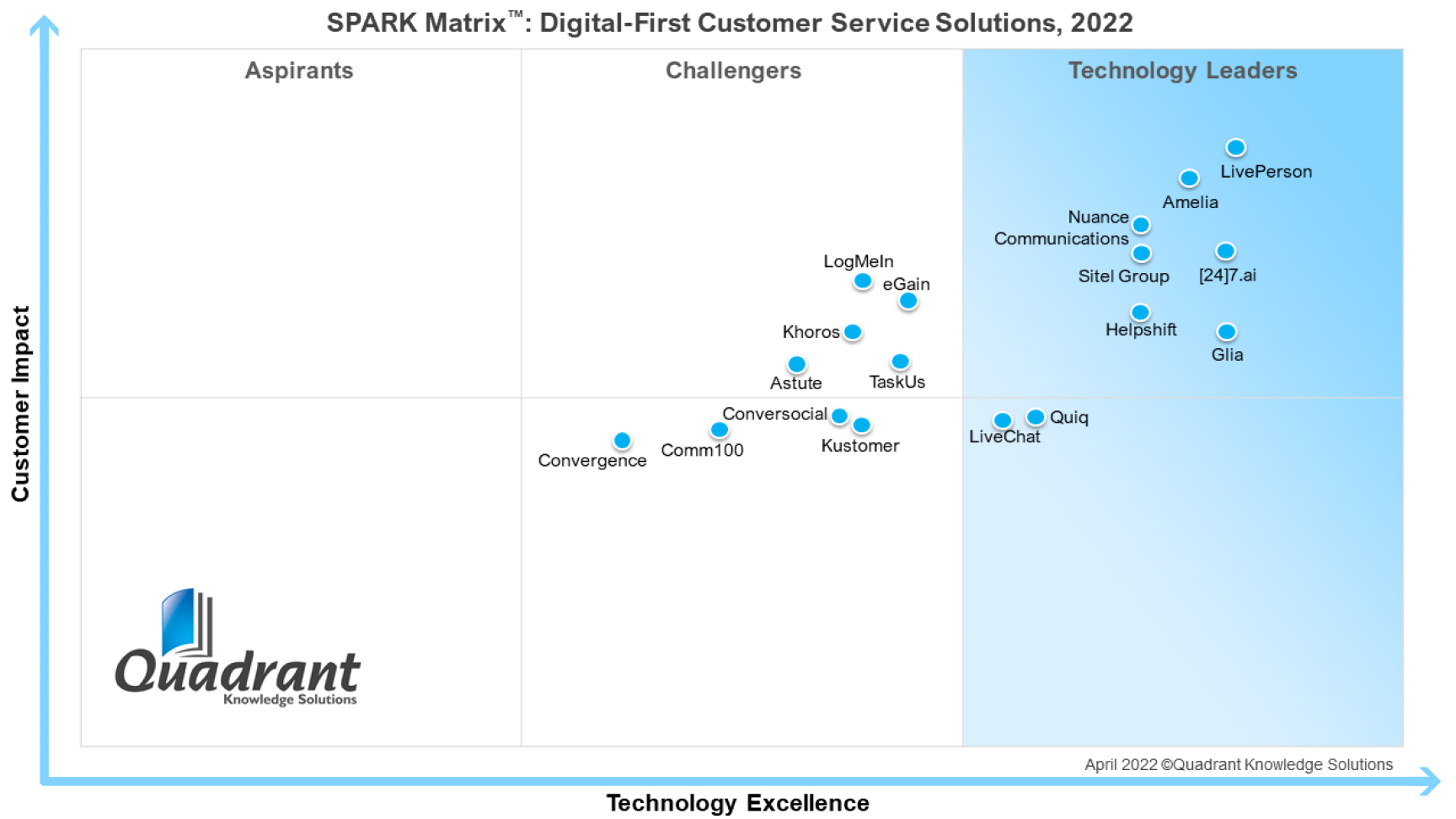 ---
"LivePerson is well-positioned to expand its share in the global digital-first customer service solutions market."

~ Pranjal Singh, Analyst at Quadrant Knowledge Solutions
Quadrant Knowledge Solutions is a global advisory and consulting firm focused on helping organizations achieve transformative business goals with strategic growth solutions and differentiating competitive markets. Their research and consulting expertise provide comprehensive information and insights, and the SPARK Matrix analysis of the Digital-First Customer Service Solutions market is no exception. We're honored to come out on top in 2022 in both categories — Technology Excellence and Customer Impact in digital service.
---
LivePerson advantages for a digital customer service strategy
We were ranked #1 out of 19 total vendors in competitive markets for digital customer service solutions based on the two key features we've mentioned: Technology Excellence and Customer Impact. Quadrant's research into our Conversational Cloud® platform's capabilities and performance metrics found a number of insights that help differentiate us from competitors. Follow along as we give a quick overview of what put us on top:
1. Our comprehensive Conversational AI platform helps brands save time and operational costs vs. traditional customer service
Because time is money and therefore no business has either to waste. Quadrant recognized that we've thoughtfully packaged our technology components and features together in order to support modern or legacy contact center systems. And customer care agents can help deploy and manage them, quickly increasing agent efficiency.
2. Our artificial intelligence models are unmatched
Through their SPARK Matrix analysis, Quadrant found that our natural language processing (NLP) engine understands consumer intent and human behaviors and patterns during the flow of customer service interactions better than most competitors. They also recognize that our machine-learning models can decipher human intent and have the growing ability to self-correct in customer conversations. This all combines to create a more meaningful, personalized digital customer experience at scale
3. The Conversational Cloud can transform digital customer service team careers in AI
Our AI-powered platform saves time, money, and training resources thanks to speedy and seamless technology deployment. The Conversational Cloud gives digital customer support the tools they need to get up and running fast with Conversational AI, asynchronous messaging across digital channels, and voice solutions. In fact, agents can find new career paths through our AI technology and digital interactions, helping serve customers via conversation management, conversational design, and conversational analysis.
4. Our global presence helps make a positive impact with customers near and far
Quadrant noted our U.S. roots as well as our customer base in Canada, Latin America, South America, Europe, Middle East and Africa, and Asia-Pacific regions as another advantage in the competitive digital customer service marketplace. Building quality Conversational AI interactions in multiple languages across digital channels for a diverse customer base — all at scale — only makes us a stronger conversational partner for the digital customer experience.
---
Helping provide the best digital customer experience is what we do
At LivePerson, we don't take being a leader in Conversational AI or helping improve customer service lightly. Quality conversations based on real customer inquiries, intents, and needs are at the heart of the work we do. In order to be successful in this digital world, brands need the modern technology and tools to support and engage customers on multiple channels throughout their buying journey while keeping operational costs low. It's just what customers expect nowadays. However, we're passionate about going beyond those expectations into amazingly helpful — dare we say, Curiously Human™ — customer service experiences. 
All of these capabilities and more positive outcomes for brands and consumers are possible with LivePerson. (But don't take it from us; dive into our customer feedback and case studies.) We're grateful to Quadrant Knowledge Solutions for their detailed analysis that recognizes our strengths and leadership in these key areas of digital customer service and experience-driven, AI innovation.
---
Read the full SPARK Matrix 2022 report
---