Blog
article
How to promote diversity and inclusion in the workplace
Effective Diversity, Equity, and Inclusion programs are about the system, not the seat: How Catherine Goetz, Global Head of DEI strategy for LivePerson, is making inclusion initiatives and workplace diversity a part of every employee's job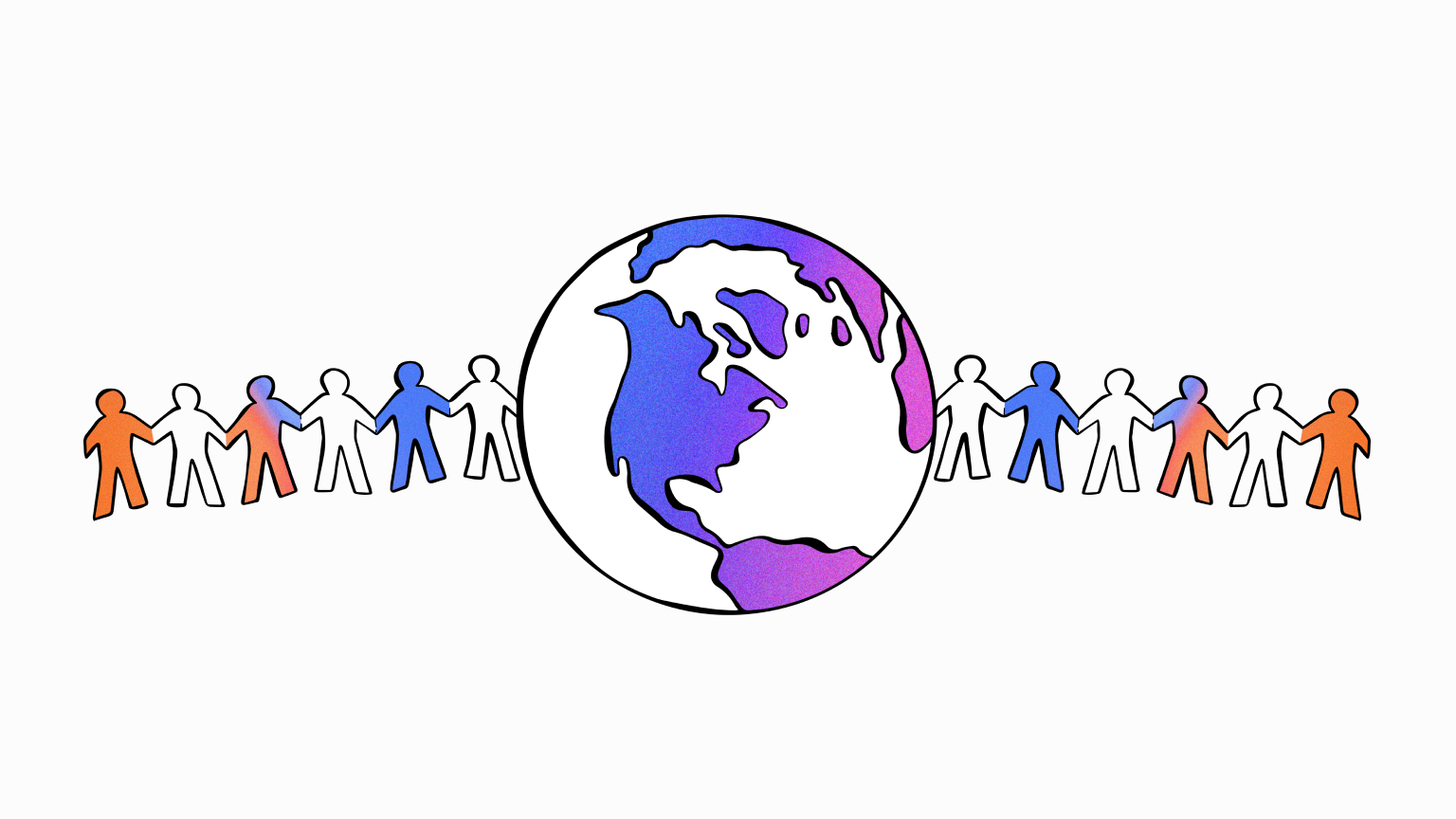 ---
Q: Tell us about your role in helping build an inclusive, diverse workforce.
A: I'm deeply biased, but I see the Inclusion efforts and strategy as one of the most interesting and complex seats in the house. The work is rooted in how to ensure our systems and company culture are built to perpetuate equity and accessibility, embrace workplace diversity, and foster inclusion. I have the pleasure of working across the organization, from product to our people and customer-facing teams to help us interrogate our systems, identify root causes, and start to solve some of the systemic issues companies face. It's a really interesting combination of deep exploration, education, and empowering teams to take action.
---
Q: What does inclusion mean to you as an individual? And what does an inclusive workforce mean to LivePerson?
A: My goal is for this department to be woven into everything we do, make, and say. For me, inclusion has everything to do with the way we demonstrate the value we place on differences and diverse viewpoints. I feel included when I get to work with curious teams, and when I'm able to contribute to the things that have meaningful impact on our people, products, or our brands.
In the context of how to promote diversity and inclusion in the workplace for LivePerson, I think it's simply that same experience, at scale. From the moment someone considers LivePerson as a career path, to the way our product adds value across communities — each of these are opportunities to demonstrate that value. And when we do it well, it's recognized at the individual level and as a tenet of our company culture.
---
Q: You've been here for 9 months. What have you noticed works for LivePerson diversity practices and what doesn't?
A: This is OURS.
We are an employee-driven company, so many initiatives that come through about culture or engaging with local communities are built, led, and driven by our own employees. It's a LivePerson thing, not a Head of "insert title here" thing.
This motto has definitely informed the strategy to make sure that we're ready for the changes needed, and that they aren't embraced by a small few, but instead demanded by our internal community, from senior leaders to employees. I think it takes time to understand how to launch and land things here, but on the whole there's a lot of good work to be done and a genuine appetite to see it become reality. 
---
Q: What plans does LivePerson have to help create an inclusive workplace? What's possible?
A: One of the things I've been most impressed with here is the willingness of LPers (LivePerson team members) to jump in and lead when there's a positive change to be made. Our Employee Resource Groups are a great example of that. There's so much they can offer to the company to help really bind us together and actively embrace diverse viewpoints. Our job as a DEI Council is to make that process as easy as possible for them.
---
Q: How can a company and its employees show up for one another given the enormity of stressors in our lives?
A: I'm a believer in keeping it really simple, especially in times of hurt or struggle. By offering acknowledgement and support, you show the folks in your orbit that you see them, that their experience matters, and they aren't alone. When that happens across tiny moments in our days, it builds a really powerful, compassionate, and empathetic muscle. That muscle informs the way we understand how to lead, how we connect to each other to foster greater inclusivity, and, ultimately, the kinds of products we deliver to the world.
---
Q: Why are you excited about the future of LivePerson?
A: LivePerson has all of the critical pieces needed to rewrite the rules on inclusion and diversity in  tech. Our products are primed for unlocking access for so many across the world, and to help brands do the same, at scale. Our people are bright, invested, and compassionate; so in my mind, there's no reason that we shouldn't be able to lead the way in this new era of AI-driven experiences. It's a really exciting place to be.
---
Q: What are you doing to make sure LivePerson isn't inviting new, underrepresented talent into an aspirational environment that doesn't yet exist?
A: Ha! This is a really fair question about how to promote diversity and inclusion in the workplace, especially because we're in an ever-evolving environment. I see one of the biggest business challenges and factors for attrition (folks leaving) in companies in general as misaligned expectations. That said, I think our teams are pretty clear on where we are, and what we want. As long as we stay willing to be honest and vulnerable about that, we'll be able to set the right expectations, and can deliver once people get here.
Our People team spends a lot of time ensuring we're showing up authentically as part of our diverse workplace. It's also really useful to have a mechanism for a pulse check. Talent Acquisition's new global hiring process has specific "pre-work" carve-outs for teams to consider what our strengths and opportunities are, which feeds into the way we talk about ourselves out in the world through our Employer Brand group. All of that is really helpful in solving for this challenge. (Don't skip the pre-work, folks.)
---
Q: Creating an inclusive work culture and strategy for a company that spans so many different countries and regions is a huge task. Where are you planning to start?
A: There are a couple of core priorities that are foundational to our long-term success:
Awareness and visibility – The first is around awareness and really putting voice and definition to what we mean at LP when we talk about diversity, equity, inclusion, and accessibility. Ours is an employee-led culture, so it's really vital that as an organization we're aligned on priorities, whether they be at the company level, by region, or within specific business units. This is a data-driven exercise with programmatic outcomes. To make that simple, we'll be sharing data more transparently with LPers and investing in visibility, whether that's around goal setting, learning, or ways to get involved.
Intentional processes – The second is around placing intentionality within our processes. We are a highly distributed team, so the ways we communicate, engage each other, and measure success have to be built with equity and inclusion in mind. The People team is doing some really transformative work around our values and mindsets, and DE&I are at the center.
---
How to promote diversity and inclusion in the workplace … and keep it a priority, regardless of company changes
People reading this should be empowered and recognize their impact and responsibility in this work. Everyone can make a difference. 
I think this goes back to how we set our priorities as a company. When DE&I is focused only on programs and company holidays, it's easy to be seen as extracurricular. What we know is that this work is everyone's job. The efforts being done to redesign our processes create both systems and expectations around how we work together, but a process is only as good as people's willingness to adopt it. Creating visibility is a mechanism not only for employee engagement, but also for accountability. When we can see the impacts of our inclusion efforts, they're easier to advance. As LPers, we're known for seeing a problem and swarming to solve it. This work is no different, and requires us all to do our part.
I have every confidence that we're up to the challenge.
---