Blog
article
How Conversational AI and corporate COVID testing can increase confidence for the return to normal retail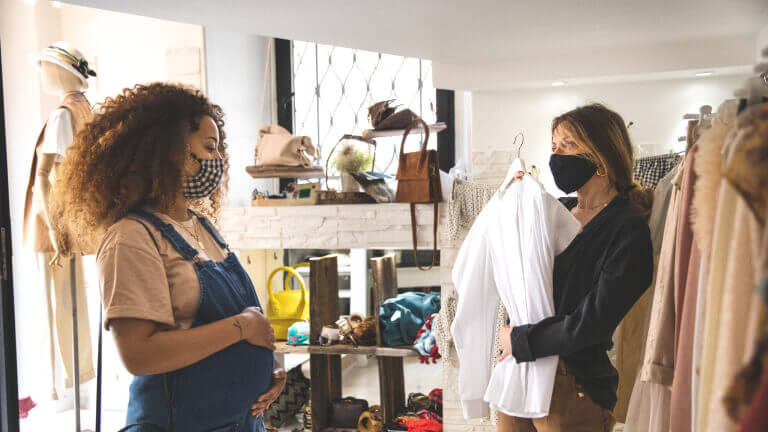 ---
Retailers big and small have shown immense amounts of resilience and ingenuity over the course of the pandemic. They've built out contactless pickup programs, they've launched or enhanced their digital shopping capabilities, and many have even embraced cutting-edge tools like Conversational AI to reimagine their online and offline shopping experiences. While many of these advancements are certainly here to stay, there is always the hope to return to some sense of "normalcy." For many, normalcy looks like a fully staffed store with the freedom to explore, browse, and try on without waiting in long, six-feet-apart lines or wearing masks.
In the US, we had a taste of normalcy this summer.  People were excited to resume doing business in a way that restores the magic and energy unique to the in-person retail experience. While COVID-19 vaccination rates are improving, rising infection rates pose a threat to the resumption of these experiences as the Delta variant and recent spikes in cases across the country have sparked tighter restrictions and a backtrack on guidance around masks from the CDC as well as some local governments like in Louisiana.
So what does this mean for retailers? It's time to double-down on the best practices that we've learned together, creating innovative experiences that increase employee and consumer confidence and cultivate safer retail environments.
Let's go over some of these best practices and how Conversational AI can take them to the next level:
---
01: Corporate COVID testing
Rapid tests are easy to self-administer and interpret, at a fraction of the costs of expensive PCR tests. By providing employees with at-home rapid tests to take on a routine basis, you can increase confidence that you're fostering a healthy work environment and limiting spread of COVID-19 for both employees and consumers. Read more about the benefits of rapid testing here.
Level up with Conversational AI:
‍LivePerson developed a solution through the BELLA Health™ app that provides your employees with routine, at-home rapid tests. In a matter of weeks, our corporate COVID testing program can source, deliver, and guide your teams and customers through self-administered tests — powered by video-based instructions, real-time messaging, and an empathetic Conversational AI. This turnkey managed solution includes the ability to deliver key workplace protocol guidelines, all in a completely secure and compliant approach.
---
02: BOPIS and curbside pickup
Curbside pickup and BOPIS, or buy-online-pickup-in-store, models grew 208% in 2020. They provided consumers with a hybrid model that didn't require them to go in stores, avoided the chaos of fulfillment issues over the course of the pandemic, and simply offered convenience to busy consumers navigating their new roles and lifestyles. While people are certainly excited to get back to in-store shopping, they also overwhelmingly report that they like curbside pickup, with 87% saying they want restaurants and brands to continue the service.
Level up with Conversational AI:
‍With Conversational AI, these fulfillment experiences become even more seamless. Consumers can place orders through their favorite messaging channels, with the ability to ask questions about product availability or information to a bot or agent right in the same channel they're placing the order in. When they arrive, pickup is a breeze. They can scan a QR code to alert the store they've arrived, interact with a bot in messaging to confirm their order and payment, and then they simply wait for their order to be brought to their car.
---
03: Blur the lines of digital and physical shopping experiences
Digital has grown more in the last year than it did in the previous 10 combined. Make your digital shopping experiences an extension of your in-person experiences and vice versa. No matter where consumers interact with you, it should feel like a consistent experience, from branding to product quality to level of service. Some ways to do this include virtual try-ons for digital and QR codes that lead to product information or the ability to order in a different color or size right from the in-store experience.
Level up with Conversational AI:
Offer seamless support across the entire customer journey. If you're short-staffed, give in-store shoppers the ability to connect with a virtual agent to get support through messaging. For digital shoppers, AI-powered chatbots and specialized agents combine to bypass common barriers to conversion through web and mobile messaging, with brands seeing as much as 4x conversion rates and 1.75x average order value on messaging-assisted sales. Some brands are even recreating the entire in-store experience through messaging and Conversational AI — a top jewelry retailer is working to provide personal stylists, virtual showrooms and try-ons, and video appointments, all through shoppers' favorite messaging channels.
---
The truth is, retail has been forever changed
We believe shoppers will continue to crave the tactile, energetic experience of shopping in-store, but seamless experiences across digital and physical will help retailers stand out while offering flexibility and continuity of experience — even in the most unprecedented of times. Conversational AI can elevate digital and in-store shopping while offering support to increase confidence in the health and safety of the in-person retail experience in the meantime.
If you need a little extra help getting these AI-powered experiences up-and-running, ask us about our managed services for automation, annotation, and full contact center management.
---
Ready to discuss how LivePerson's solutions can help increase confidence for the return to normal retail?
---