Blog
article
Meeting customers where they are: How Conversational AI became Virgin Media's digital customer engagement strategy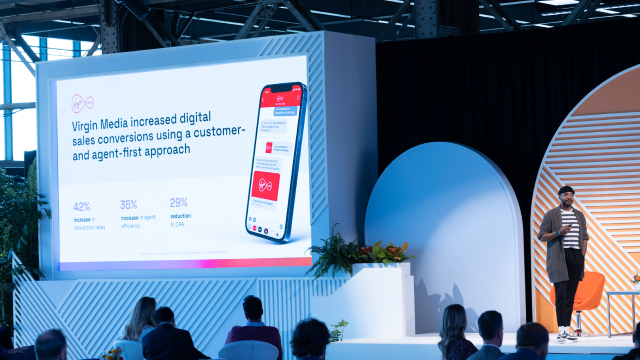 ---
My job is to help customers get to a point of resolution in the most efficient way possible, while decreasing anxiety and confusion. It's my job and my passion. I head up the new customer acquisition side of the UK's largest and fastest gigabit broadband provider, Virgin Media O2. We're using Conversational AI and AI chatbot automation to supercharge digital innovation and ease our customer's path to purchase — it is quite an extraordinary thing. 
But first, let me go back a few years to the time before automation. I call it the "BA period," and I want to tell you why it was crucial to move past the ordinary and get to an extraordinary digital engagement strategy.
---
The challenging commute
We were delivering a successful web chat program. We were driving a positive customer experience and, more importantly, incremental revenue — record results month in and month out. The problem was we were limited to single synchronous chat sessions on the web, which meant that in contrast to today's asynchronous experience, conversations wouldn't persist if a customer lost signal or closed the browser window. The only optimization to speak of came in the form of pre-chat surveys. It may have been a simpler time, but we weren't reaching a fraction of our potential. 
We had two key challenges to solve: disconnected conversations and lack of a smartphone centric solution. The majority of our synchronous web chat conversations were occurring when customers were commuting, so before and after work on the Tube or train. If we lost them to network dropouts in a tunnel or an unfinished conversation at the end of the commute, we might have lost them for good. 
So, we dived head first into the world of asynchronous messaging with LivePerson's Conversational Cloud. Literally, one day we had synchronous web chat for our customer interactions and the next day we had async web messaging. That was a very stressful 24 hours for all involved. It was also very ambitious and very Virgin Media. I couldn't have imagined the success that it would deliver so immediately.
---
Big results from exceeding customer expectations
Out of the gate, we contributed to 1 in 5 of all online sales for broadband. We contributed to 1 in 3 in mobile and new acquisition sales, and 50% of our mobile upgrades all came through asynchronous, digital channels. A huge success. And then we introduced our triage bot, Terri. 
The goal with Terri was straightforward: quickly identify customer intent and navigate that customer to the appropriate place. But the underlying focus was to create taxonomies based on those intents and customer data, giving us the ability to build comprehensive, contained solutions throughout the customer journey. When I look back, having this approach from day one was arguably one of the key reasons we are so successful today. We laid the foundation for the intelligence that sits behind the bots — Terri, Danni, and Holden — that provide the keys to seamless digital customer engagement.
Today, with 44.2 million UK connections across broadband, mobile, and entertainment, and a fixed network that reaches 16 million homes and businesses, Virgin Media is not only async on the web. We invite customers to connect with us through an omnichannel, multimodal solution including web messaging, SMS, WhatsApp, and Google's Business Messages. With LivePerson, we maintain consistency in our customer engagement model, regardless of the channel that the customer enters in and with zero deterioration across those platforms because, ultimately, the whole idea is to meet customers where they are, not where we want them to be. And successful delivery hinges on the ability to augment our human customer service agents with AI and automation.
---
Behind the scenes of our AI-powered digital customer engagement strategy
Using LivePerson's Conversation Orchestrator, we preload personalized invites for our agents to utilize. The NLU runs in the background to identify all intents and Danni, our discovery and recommendation bot, takes over and helps our live agents with rich, structured content to identify a customer's needs. The conversation is handed back to the agent and even though Danni has stepped away from the conversation, the NLU is still running and ready to assist agents with a new recommendation. It is a brilliant digital customer engagement dance with Terri identifying intent, handing off to a human agent, the human agent handing off to Danni for recommendations, and back to the human agent.
With Conversation Orchestrator, we maximize the power of appropriate selection and, as a result, deliver a 42% increase in our conversion rates. Additionally, agent efficiency has increased by 35% and we have reduced the cost per acquisition by nearly 30%.
And for those customers that go idle? The ones who seem to have nodded off midway through the conversation? We have Holden bot. Instead of just allowing the system to close the conversation down and send a potentially high propensity customer down a suboptimal experience, our agents transfer the conversation to Holden to keep such customer relationships warm. Holden will do one simple thing; it will re-engage with the customer and say something simple like: "Hey, it looks like we've missed you. Not to worry, if you come back I'll reconnect you with an agent and we can pick up where we left off, or we can move the conversation to WhatsApp, or you can ask me a question."
Nearly 50% of the idle re-engage following a nudge from Holden and 57% of those convert.
Regardless of where the customer wants to pick up the conversation, we match with a degree of agility designed to enhance their customer experience and in the channel they prefer.
---
Optimizing for effectiveness and customer satisfaction
Today, I'm super proud of the optimization we are bringing customers and the business. When we measure success, we focus on a number of critical points, including automated conversation continuance and "containment by design." 
Containment is a very challenging measure. If someone gets stuck in a chatbot loop, or frustrated by the exchange, and walks away — that's a poor outcome. What we measure is containment by design, which spotlights positive outcomes. It is critical for us to be able to measure the effectiveness of the conversational journeys that we have designed to be contained. Just because the bot doesn't escalate to an agent doesn't mean it's an optimal experience, and just because the bot does escalate to an agent doesn't mean it's a sub-optimal experience. 
Looking at our weekly continuance and containment by design reporting, we see the points of optimization as well as the the points of friction in our customer engagement strategies, enabling us to quickly make changes that ensure the experience is delivering as intended — helping customers to get to a point of resolution in the most efficient way possible while decreasing anxiety and confusion. 
And what digital customer engagement trends will we focus on tomorrow?
Virgin Media leadership has tasked my team to achieve 100% containment for all recognized new acquisition intents by the end of 2024. Now, this is a very daunting task, and I've definitely woken up in the middle of the night thinking, 100%! But I believe following our bot optimization principles and utilizing the power of Conversational AI, we can achieve this. In fact, I can see a very clear path.
---
Learn more about Virgin Media's conversational selling machine
---