In the News
LivePerson recognized in Forrester report on innovative applications of AI in CRM and customer service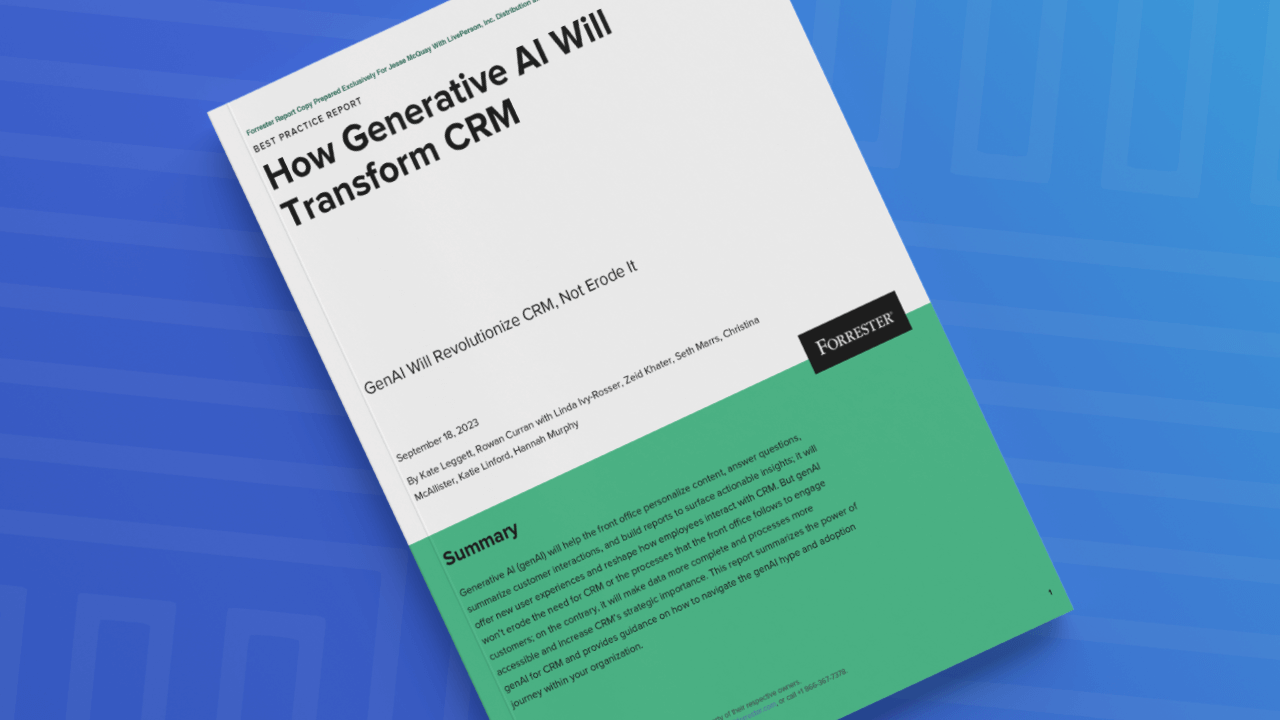 ---
LivePerson is honored to have been recognized in Forrester's new report: "How Generative AI will Transform CRM." Generative artificial intelligence (AI) tools don't just analyze data or produce AI-generated content, and in this report, you see how certain applications of AI can actually enhance customer relationship management by increasing productivity and helping agents deliver better customer experiences.
---
Where LivePerson's artificial intelligence applications come into play
One way LivePerson's generative artificial intelligence applications work is directly within the agent workspace. It can autosummarize notes for agents and seamlessly add in their personal feedback to supplement that customer data. Here are two more quick examples of how LivePerson's AI technologies and automation capabilities have led to better business outcomes:
Saving time with business processes – A top 10 US credit union uses LivePerson's LLM-powered conversation summary widget across 25 agents. They improved the time to first response by 25% and average response time for customer interactions by 20%. Agents benefited by spending less time with an "away" status and more time "online," focusing on higher-value tasks rather than transcribing call notes.
Improving customer satisfaction – LivePerson deployed customer service AI-powered chatbots on its website using a LLM whose natural language processing was trained with vast datasets of support articles, boosting case deflection and first contact resolution by 30% and raising the bot's Net Promoter Score from -25 to +50.
---
Now's the time to empower agents with powerful AI systems in customer service, sales, marketing, and beyond
According to Forrester's CEO, George Colony, the time to move is now.  He notes, "As companies operate generative AI, they'll have to continually monitor and perfect to ensure that it's imparting valuable information, not hallucinations. In that respect, this is an 'Iron Man' moment, not a robot moment — it's an opportunity to put workers in 'suits' of technology to enable them to serve customers better. As long as the customer knows that a human being is in that suit, trust will advance, because people trust people."
"As Forrester's new report says, new applications of AI won't replace customer engagement, but in fact make it more important to brands' strategies than ever before," said Alex Kroman, Executive Vice President, Product and Technology at LivePerson. "With the latest conversational and generative AI solutions, any brand can turn its customer-facing employees into what Forrester calls 'superpowered administrators and collaborators' to provide differentiated experiences."
---
Explore more ways generative AI can work for your business
Join LivePerson's Chief Scientist and our guest Forrester to learn how generative AI can increase customer satisfaction — and your bottom line — safely and effectively.
---