2021 DEFI Digital CX Report
Be a customer experience leader in decentralized finance
Learn how your DeFi brand can win and retain customers with a scalable, real-time Conversational AI consumer experience.
A new wave of financial services innovation
Cryptocurrency and decentralized finance (DeFi) is booming, representing a new wave of innovation that is transforming financial services. The Financial Times reports that by 2026, hedge funds expect to hold around 7% of assets in crypto representing close to $312 billion in digital currencies across the industry. In decentralized finance specifically, NASDAQ states that, "Within only two years, DeFi protocols have locked in over $19 billion in assets." Looking to the future, they also note, "The potential for growth with new opportunities and developments is truly staggering," which is evident in the industry's growth to over $55 billion in assets in the months since NASDAQ's reporting. For institutions across the industry, however, growing popularity is accompanied by growing pains.
DeFi's customer experience operations deficit
Executives in this hyper-growth industry are focused on transactions, customer acquisition, and revenue growth. Customer experience has been less of a focus. Consequently, operations may not yet be configured to address contact inquiries with speed, scale, and high customer satisfaction. As consumers encounter issues throughout their journey, from onboarding to making their first transaction to managing their account, they reach out for help. This can result in a significant backlog of delayed and unanswered customer inquiries that put brands at risk for prospect abandonment and customer churn. Left waiting for a response, consumers may turn to Reddit, Telegram, or Discord to seek guidance from the community, exposing themselves to security risks. This has become a flashpoint for many brands in this highly competitive market, and brands who prioritize customer experience could win big in this booming market.
And while decentralized finance may thrive in the absence of rules and regulations, a material downside is that surging popularity has attracted bad actors. Reuters reports that while cryptocurrency losses from theft, hacks, and fraud dropped sharply in 2021, "Crime in the booming 'decentralized finance' space hit an all-time high." Concerns about these issues are a major drawback for many who may be thinking of entering the market and engaging with a DeFi brand.
Good news: A study conducted at Harvard Business School uncovered that simply having access to help alleviates consumer anxiety, and increases confidence and trust.
When brands offer customer service where consumers have the ability to message should they encounter an issue, it increases the consumers' confidence to do business with the brand. Plus, 91% of customers say good service makes them more likely to purchase from a company again. 
Not all forms of customer service are created equal, though. In an industry fraught with cyber scams, particularly phishing, the use of insecure email exchange for help desk support or general brand inquiries increases the exposure of these brands and their customers to scams. This creates additional risk for customer attrition. So how can a brand deliver a trusted and responsive consumer experience?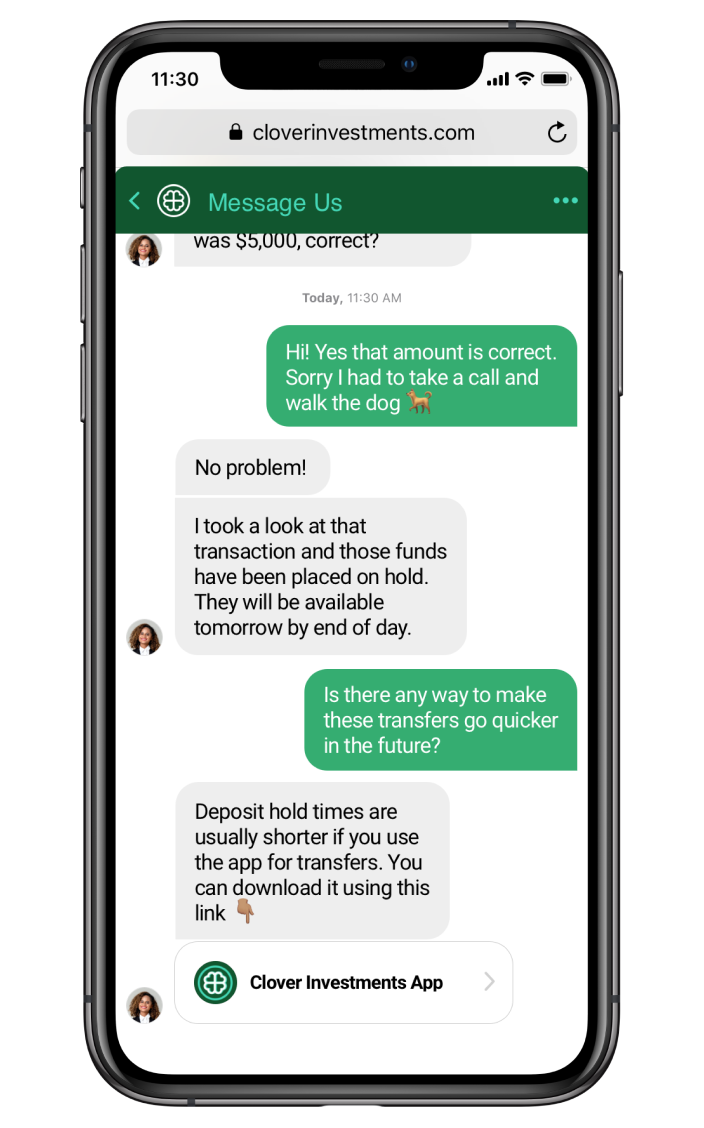 Enter Conversational AI for decentralized finance
Conversational AI makes it possible for you to meet the customer experience expectations of younger, tech-savvy consumers, expanding your ability to help at any time with complex financial instruments, transactions, and account issues. Now you can deliver a differentiated customer experience aided by secure messaging to meet consumers where they are with personalized interactions. For consumers, the availability of real-time help instills confidence and trust — that an institution is not opaque and possibly fraudulent, but stands ready to guide them through their decentralized finance journey. For brands, this will be a competitive advantage.
Plus, the target market of decentralized finance institutions report a high interest in messaging with brands. According to Google Analytics data collated by Coin Dance, most Bitcoin users are male between 24 to 44. 90% identify as male and 57% are between the ages of 24 to 34, followed by 20% between the ages of 35 to 44.
LivePerson consumer research shows that a similar demographic reports the highest preference for messaging, with 88% of respondents aged 35 to 44 expressing a high interest in messaging with brands
Partner with LivePerson to be a DeFi customer experience leader
LivePerson's AI-powered Conversational Cloud makes it possible for brands to engage consumers in real time over web and messaging channels, driving retention and sales. To deliver a frictionless consumer experience, blockchain-based infrastructures require distinct technology integration. Unlike other providers, LivePerson has the experience in DeFi system integration to enable you to deliver a cutting-edge consumer experience and program success.
For an accelerated, scalable approach, leverage our fully managed Contact Center as a Service (CCaaS) solution, where you determine the KPIs and only pay for outcomes ensuring a high return on investment. Focus on your core business while humanized digital customer experiences are delivered by LivePerson, inclusive of agents and automation.
In just two to four weeks, you'll be able to offer conversational customer experiences that are proven to improve CSAT and deepen relationships with greater operational efficiency.
Explore our DeFi solution