Blog
article
How LivePerson's conversation intelligence technology helps brands improve business operations
The LivePerson 4E Framework takes the guesswork out of optimization, delivering an AI-powered assessment of all conversational operations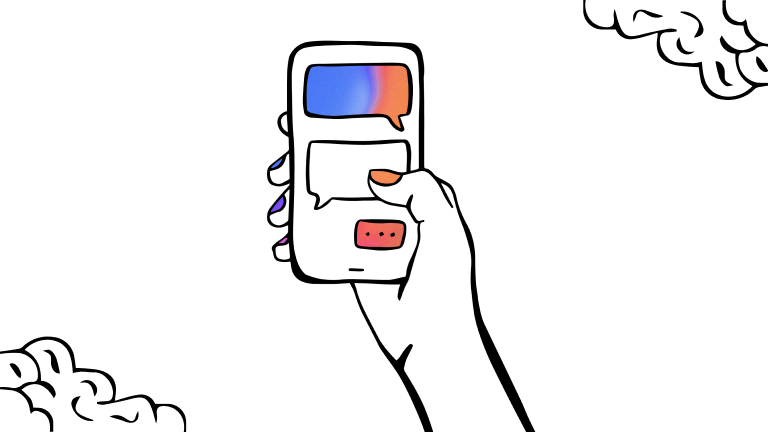 ---
Messaging capabilities have been around for 38 years. To gain a competitive edge, brands have adopted this kind of messaging as part of their operational model for customer interactions. But did you know that the same operational frameworks and tools can also help you manage artificial intelligence (bot) operations?
---
The world as we know it
While some brands perceive conversational operations as complex, they still consider messaging something new and expect a learning curve will slow down progress. It does not have to be this way. 
To truly scale, brands need to make the best sense of existing data, analyze trends, and use that to drive decision making. The bulk of their time should be spent on implementing performance improvement initiatives, creating memorable conversational experiences, or moving interactions from traditional channels to messaging. They should avoid data crunching, even for conversation analytics. And that's why they need conversation intelligence technology.
---
LivePerson has taken the guesswork out of optimization
LivePerson has delivered a major breakthrough in effectively managing conversational performance at scale, using a proprietary measurement framework. We call it the LivePerson 4E Framework: Efficiency, Effectiveness, Effort and Emotion. This new framework for conversational intelligence is simple, easy to understand, and easy to adopt.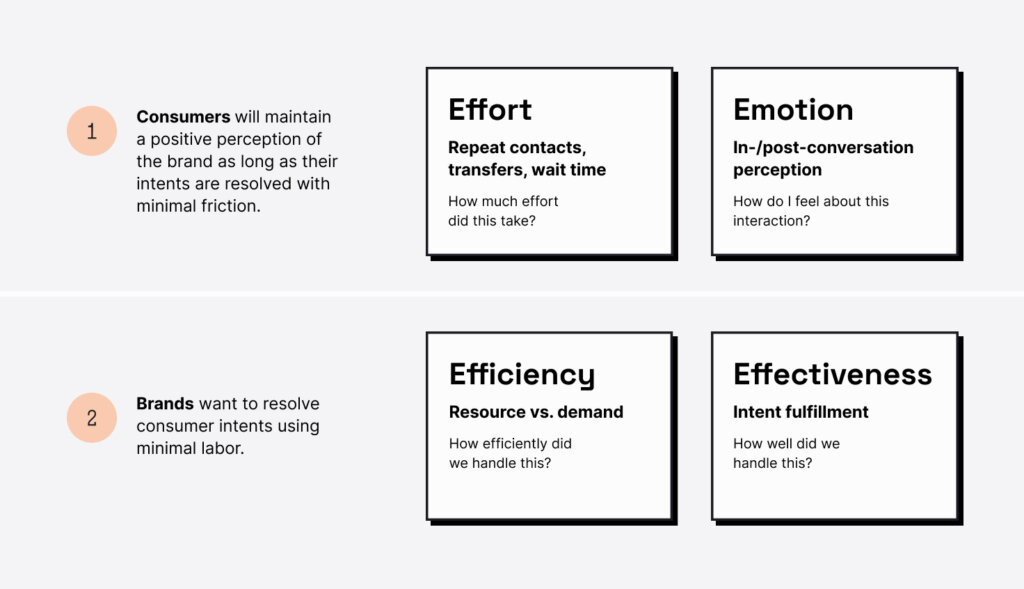 Conversational AI powers brand performance and consumer experience with the 4E Framework
The 4E Framework is built on the fundamental truth that to drive an exceptional customer experience, a brand must build an efficient and effective operation:
It is relevant – It applies to customer conversations in any brand or industry.
It is outcome-based – It prioritizes and aggregates the existing metric stack to focus on metrics that matter for customer interactions.
It is future-proof – It is designed to serve as a cornerstone for subsequent development of operational optimization framework and tools.
The 4E Framework makes it easy for brands to prioritize operational opportunities while simultaneously improving the customer experience. In fact, LivePerson's Performance Optimizer, a conversational analytics product within the Conversational Cloud® platform, is built on this framework, helping C-Suite executives make decisions around conversational performance and operational data. The 4E Framework delivers an automated, AI-powered assessment of all conversational operations, allowing brands to easily implement a recommended automation strategy that will identify the metrics needing attention, trends, and recurring patterns requiring corrective actions.
When to use these metrics
Often, when scientists build a model, they measure direct metrics related to the model performance, such as precision or recall. But the end impact could be ignored even though those metrics directly translate to dollar-value impacts. Since our conversation intelligence solution framework weaves in actionable steps that can impact your bottom line and sales strategy, we recommend using 4E metrics when possible for:
Driving operational performance – Leverage the 4E metrics to optimize contact center performance, increasing ROI while delivering an excellent customer experience.
Competitive analysis – 4E benchmarking by industry and region gives a better sense of where the business currently stands within their own competitive landscape. The 4E Framework quickly identifies where and how to become best in class.
Artificial intelligence – AI chatbots and other automations can also be used when the efficiency of the contact center is low. However, it is then important to measure efficiency gains against effectiveness, effort, and emotion. Maintaining a positive balance to your 4E's ensures automation positively impacts the customer experience.
---
Case Study: Boosting effectiveness for $8.6B retail enterprise with conversation intelligence technology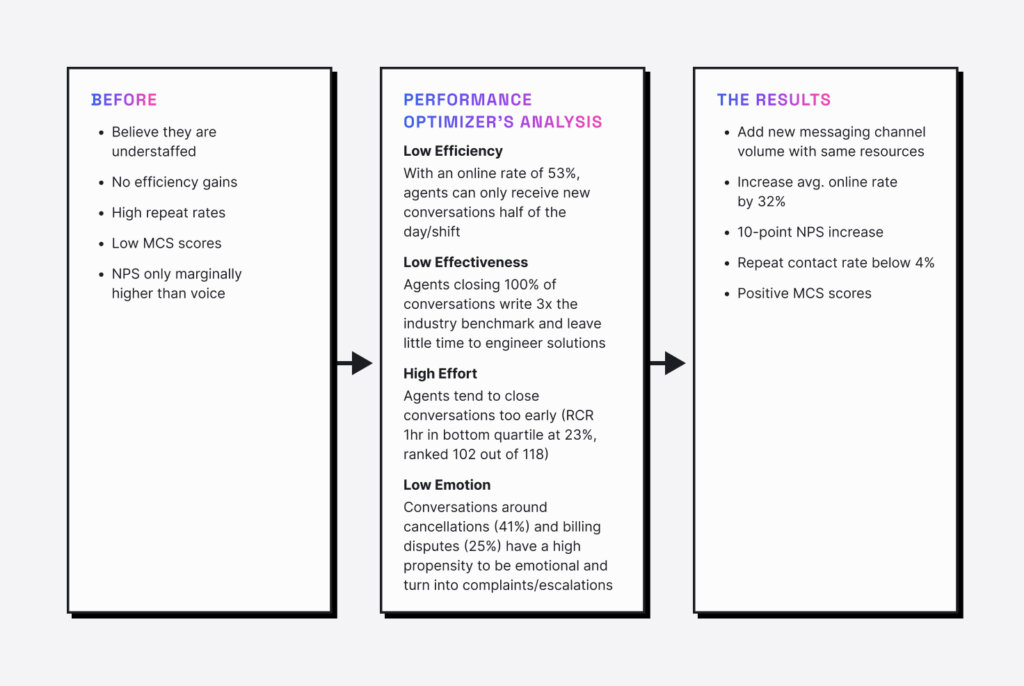 A case study on a large retail brand showed its struggles with customer satisfaction and had a goal to increase revenue by introducing additional channels. It believed the only way to successfully bring on a new channel and increase consumer experience was to drastically increase staffing levels.
Using Performance Optimizer to study their digital data and conversational business performance, the retailer immediately learned that increased hiring wasn't the best course of action. Additional headcount would have only exacerbated the problem. 
Through the 4E Framework that Performance Optimizer is built on, the retailer realized it needed to address other inefficiencies within its operation. This conversation intelligence tool provided actionable insights, prioritized where the brand needed to focus, set targets based on industry-level benchmarks, and recommended tactical actions to improve performance. The recommendations ranged from simple process modifications to implementation of LivePerson artificial intelligence and automation technology, such as:
Efficiency – Use LivePerson's Analytics Builder to ascertain which AWAY codes are being used, and which agents are using them. Pay particular attention to admin or pre-break/lunch codes that often are far in excess of accepted parameters; agents may be using these codes to artificially throttle their workload. 
Effectiveness – Consider if capacity is too high and agents are driven to use chat behaviors to service an unmanageable number of customers. LivePerson suggests tenured agents of over 30 days production time are set to a capacity of 4.
Effort – If Auto-Close Rate is low, agents are manually closing conversations too early. Review a cross section of closed conversation transcripts, and consider if agent scorecard targets are driving this behavior. Ensure agents understand that customer conversations should only be closed where a full resolution has been given to that customer.
Emotion – Identify key customer pain points by volume and severity, categorized by people (agent responses), process (making the customer journey effortless), and product (ensuring the product promise matches the reality). Have supervisors use real-time monitoring to jump into conversations with low or negative trending MCS (sentiment).
After implementing Performance Optimizer's recommendations, the retailer introduced a new channel with its original staffing levels. They were even able to optimize efficiency and effectiveness, driving improvement in their customer satisfaction ratings.
---
Learn more about how LivePerson's conversational intelligence and proprietary 4E Framework are improving business operations with Performance Optimizer
---