Blog
article
Introducing a new conversational intelligence software suite
Putting the "I" in conversational AI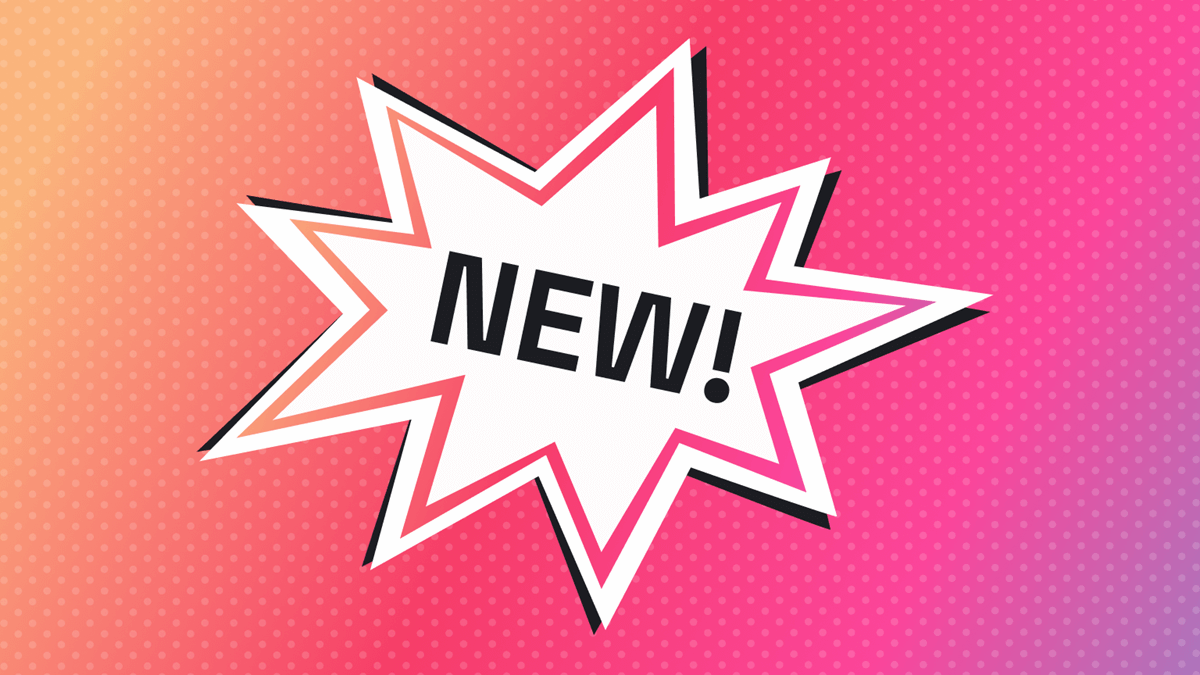 ---
Since the explosive emergence of generative AI tools a year ago, brands have been racing to adopt AI. The problem is, without proper intelligence, AI is just artificial — and, let's face it, dumb. With this in mind, LivePerson has been hard at work building AI tools focused on the best kind of intelligence — conversational intelligence — the actual words and intents your customers are sharing every day.   
Introducing: LivePerson's Conversational Intelligence suite. Powered by artificial intelligence and informed by billions of real customer conversations, our enterprise conversational intelligence software is a must-have for any business looking to improve the customer experience. LivePerson's Conversational Intelligence suite allows you to invest in AI with confidence and purpose, giving you the tools you need to better understand and serve your customers, your team, and your business by analyzing the most valuable data you have — conversation data.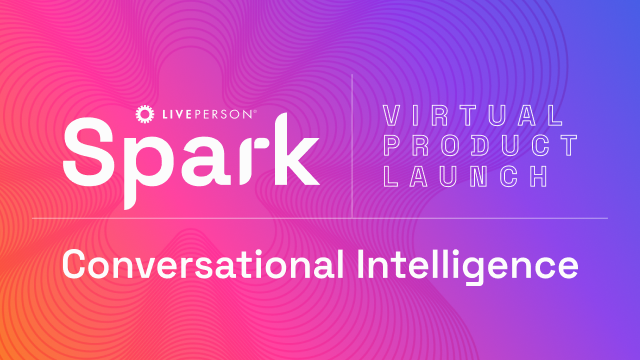 ---
Drive better business outcomes with LivePerson's Conversational Intelligence suite
The new intelligence suite is part of LivePerson's award-winning conversational AI platform, Conversational Cloud®, consisting of three AI-empowered tools to help brands discover, measure, and act on their conversation data.
DISCOVER: Generative Insights delivers conversation insights via an LLM-powered, conversational experience — putting the latest generative AI technology to work for you. 
MEASURE: Report Center offers out-of-the-box reporting capabilities that measure how AI and human-powered voice and messaging customer interactions are performing. 
ACT: Analytics Studio combines and converts voice and text conversations into rich actionable data within minutes for significantly deeper analysis, allowing you to make sense of customer behaviors, preferences, and signals across channels. 
Each conversation intelligence tool is designed to help you get more out of your conversation data. With hundreds, if not thousands, of customer conversations taking place each day, your business has a constant flow of real-time customer feedback. Are you listening?
LivePerson's Conversational Intelligence suite helps businesses surface the most common customer intents, uncover costly inefficiencies, and pinpoint revenue-generating opportunities with ease. Let's take a look at how each tool works:
Generative Insights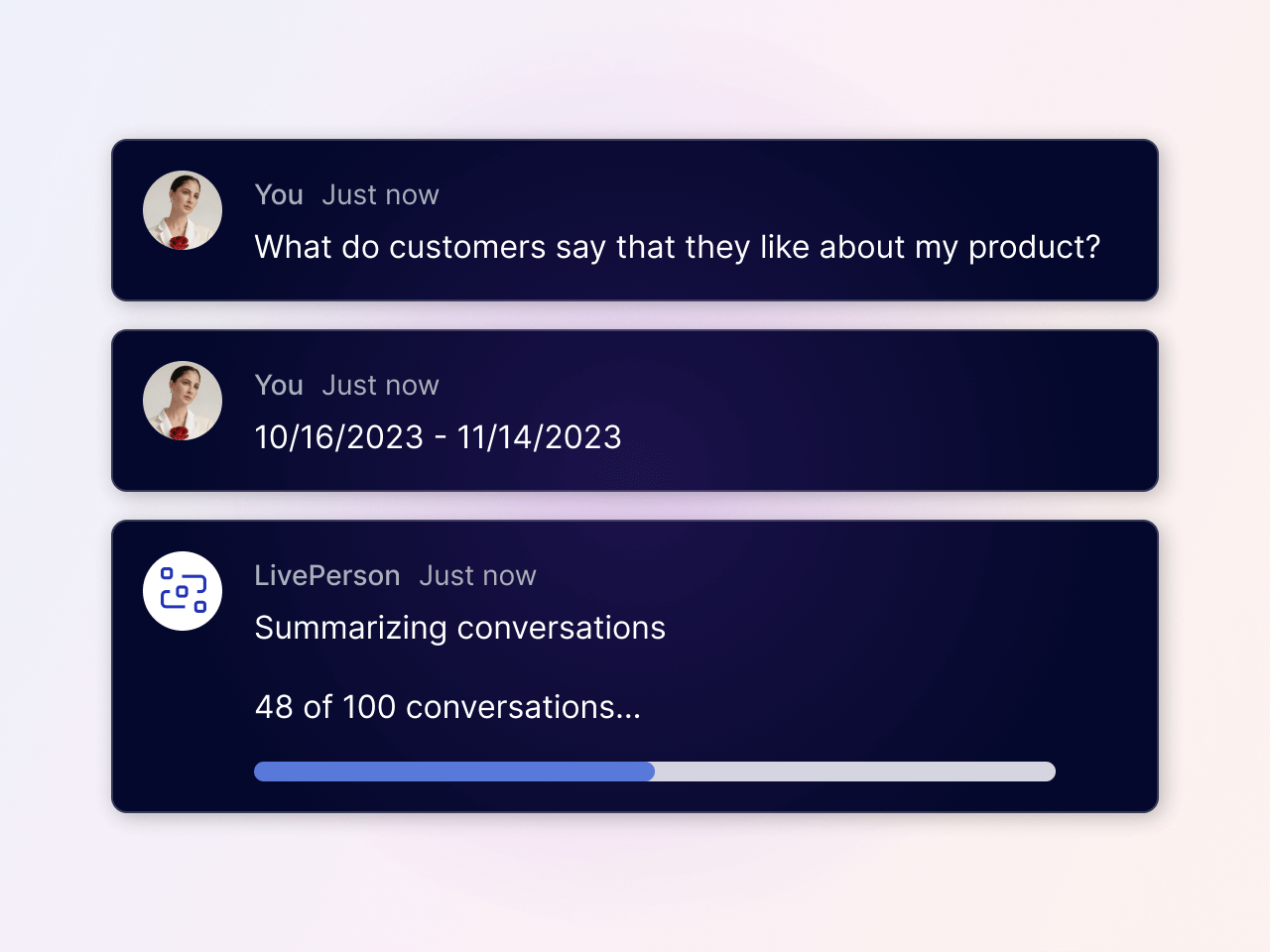 Generative Insights is an LLM-based conversational interface where users can ask open-ended questions about their customer conversation data to easily surface data insights. Say goodbye to hours sifting through transcripts or exporting CSV files for keyword searches. With Generative Insights, you can simply ask the questions that matter most. Any team member, regardless of their expertise, can become a data analyst, sparking fresh insights from unique angles.
Report Center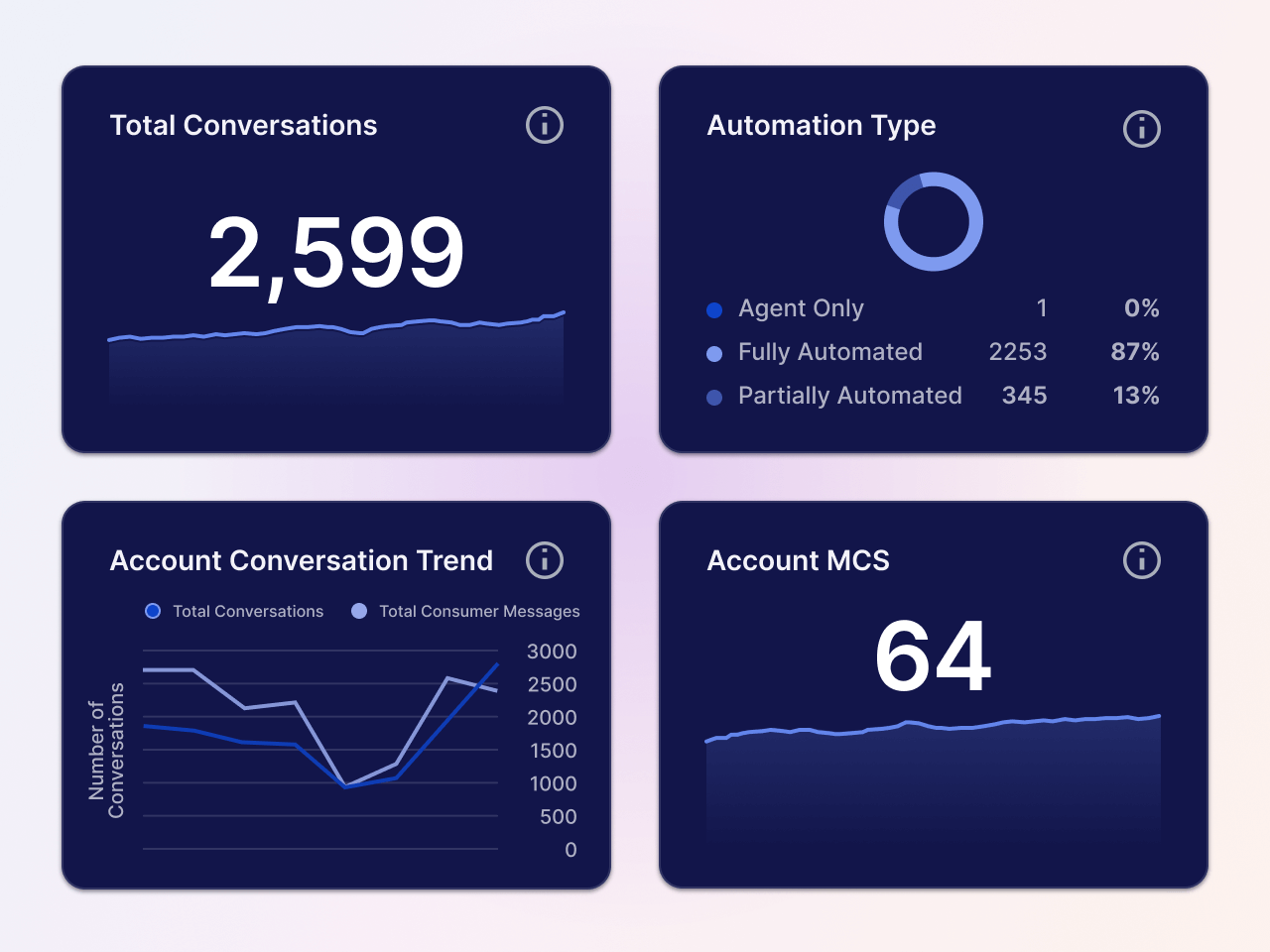 Welcome to your new customer experience single source of truth. Our Report Center offers configurable and intuitive real-time reporting. Uncover and understand valuable customer intents without ever having to leave the Conversational Cloud.
Analytics Studio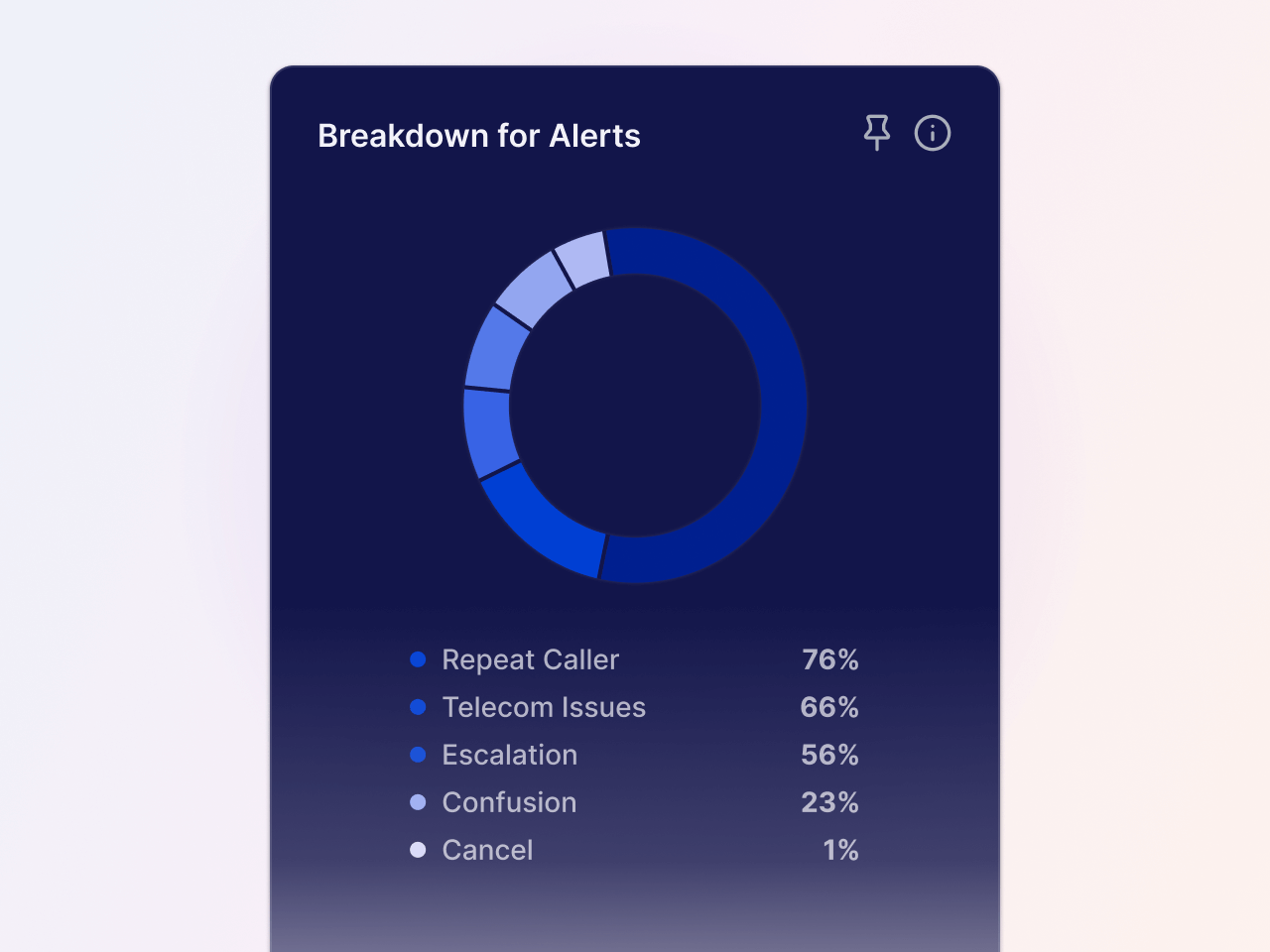 Get true omnichannel visibility into your conversation data across the entire conversational journey. Analytics Studio transforms all customer calls and messages into actionable data. It's your data; get the most out of it. In addition to customizable Tableau dashboards, your conversation data can be delivered through any BI tool you use, giving complete control over your most important asset — your data.
LivePerson's suite of conversation intelligence tools gives business leaders unparalleled insight into the customer experience at scale. The suite not only helps you to better understand what customers are telling you but also uncovers opportunities to improve the agent and customer experience alike.
---
How does conversational intelligence software work?
Conversational intelligence is the process of collecting, organizing, and presenting voice and text data from customer conversations using AI. Conversational intelligence software helps businesses analyze and act upon information found in their conversations with customers. 
Using natural language processing (NLP) and machine learning (ML), conversation intelligence tools can analyze billions of customer conversations to determine intent, tone, and preferences. Key insights in this data can be used to improve the customer journey — from service and operations to marketing and sales.
---
Using conversational intelligence to accelerate the Conversational Flywheel™
Without conversation intelligence, conversational AI platforms and automation are nothing but a band-aid for businesses and a nuisance for customers. Conversation intelligence is what powers and accelerates the Conversational Flywheel, allowing businesses to truly understand customer needs and expectations.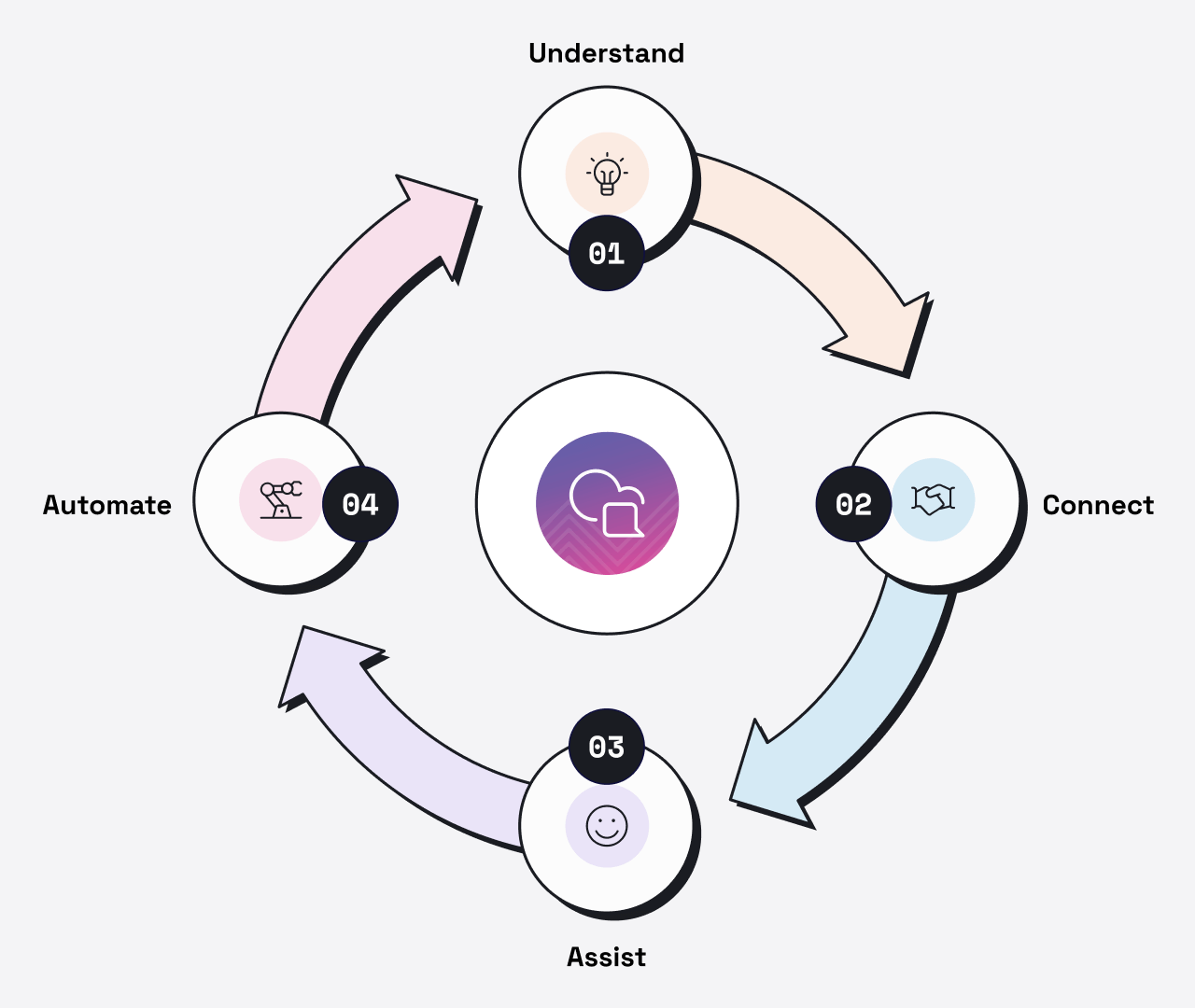 The Conversational Flywheel is made up of four stages: understand, connect, assist, and automate. The first stage, understand, leverages conversation intelligence to analyze customer interactions to surface the most common and valuable customer intents. Conversation intelligence helps you to dive deeper into the data to identify trends like which customer intents have the most volume or are costing the business the most money.
Let's walk through an example:
A quick-service restaurant chain had been experiencing an increasing number of canceled orders at high-traffic locations. Using LivePerson's Conversational Intelligence suite, they were able to dig into why this was happening. It turned out the online ordering system was defaulting to the location closest to customers — not the location they planned to order from. Understanding the why behind this problem allowed the team to address the situation quickly and implement changes at the store level and throughout the rest of the Conversational Flywheel. 
At the connect stage, this restaurant can ensure it has the right systems in place to create a seamless support experience through email, voice, messaging, or any other channel customers choose to use. The company can also better assist its contact center agents by using generative AI to provide up-to-date answers on how to resolve this common issue with online orders. Additionally, the company can find opportunities to automate customer interactions — enabling self-service and accelerating resolutions. Automating frequently asked questions not only reduces agent load but it helps to grow a brand's conversation data.  With more conversations, and therefore more data, the business is able to continuously uncover new insights and find new helpful information to improve the conversational journey, team performance, business operations, and more.
---
Uncover new revenue-generating opportunities with the Conversational Intelligence suite
LivePerson's Conversational Intelligence suite can be a reliable resource for finding new revenue-generating and cost-saving opportunities within your conversation data. Your conversation data holds valuable real-time feedback from your customers, all you have to do is put those insights into action. Early adopters like The RealReal, Delta Dental of Washington, and Sweetwater are putting our conversational intelligence tools to use driving real change in their business operations and customer experience.
Conversational intelligence software was the key to unlocking gaps in the consignor experience at luxury retailer The RealReal, part of the story they shared in a recent conversational AI strategy talk:
"The intent data that we are collecting is a treasure trove when it comes to understanding our customers. Being able to have access to what our clients are saying and being able to surface that to drive business outcomes is huge." 

~ Holly Carroll, VP of Client Operations at The RealReal
The voice analytics in LivePerson's conversational intelligence tools also helped validate how much agent time was wasted on calls about claim status at Delta Dental of Washington:
"We knew this about ourselves that we don't have any sort of self-service functionality on our website. But [if] 12% of our calls [are] about a basic piece of information? It's not that complicated."

~ Becky Masters, Director of Digital Experience for DDWA
Sweetwater analyzed sales conversations with conversation intelligence software to surface common objections and better train their sales teams and engineers:
"We can mine and understand our call data at scale, enabling us to identify best practices, monitor customer sentiment, and improve our sales engineer performance."

~ Jason Johnson, CIO at Sweetwater
LivePerson's Conversational Intelligence suite empowers customer-facing teams to make data-driven decisions about the customer experience daily. Without conversation intelligence, you're leaving revenue opportunities on the table.
"These are not set-it-and-forget-it types of technologies or insights. You're learning every single day."

~ Holly Carroll, VP of Client Operations at The RealReal
---
Discover how LivePerson's Conversational Intelligence suite can help your business drive better business outcomes
---
---