Blog
article
3 ways brands can set themselves up for success using Conversational AI software for employee support
Discover how to improve agent experience, increase business insights, and get better employee engagement with Conversational AI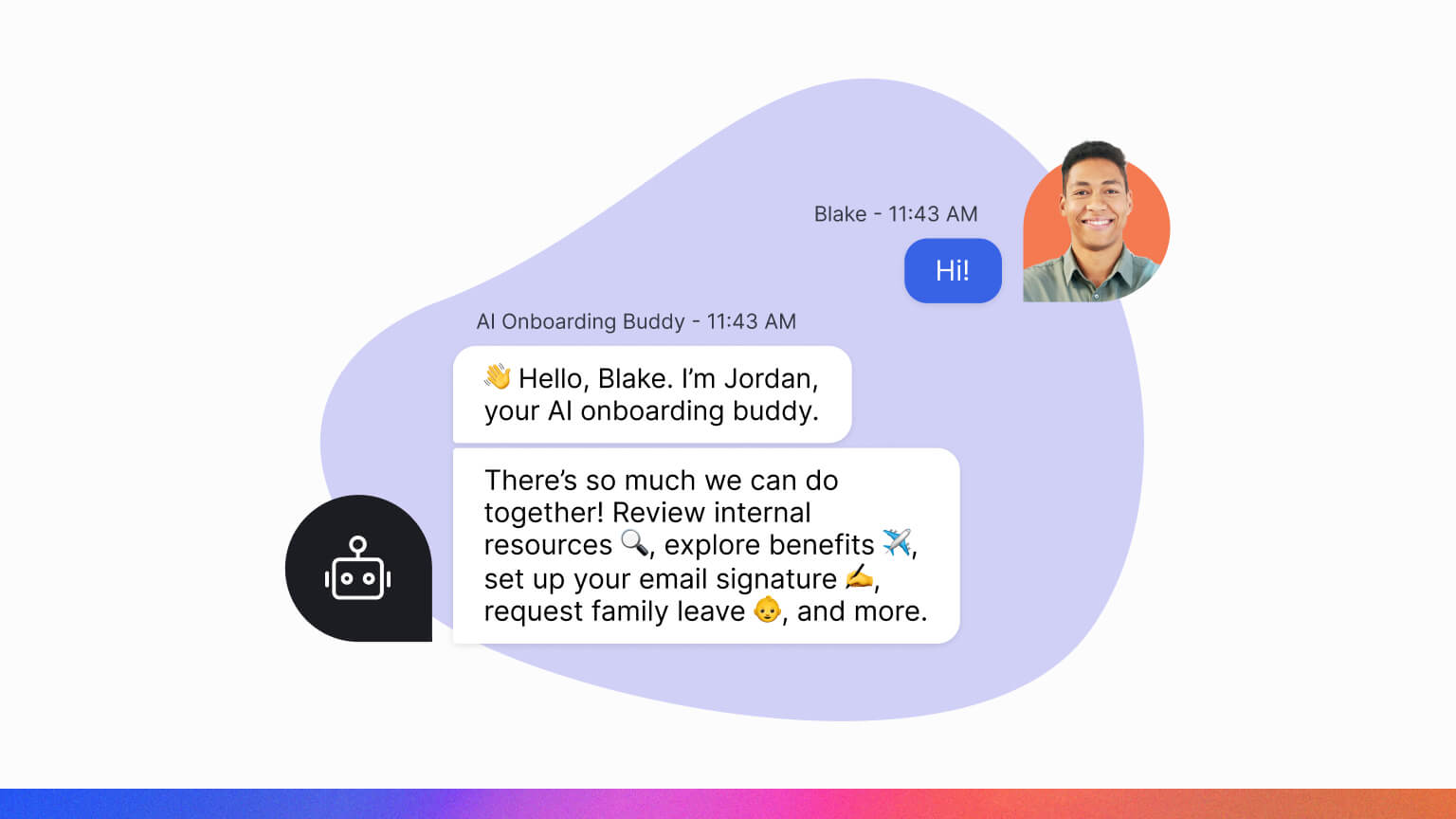 ---
Conversational AI usually refers to AI supporting automated customer interactions — a chatbot responding to a consumer inquiry and, hopefully, providing a quick, satisfactory response. However, bots and a Conversational AI platform can be powerful tools to support a brand well beyond the contact center. Conversational AI can be used to also improve a brand's employee experience in a variety of ways, helping them — and the brand — succeed.
---
1. Make agents more successful on conversational interfaces
Contact center agents handling voice, messaging, chat, email, and social media interactions with consumers are the front line of customer support. As brands expand artificial intelligence automation to perform repetitive tasks, or handle easier interactions, it leaves the more complex, challenging conversations to human agents. These employees have to deal with challenging situations, and even the best agents can use some help getting the job done. Conversational AI software can become a sort of customer support automation platform, making agents more effective, efficient, and consistent in their interactions with consumers.  
Assist tools, like LivePerson's Conversation Assist and Google's Contact Center AI, provide valuable assistance to support agents. Google uses an AI algorithm to mine a brand's best transcripts for the best responses to consumer inquiries, then provides options to the agents in the conversation. This provides better answers, and faster, making it easier for agents to help customers and increase customer satisfaction.
Likewise, LivePerson's Conversation Assist offers recommendations to the agent, either in-line in the conversation panel, or via a searchable widget in the conversation management tool. Multiple machine learning models actively monitor the conversation in real time and, when a match is identified, provide the recommendation to the agent. These recommendations take two forms:
AI KNN (k-nearest neighbor) search results from the text of the consumer message matched to a knowledge base article via our KnowledgeAI solution. This AI Search method is available out of the box and connects to a knowledge base either created in the Conversational Cloud® or linked via API to the brand's knowledge management system.
Natural language understanding (NLU) can connect the intent of a consumer message to automations that assist the agent. When a match is identified, the system recommends a bot to the agent, who can add or remove it at any time, to assist the consumer. Common repeatable processes, such as acceptance of terms and conditions, troubleshooting steps, or form fill data collection are great use cases for bots managing part of the conversation.  When the bot is used, the agent is free to assist other consumers, but still maintains control of the conversation.
These Conversational AI tools provide powerful support to agents, resulting in efficiency savings, improved customer experience, reduced level of effort to resolve issues, and more effective agent performance. All are focus areas of our 4E methodology, powering Performance Optimizer to help make agents as successful as possible.
---
2. Support internal brand programs with Conversational AI software
The best Conversational AI platforms and intelligent virtual assistants, like bots, are not just for assisting brand customers and agents. They can also support employees across several areas: providing quick answers to internal questions, managing end-to-end requests, and even celebrating important milestones and special events throughout a team member's career.
Imagine a human resources experience that engages with and supports the employee lifecycle. Effective HR chatbots can engage from a job applicant's first contact with the brand in the hiring process through the end of employment, giving a consistent, long-term employee experience that supports company culture regardless of how the HR team and staffing changes over time. Consider the many use cases an HR bot can support:
Provide important information during the application submission and recruitment process.
Schedule interviews.
Coordinate offer acceptance and document signature capture.
Guide new employees through the onboarding process.
Assist with benefits management, such as processing vacation, sick, and other time-off requests conversationally.
Submit and manage expense reports.
Remind team members of holiday closures, policy changes, and required trainings.
Send urgent messaging around current events impacting the business.
Celebrate birthdays, anniversaries, promotions, and other special occasions.
Encourage usage of various special benefits the brand offers.
Coordinate reward activity like stock options and vesting progress.
Assist with retirement planning tools, progress, and activities.
Support career change activities when the employee decides to leave or retire.
An effective HR bot reinforces the brand's culture and provides consistent support for every employee at scale, resulting in more loyal employees and cost-effective solutions.
Internal virtual assistants can also extend beyond HR departments into other employee support areas. This includes opening an IT ticket for a software or hardware issue conversationally, sharing self-service troubleshooting steps, getting approvals for new hardware or licenses, and even proactive checkpoints to track satisfaction with equipment and tools. They can also coordinate procurement requests, approvals, and status, open legal tickets, and answer questions about the use of branding and assets.
As you can see, there are a multitude of Conversational AI and AI chatbot use cases for brands to explore, supporting the employee experience across many areas.  These employee engagement programs, when thoughtfully planned out, can be amazing tools to strengthen the brand-employee relationship, benefiting everyone.
---
3. Gain customer experience insights through AI and machine learning to drive results
AI also helps brands connect their customer experience to business decisions throughout the organization. Applying real-time listening and machine learning can tell a brand what topics their consumers are talking about, what their sentiment is when asking about these topics, and can influence decision-making to provide better services and products. 
AI can understand customer data and trends to shape a brand's direction. Here are some examples:
A spike in service issue conversations in a particular area can notify a telco's network operations center of an outage before their own monitoring tools.  
Negative sentiment when asking about a specific product can help the product manager identify improvements.
Coupling intent with conversation history and other experiential customer data can be used to identify the user profile with a high propensity to churn, empowering relationship managers to proactively take action and reduce the risk of losing customers.
Understanding consumer interests and pain points alongside current events can help a brand identify the right promotional offerings to drive increased sales and renewals.
Product, sales, marketing, customer success, etc., can all benefit from a wider use of Conversational AI and Conversational Intelligence.
Check out LivePerson's "What is Conversational Intelligence" blog for more ideas on how AI can influence more than just the one-to-one connection between an agent and a consumer.
---
Ready to expand Conversational AI solutions for a better customer and employee experience?
AI, machine learning, NLU, and automation are more than just contact center tools for solving consumer issues. The value of Conversational AI extends across an entire organization, and can have significant benefits if applied correctly. Whether it be internal programs like HR, or applying AI to learn from consumers to improve the business, the power Conversational AI software can bring can drive amazing experiences and results for a brand.
---