Blog
article
Using Conversational AI technology to fight the climate crisis and reduce greenhouse gas emissions
After all, artificial intelligence was created to benefit our daily lives well into the future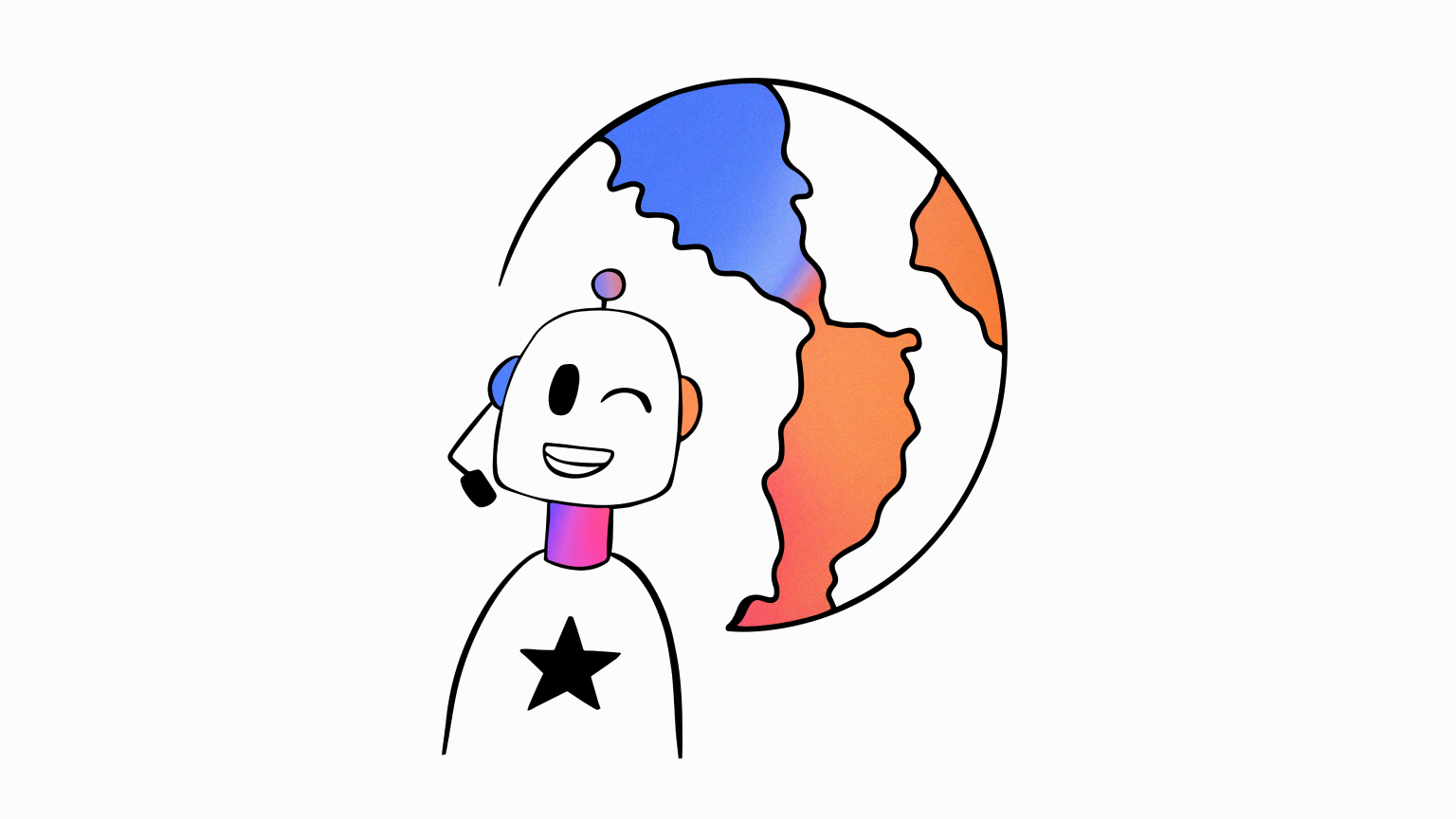 ---
In 2020, 71% of consumers would pay more for brands who are sustainable, and 57% would change their shopping habits in order to reduce environmental impact (Sendle). It's safe to assume that these percentages have risen since.
Whether you're a consumer or a brand leader or both—every one of us has an opportunity to commit to sustainability goals today in order to have another tomorrow. As leaders in advancing Conversational AI technology to help brands deploy automation for higher quality customer service interactions, we're looking at ways our technology can aid in the long term efforts most households and businesses are making to go green.
---
Why is reducing carbon emissions so important?
It's all in the science. And therefore, like science, the evidence is inescapable. Unless we collectively work together — as business leaders, as consumers, as inhabitants of the same planet — to minimize climate damage, then what's the point in creating technology that's only meant to improve our lives while we're here? 
Boston Consulting Group put out a recent report that highlights the immediacy for AI research and AI companies to aid in reducing carbon emissions by 50% by the end of this decade in order to positively impact a habitable planet. Specifically, the report says that by 2030, using AI for climate control could help reduce 2.6 to 5.3 gigatons of GHG emissions, or 5-10% of the total. The BCG report also concludes that using AI for climate control could provide $1-3 trillion in added value when applied to corporate sustainability. 
In 2021, the European Union announced a raft of climate change proposals aimed at pushing it towards its goal of becoming carbon neutral by 2050 (BBC). In September of last year, the EU Commission set out its blueprint for reaching the 55% reduction by 2030, and said at least 30% of the EU's €1.8tn (£1.64tn; $2.2tn) long-term budget would be spent on climate-related measures.
The targets are part of a global effort to tackle climate change by cutting atmospheric pollution, especially carbon dioxide emissions.
---
How difficult is the fight to correct the climate crisis?
It's worth noting that the time and costs it takes for companies to retrieve the full extent of their carbon emissions have been the main causes for delays in those efforts (BCG). For technology companies, though, there is an opportunity to use Conversational AI to corral the data necessary to build such reports.
Such efforts can have wider effects than the environment, too. More and more customers today care about a brand's carbon footprint and sustainability efforts. Globally, sustainability was rated as an important purchase criterion for 60% of consumers in 2021. In the US, this number is just over the global average at 61%. To put this in greater context, 85% of consumers have become "greener" in their purchasing in recent years (Simon-Kucher & Partners). 
Indeed, we all have our work cut out for us. But the first step in any progress is coming to terms with the challenge. That's why it's important we're all aware of this shared climate crisis and taking additional steps to learn more, thanks to ongoing reporting. According to the International Energy Agency (IEA), the majority of carbon emission reductions through 2030 will come from technologies on the market today. Achieving net-zero by 2050 is nothing short of a momentous endeavor (IEA).
---
Who is keeping up the fight against our climate crisis?
KPMG states that 80% of the world's top companies are already issuing reports on their sustainability progress and initiatives. 
Fighting climate change is not an advancement that can be achieved overnight. The efforts to commit to productive sustainability are complex and span across many facets of a brands' total operations. Like any commitment, getting to net-zero carbon emissions will require sincere work, strategy, and patience to reap real rewards. Luckily, this is an energy efficient journey we're collectively willing to take together. As of 2021, more than a third of S&P Global 1200 companies have set or committed to setting a science-based target, according to figures from the Science Based Targets initiative, or SBTi, which has developed a standard for corporate net-zero target setting.
---
How is LivePerson Conversational AI work helping reduce carbon emissions?
One of our customers, a utility company, is relying on LivePerson AI technology to reduce paper invoices and letters in an effort to reach its sustainability goals. Tools like proactive two-way messaging to send invoices and payment reminders play a big part in these efforts. Our Conversational Cloud® also helps this company decrease its operational costs by implementing Conversational AI channels to reduce outbound calls and paper billing. 
Our AI-powered platform also helps contact centers reduce emissions by empowering human agents with access to quality chatbots (or virtual agents). Plus, advanced self-service options reduce staffing needs for contact centers. Using LivePerson conversational interfaces that enable work from home, many companies learned from COVID-19 and realized they can maintain high quality contact center customer satisfaction with remote agents and virtual assistants…thereby reducing carbon emissions and benefiting the environment.
Here at LivePerson, we practice what we preach, promoting a company-wide remote workforce for employees who aim to give up the daily commute. It's important to us to work with vendors who have sustainable practices in place, such as WeWork, where we maintain a few office spaces in hub cities like NYC. In our own LivePerson controlled offices, we aim to be plastic-free and use energy efficient lighting.
---
Conversational AI technology was created to better our daily lives both as consumers and as brand leaders. It's an act of using data, natural language processing, and natural language understanding  to perform tasks, increase customer satisfaction, and build positive outcomes through immediate, automated solutions. It only makes sense, then, to use AI to help us understand what we need to do to improve our carbon emissions and collectively reach those net-zero goals for a healthy future.
Explore more ways our AI solutions empower brands
---