Blog
article
Partnership with Mastercard and 2Mobile powers soccer fan experiences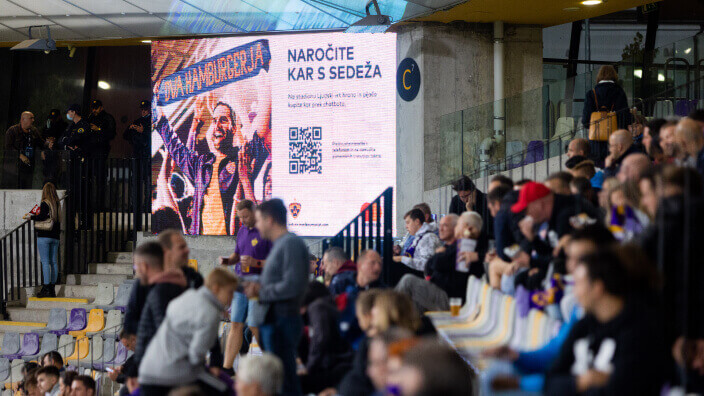 ---
Mastercard, 2Mobile, and LivePerson have teamed up to bring a whole new level of convenience and fun to sports superfans everywhere, starting with football clubs in Slovenia. (And yes, we're talking about the ⚽ kind of football; so for all you fans, tell your favorite team it's time for them to get onboard!)
Thanks to the power of Conversational AI, this new fan experience makes it easy to purchase tickets, order food and drinks directly to stadium seats, buy from gift and apparel shops, access club and player news, and view standings and results — all from the messaging channels we use every day with family and friends.
Here's how it works:
Fans simply scan a QR code on their ticket, stadium signage, or even on billboards and Jumbotrons.
Once they do, they're instantly taken into their favorite messaging app (like Facebook Messenger, Viber, or Apple Messages).
There, they interact with an AI-powered chatbot to get the info they need or even make a purchase from the concession stand or their football club's fan shop.
---
Our starting line-up
With 85% of consumers worldwide reporting they want to message with brands, FC Maribor, FC Bravo, and HC Celje are our first football club partners leading the way in bringing conversational fan experiences to life. The three Slovenian clubs announced their AI-powered journeys at a press conference at Žak Stadium, then debuted the food and drink ordering experience live for the first time at a derby match between FC Maribor and FC Mura.
As FC Bravo's business director Matjaž Polanič explained:
"This experience will greatly improve fans' experiences at matches. At half-time, we all used to rush to the sales booth for drinks and food. Now, we can use the chatbot to order food and drinks from the stands and use the half-time for socialising with friends and other activities instead of standing in the queue."
The Conversational AI for Slovenian sports clubs was developed by 2Mobile and runs on LivePerson's Conversational Cloud®. These AI-powered conversations give fans an always-on connection to the latest stats, results, rankings, and news about their football club — making their team one of their favorite contacts on their mobile devices.
---
What makes this end-to-end messaging experience different
Conversations with AI are scalable, natural, and convenient. They happen when and where the fan wants, so it's easier and faster than ever to get answers and make purchases.
When purchasing, payments are processed directly within the conversations with LivePerson's channel-agnostic payment capabilities. This means there's no time wasted hopping out of conversations and going through all of the extra steps to purchase on a disjointed website. Instead, fans can get everything done with the original conversation thread they're enjoying with the football club.
"With Mastercard as the initiator, 2Mobile as the developer, and LivePerson's conversation platform as the technology solution, we've joined forces and expertise," said Matjaž Možina, CEO of 2Mobile.
"This new model not only simplifies the user experience, but also opens up the opportunity for other brands, as well as sports clubs, to open continuous direct communication with their fans."
---
See even more ways Conversational Commerce can create frictionless sales and marketing experiences.
---