Success Story
David's Bridal uses Conversational Commerce to help customers plan the event of their dreams with ease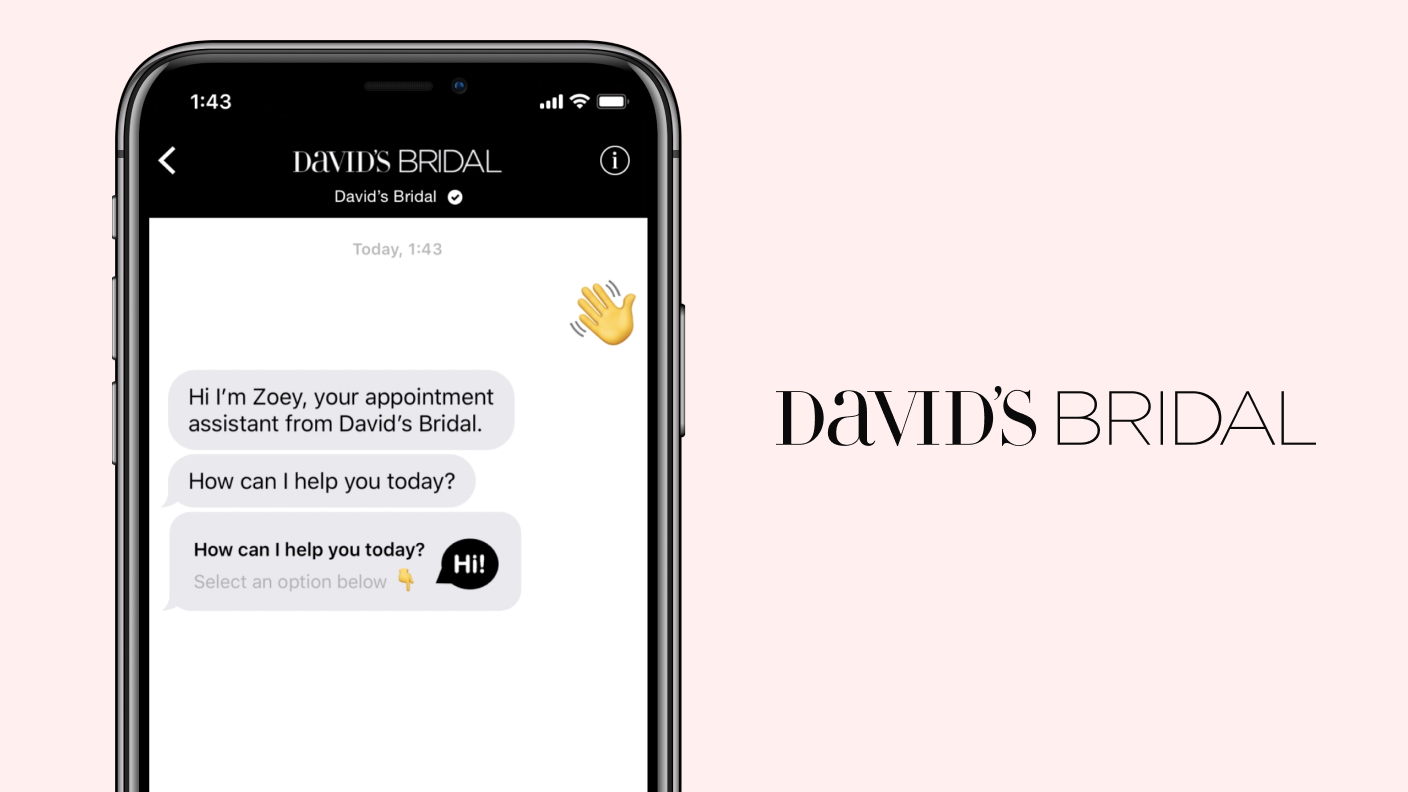 ---
The challenge
In 2018, Holly Carroll, Vice President, Customer Service & Contact Center Operations at David's Bridal, was trying to solve a problem somewhat unique to the industry. When shopping for wedding dresses, 50% of brides were calling stores to book appointments. If the stores were closed or sales agents couldn't get to the phone in time, they were losing business — brides weren't calling back or were going online to book an appointment. Agents sometimes had to step away from the brides they were helping to answer the phone, creating a poor experience for in-store customers.
Carroll began looking for a way to make it easier for customers to contact David's Bridal. She wanted the contact center to be available for customers 24/7 without having to add additional staff. She thought AI and automation could help and began looking at different chatbot providers.
"Our goal was to scale without expanding headcount, and in reality, actually help support cost reductions while still improving customer satisfaction," says Carroll. "We knew that our solution needed to allow us to provide one-on-one service to our in-person customers and give them the ability to book appointments or get customer service assistance on their time."
As Carroll was exploring solutions, she learned about Conversational Commerce from LivePerson. She attended a LivePerson Executive Community event in San Francisco, where she heard from other brands that were beginning their journeys. It convinced her she needed to think more broadly.
"After I attended that conference, I knew this was the direction that I had to go. It was so far ahead of anything that I was looking at. I was very narrow-focused on just AI and having chatbots, and the scope of Conversational Commerce was so much deeper, and I knew this would be a chance for David's Bridal to really get ahead of the game."
Carroll began working with LivePerson to build a business case and vision for Conversational Commerce at David's Bridal.
---
Consumer convenience pays off
41%
of customers opted to use text
---
The solution
The company first rolled out Interactive Voice Response (IVR) deflection in February 2019, giving customers calling into their 800 number the option to switch to SMS messaging. Within 30 days, 30% of callers were choosing to message instead.
The company soon looked to other ways to shift call volume to messaging, including adding an SMS shortcode to their website's contact us page. "Our customers loved the messaging option so much that we decided to replace our email address with the option to text," says Carroll.
Automation was part of their strategy from the beginning. A concierge bot was rolled out to greet customers and route their inquiries to the right agent. An appointment bot was launched shortly after to give customers an automated way to book appointments at a local store.
Later in 2019, David's Bridal became one of the first retailers on Apple Business Chat, allowing brides to schedule appointments and ask questions through a rich messaging experience, which increased the Net Promoter Score (NPS) of customers using that channel. They also rolled out LivePerson's secure forms feature, which allowed them to take payments over SMS and Apple Business Chat.
Carroll, however, had a bigger plan for where she wanted to go with Conversational Commerce. Through a vision workshop for David's Bridal digital, customer service, marketing, store, and IT teams, led by LivePerson experts, the vision for Zoey was born.
She explains: "Zoey will continue to evolve in 2020 and offer customers a concierge service, able to assist throughout every aspect of event planning. Additional features will be rolled out to help customers find her dream dress, great accessories, and the perfect gifts for her occasion. Zoey will also have the ability to effortlessly connect our customers with partners that represent the entire planning eco-system — a true one-stop shopping experience."
"We want to offer customers something completely different. A friend, a resource, and an expert who is there for her throughout the entire duration of her journey with us. We want our customers to know that we're going to be there for her, for all of her once-in-a-lifetime events, on her time."
---
The outcome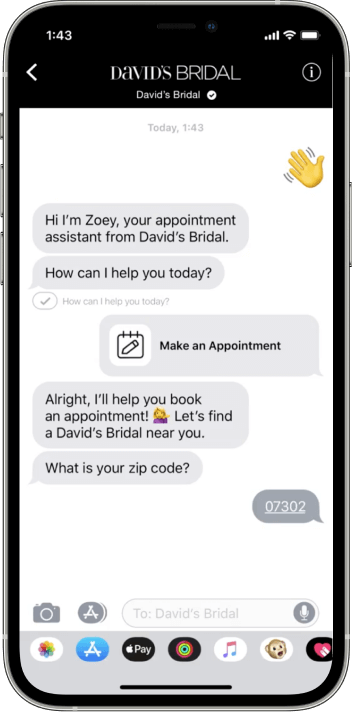 A strong partnership with IT was one of the keys to being able to roll out messaging quickly with such strong results. "IT has to have buy-in and understand the value to the customer to appropriately prioritize within their technology portfolio. This has been an exciting project for our tech team because we are using cutting-edge technology that is building up our core capabilities," Carroll says. "It was critical for them to be part of the development, and be a partner to us, to say, 'If we do this, it would actually be a better experience from the tech perspective.'"
However, early buy-in from other leaders across David's Bridal also helped build the vision. "I would say the one thing that we did well, that I would challenge all brands to do, is make it a cross-functional team. It shouldn't just be the call center leaders that are driving this. Involve other key players of the business, because once you have that collaboration, the sky's the limit. You would be surprised how much innovation comes out of collaborating with your peers, to see where you could take this, in a much grander and meaningful way, to significantly improve customer experience."
David's Bridal customers have responded very positively to messaging. To quote one customer:
"I absolutely love this texting way of communication! Very fast and efficient! Thank you! Today my questions were answered completely!"
---