Case studies
How Delta Dental of Washington uses voice analytics for digital transformation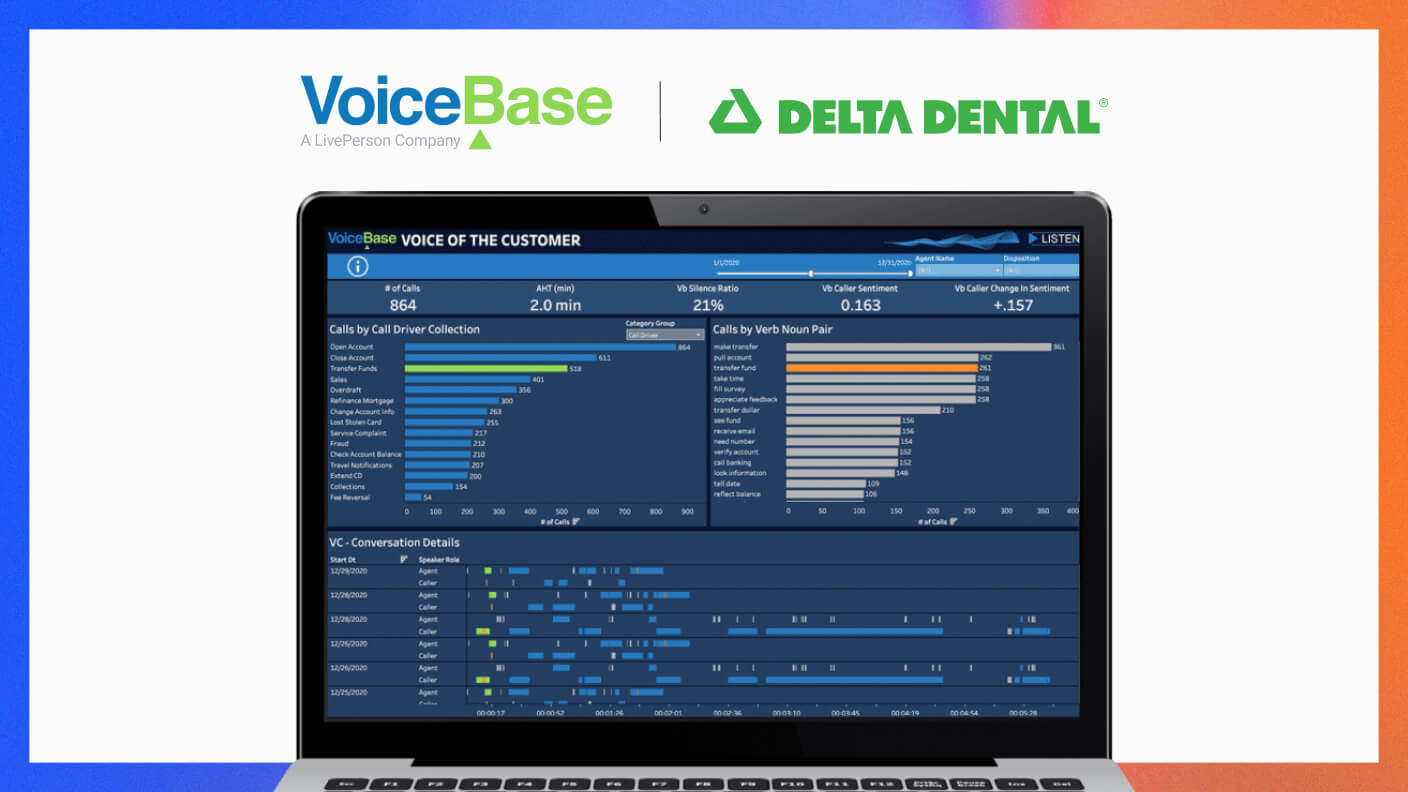 ---
Without voice analytics software in place, making sense of all the call data that comes into your contact center can just be more noise in the room. When you have millions of minutes of customer calls coming in annually, human analysis of that call data can usually only reach up to 1-2% of those calls. By switching to an AI solution to transcribe and audit your calls, you not only have the ability to listen to 100% of calls, but by having access to additional customer insights, a contact center can be the source of innovation in a company during their time of digital transformation.
Digital transformation is right in the name; it's the modification or transformation of business practices, culture, and customer solutions to satisfy the changing digital market. If your business is running based on Excel sheets and excessive overtime, your enterprise might be functioning at substandard capabilities. By transforming your business operations and systems with voice analytics, your organization can accelerate digital transformation within the call center and beyond. One LivePerson VoiceBase customer, Delta Dental of Washington, did exactly that.
"VoiceBase's Enterprise Accelerator has helped us eliminate 6 months of IT efforts by providing a data warehouse and automatically extracting, transforming, and loading data into pre-built Tableau dashboards."

~ Becky Masters, Director of Digital Experience at Delta Dental of Washington
---
Reduce AHT (Average Handle Time)
When making their transition, Delta Dental of Washington (DDWA) knew they wanted to streamline their contact center operations. With over 700,000 calls answered annually, call data was still categorized in spreadsheets. Agents had to manually select reasons for calls, and there were significant amounts of hold time. DDWA knew they wanted to make their call center process easier not only for customers, but also their customer service team. They needed to improve efficiency throughout their call center activities to maximize ROI.
By implementing VoiceBase's Enterprise Accelerator, now part of LivePerson's conversational intelligence offerings, they are right on track to reduce talk time by 10% company-wide. AHT is a common metric to measure cost and efficiency of call center operations, so lowering that number helps achieve overall call center ROI. "VoiceBase's Enterprise Accelerator has helped us eliminate 6 months of IT efforts by providing a data warehouse and automatically extracting, transforming, and loading data into pre-built Tableau dashboards."
---
Visualize call data in near real time
Gathering call data is only one part of speech analytics. Being able to make sense of that data determines how an enterprise can make actionable decisions based on those insights. Leveraging an AI-powered voice analytics tool can identify contextual data points like emotion, rhythm, cadence, churn potential, and other expressive indicators. Paired with pre-made visual analytics dashboards, important conversational data that may have been nearly impossible to see before is now easily accessible for the entire organization. Granular interaction data such as overtalk, percentage of call silence, and predictive scoring are just some of the thousands of insights available to businesses. These actionable insights can accelerate an organization's digital transformation process by revealing immediate ways to take action and improve processes and systems.
---
Understand what drives customer calls
DDWA knew they had a lot of calls just asking for statuses on claims. With 60% of their calls from provider offices, it's helpful to be able to pinpoint just how many of those calls are for something simple that takes up a lot of agent time. Using their pre-built Tableau dashboard from LivePerson VoiceBase, they were able to see that 12% of calls from providers were just about claim status.
"We knew this about ourselves that we don't have any sort of self-service functionality on our website. But [if] 12% of our calls [are] about a basic piece of information? It's not that complicated."

~ Becky Masters, Director of Digital Experience for DDWA
With that concrete information, they were able to take that data to partner with their internal claims product teams and website team to start development on a portal for providers to self-check status.
---
Watching customer satisfaction levels: Emotion analysis for call routing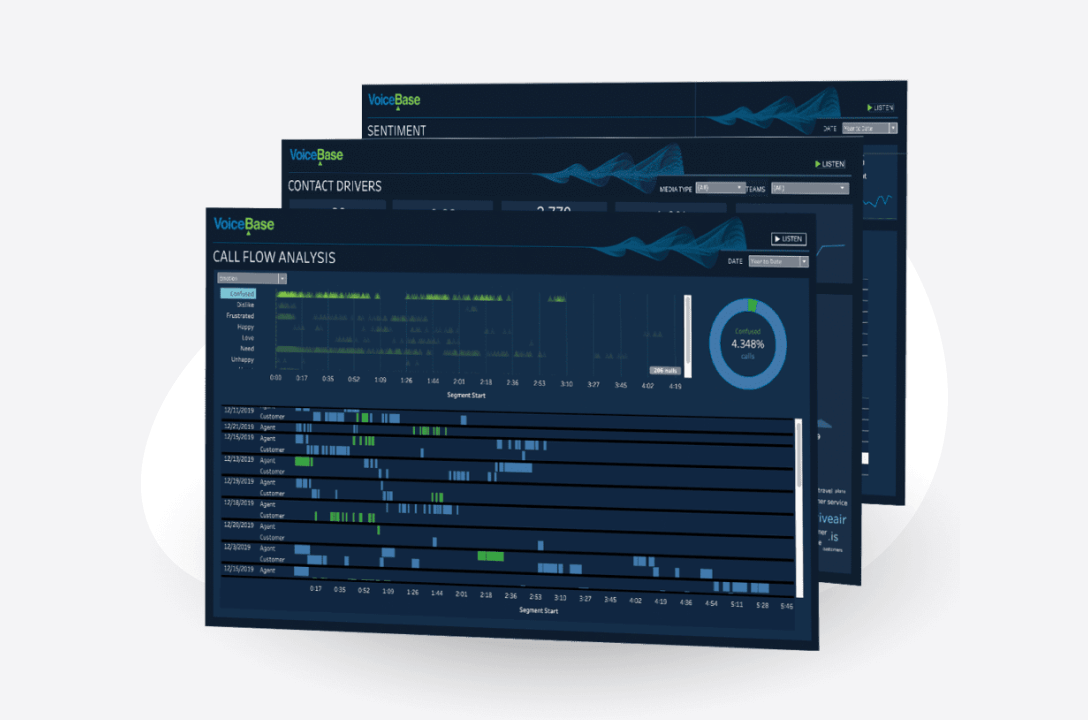 Have you ever wanted to know just how "satisfied" your customers really are? With speech analytics software, not only can you hear frustration, but you can see it as well. Manual customer surveys can have low engagement rates, but with automated speech recognition and emotion analysis, every single customer experience data point can be captured. With keyword tracking, you can pinpoint caller sentiment based on the words they say. Using emotion analysis, you're able to see whether callers are expressing negative or positive emotions, and route calls accordingly.
"We do look at our IVR system that we built to make sure it makes sense, but there's always a balance of wanting to try to have people find information themselves, but also not frustrating them [if they just need to] talk to a person," said Masters. With this broad view, they were able to see where their IVR system was failing in navigating their customers to better process claims.
---
Tracking agent performance
The old way of learning you have bad or underperforming agents is typically too late: after mountains of complaints and bad reviews reach the desks of executives. Without robust voice analytics technology in place, call center management has to resort to manually scoring individual calls to track agent performance. However, with an automated agent scorecard, your enterprise is able to immediately analyze how well agents are handling scenarios on calls, whether they are sticking to the script, and if there are any coaching needs from management. In one view, you can pinpoint which agents are excelling at their job, and which are beginning to struggle. You can then drill down into the call detail and related metrics to find patterns and room for improvement. 
---
Call center compliance
With many call centers being moved from big offices to home offices, your agents don't have the in-person guidance they need with the additional influx of calls, including making sure sensitive information stays private. By leveraging voice analytics tools for Automated PCI Compliance, your agents can focus on their customers, and your managers don't have to worry about information slipping through the cracks. Personal Identifiable Information (PII) like addresses and social security numbers are being entrusted to your enterprise; and automated redaction can lower the risk of fines and data loss. 
With robust voice analytics technology powering your visual reporting, your enterprise can accelerate digital transformation within your call center for benefits and tangible ROI across the entire enterprise.
---
Want to explore speech analysis and voice analytics more?
---