Success Story
Fast-track to value: LivePerson Voice bot AI delivers for TGH Urgent Care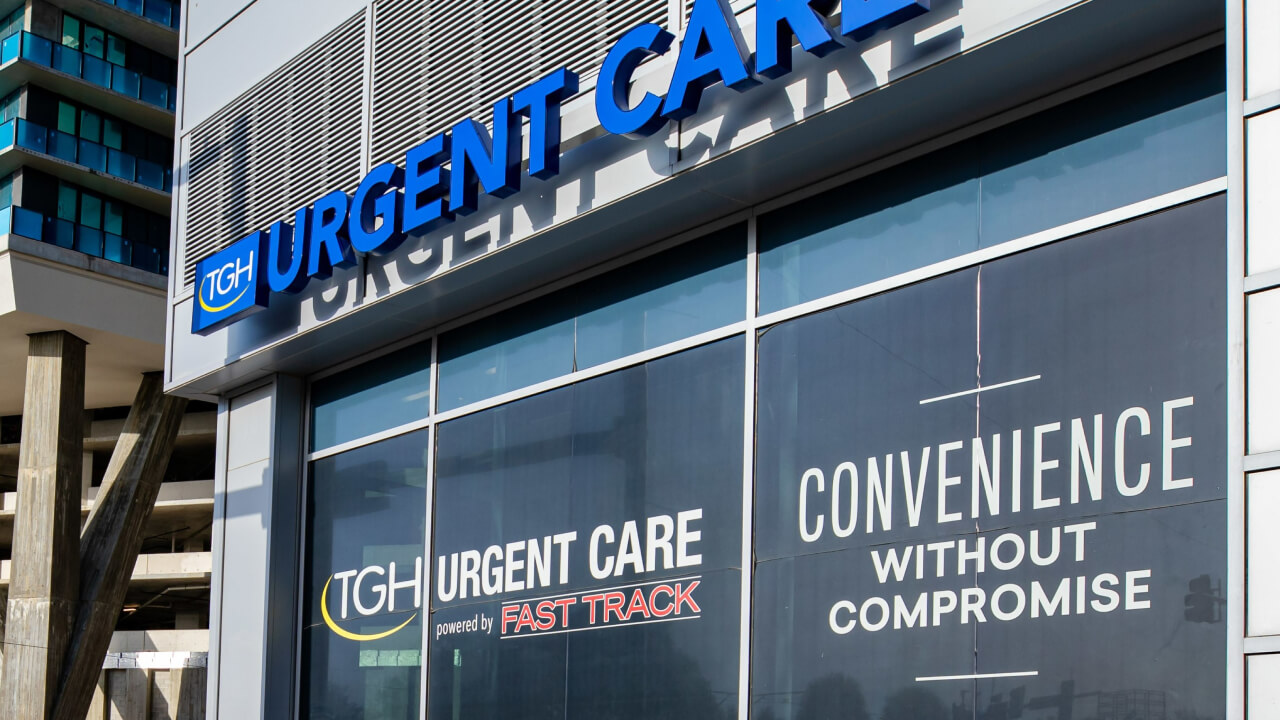 ---
In the face of overwhelming call volumes, TGH Urgent Care powered by Fast Track turned to LivePerson's Conversational AI and new Voice bot. As an early adopter of the Voice bot, the urgent care provider enjoyed a significant reduction in daily calls with 40% deflected to SMS messaging, boosted response rates, and has alleviated stress on customer service teams and front desk staff. TGH Urgent Care's integration of human agents, artificial intelligence, and automated customer service has resulted in an efficient, streamlined patient experience, all while managing an unprecedented surge in patient calls. The urgency of care has never been more under control.
"Adopting LivePerson's services has improved our communication dynamics, eased staff burden, and enhanced the patient's experience…allowing us to focus on providing industry-leading healthcare in the Tampa Bay Area."

~ Dr. Daron Diecidue, CEO at TGH Urgent Care powered by Fast Track
---
The overwhelming call volumes
In May 2022, TGH Urgent Care was dealing with a significant surge in patient calls. And the growth in demand was posing a serious issue for the network of 16 award-winning, Urgent Care Association accredited clinics.
The service reps were overwhelmed with an average of 543 calls per day, resulting in an erratic call answer rate. The lingering effects of the Covid-19 pandemic and staffing shortages meant that their call answer rates were suffering and on rare occasions they might only get to 20% of the inbound calls. The effect was a stressful environment for the staff and a customer experience that was less optimal than patients were accustomed to. Front desk clinic staff were also burdened with multiple duties, including handling overflow that customer service reps couldn't answer, which further exacerbated the problem. 
With customer services completely call-dependent and an IVR system that was inflexible and resource-prohibitive to integrate with third-party systems, TGH Urgent Care needed to find a fast, seamless omnichannel experience to help manage the increased call volumes and connect to patients in a digital channel.
---
Enter messaging and Voice bot AI: Swift integration and fast time-to-value
The organization found a solution in the form of the LivePerson Voice bot and Conversational Cloud in September 2022. Implementing the Voice bot provided an AI-powered engagement option for all voice callers, helping deflect hundreds of calls per day to SMS messaging immediately. Patients now avoid long call hold times and receive their answers faster from a messaging agent. And it has improved the call answer rate for those who need to speak to a customer service professional on the phone. 
The bot was integrated into TGH Urgent Care's IVR system, providing callers with the option to select if they wish to message in SMS or speak with a representative. Additionally, those who choose to message are offered an FAQ to get quick answers to common questions. Those on hold are also given the option to switch to the messaging with a quick press of the star button if they changed their mind while waiting.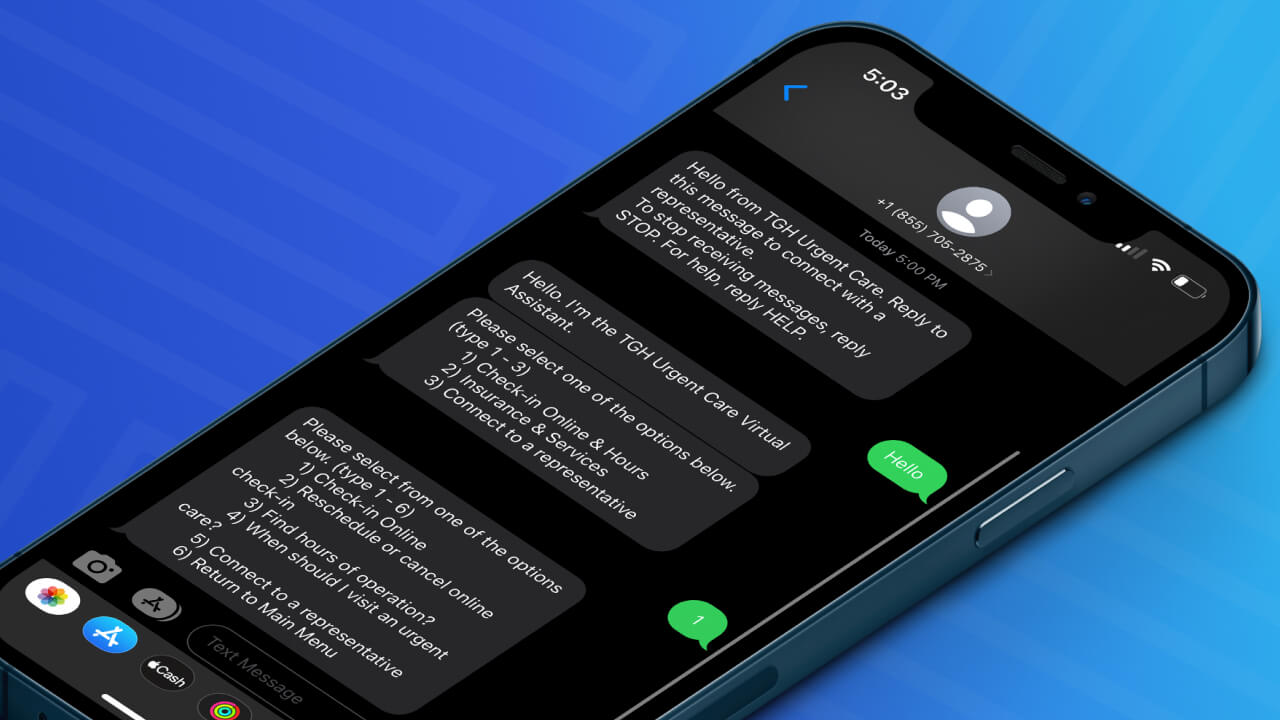 "Our team's ability to pivot quickly and integrate LivePerson's Voice bot and messaging into our patient experience marked a pivotal moment in our focus on exceptional patient care. It has helped relax our frontline clinic staff and improved the customer service reps' efficiency and responsiveness to patient needs."

~ Chelsea Lydic, Director of Marketing and Business Development at TGH Urgent Care powered by Fast Track
And with the addition of AI-powered customer service, TGH Urgent Care's FAQ AI chatbot handles inquiries after hours on evenings and weekends.
---
Tangible impact: A smoother workflow and improved patient experience
Since the implementation of the LivePerson Voice bot, the urgent care provider is seeing consistent reductions in the number of calls received daily. Their daily call average has dropped to 334, and the average answer rate has increased significantly. "Since the implementation of the LivePerson Voice bot, we've reduced the number of calls coming to the phones by 40%," says Dominique Calderon MPH​, Administrative Operations Manager at TGH Urgent Care powered by Fast Track. "Those patients are being served in messaging with little to no wait times. And the call answer rate has risen to 80% on most days, a dramatic improvement from the prior year." Much of this improvement can be attributed to how voice bots work, such as deflecting call volume, thereby reducing the pressure on customer service phone lines and overflow to the clinic staff.
The Voice bot AI implementation has also positively impacted staff motivation levels. The bot has allowed for a break in the regular routine for the representatives, giving them time off the phone and allowing them to interact with patients through messaging, which some found less stressful. For those who prefer phone interactions, the decreased call volume makes their jobs more manageable.
TGH Urgent Care also takes advantage of LivePerson's Conversation Assist feature. Having created more than 25 pre-scripted response recommendations to common patient inquiries, service reps are able to resolve questions faster. Conversation Assist also helps better manage periods of high messaging volume, making the entire process smoother and more efficient.
In addition, the Voice bot's ability to deflect calls and customer interactions to messaging has resulted in a more relaxed front desk experience at the clinics. Front desk staff no longer has to juggle between patients in front of them and phone calls, leading to improved patient interactions.
"TGH Urgent Care powered by Fast Track's implementation of the LivePerson Voice bot has been a relief for both our patients and our team members. The speed to value was impressive and it's a great way to integrate technology with live team members. With the Voice bot, automated FAQ, and live messaging channels, we've reduced some of the heavy lifting from our team members."

~ Chelsea Lydic, Director of Marketing and Business Development at TGH Urgent Care powered by Fast Track
TGH Urgent Care powered by Fast Track's implementation of the LivePerson Voice bot is a success by multiple measures. The healthcare provider enjoys a 4.9 star review rating and by blending human and automated customer service, they have successfully managed a large increase in patient calls without overloading their staff. It has helped improve the overall call answer rate and relieved pressure on front desk staff. The speed to value was impressive, leading to a more streamlined and efficient patient experience in record time.
---
Explore more ways to improve the voice experience with automatic speech recognition, voice bots, powerful natural language understanding, and more
---