Serve more citizens with fewer resources
Governments are challenged with surges in benefits inquiries while also launching new programs like contact tracing and health advice. AI-powered text messaging can help agencies accelerate adoption, scale interactions, and spread critical information.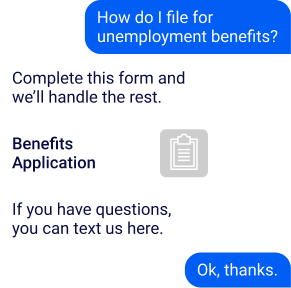 Innovative agencies use Conversational AI and messaging to reduce call volume, provide updates, and scale interactions
Benefits administration
Reduce inbound calls and deliver better service with messaging and automation.
Contact tracing
Texting is the most immediate and visible way to reach people. Time to add it to your outreach.
Health services
Create AI-powered chatbots to answer FAQs or collect information.
Keep people informed
90% of text messages are read immediately. When you need to get the message out about a new program or service, make messaging part of outreach:
Proactively share information to reduce inbound inquiries.

Send updates or alerts directly to peoples' mobile phones.

Turn notifications into conversations. People can respond to proactive messages with questions, information, and more.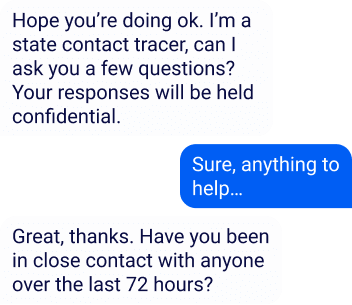 Manage inquiry surges
Citizens need help. Don't make them wait on hold forever. Shift calls to more manageable messaging conversations, where:
AI-powered chatbots deliver information and respond to common inquiries.

Complex inquiries are routed to agents who can manage many concurrent messaging conversations.

Conversations are never disconnected — citizens and agents are able to continue at their own pace.
Learn more

›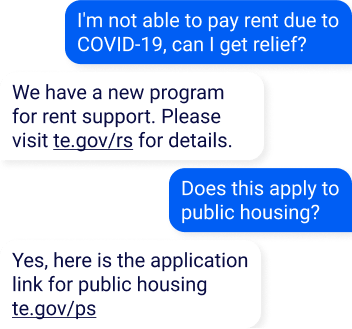 Enhance self-service
with AI-powered chatbots
Are complicated web portals and long hold times creating frustration? Bots respond better to individual needs and scale your ability to serve. Here's how it works:
Your agency accepts text message inquiries about programs and services.

A bot collects information, determines intent, and provides self-service options.

If no self-service options are available, the bot routes to the appropriate agent, who returns the message as capacity allows.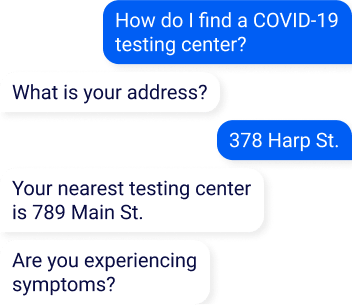 Activate at-home workforces
COVID-19 closed offices and changed how we serve citizens. Learn how to make staff productive from wherever they are located.
Learn more