Blog
INFOGRAPHIC
4 in 10 choose diaper duty vs waiting on hold: Customer support chatbot strategy to the rescue
See how AI can help support teams trump traditional customer service, according to an August 2023 survey of US consumers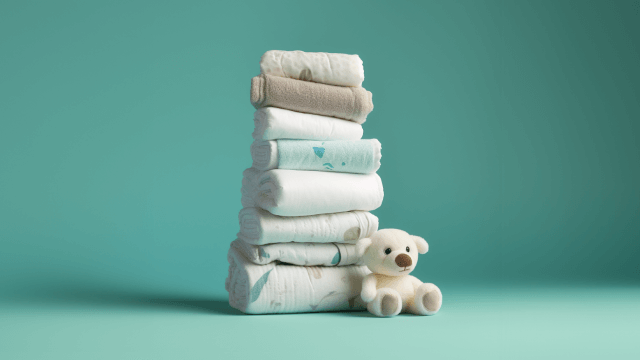 ---
LivePerson recently conducted a survey to better understand how consumers prefer to engage with brands. The survey collected responses about how they like to engage in conversations with retail, healthcare, travel, telco, finance, and many other kinds of companies. 
The key takeaways? Consumers are completely fed up with being put on hold and using traditional IVR systems to get what they need, but they have varying levels of trust in artificial intelligence when it comes to specific tasks. 
What that means for your brand? Time is of the essence. And so is a human + AI strategy for your customer service team.
Click the infographic for more survey results and how an AI-powered customer support chatbot or voice bot can help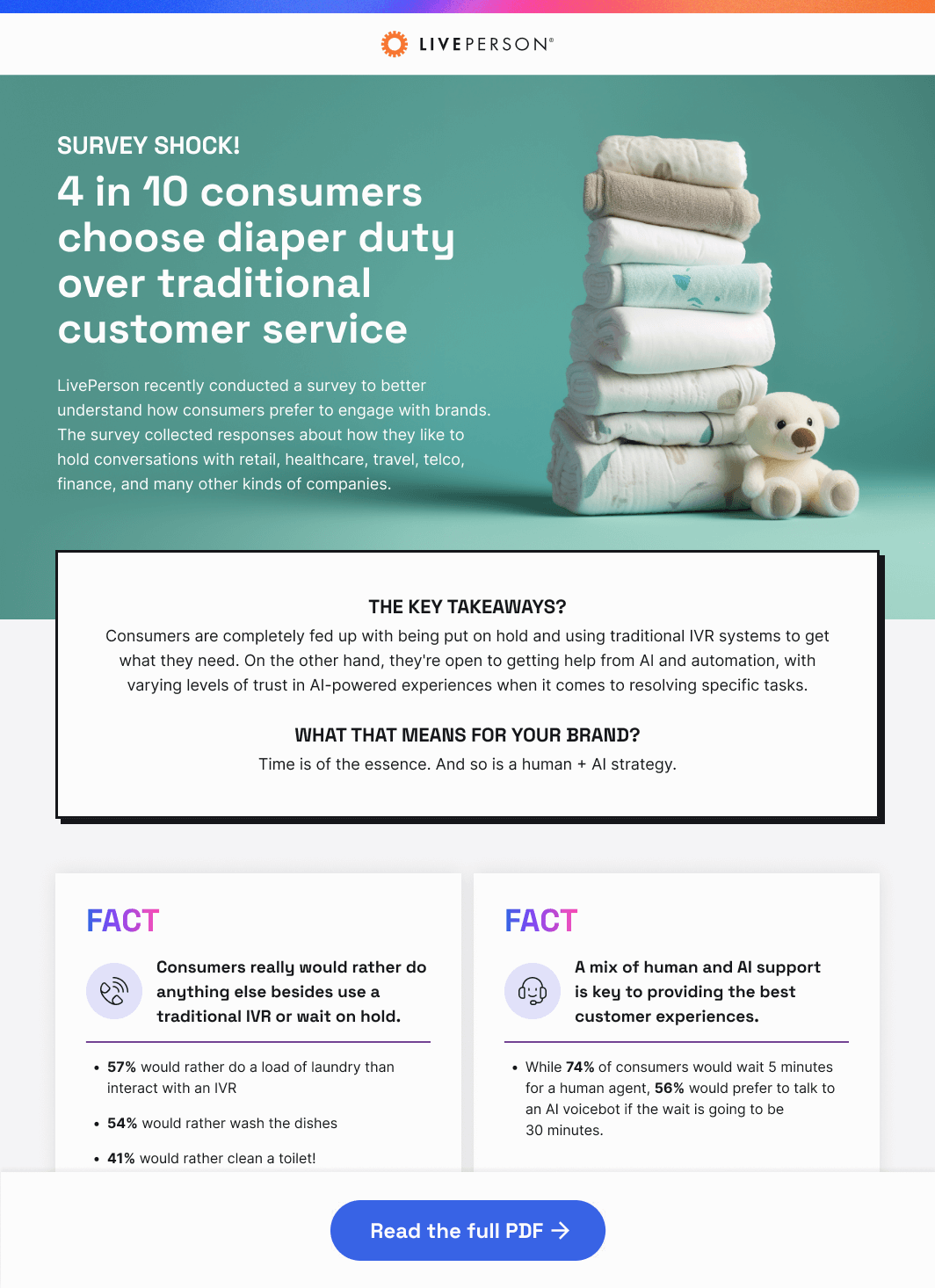 Fact: Consumers really would rather do anything else besides use a traditional IVR or wait on hold
60% would skip their morning coffee if it meant they could skip being on hold.
57% would rather do a load of laundry than interact with an IVR.
54% would rather wash the dishes.
41% would rather clean a toilet!
Similarly, 4 in 10 would rather change a diaper.
A mix of human interaction and AI support is key to providing the best customer experience
While 74% of consumers would wait 5 minutes for a live human agent, 56% would prefer to talk to an AI voice bot if the wait is going to be 30 minutes. In fact, the longer your wait times or higher your call volume, the more you need AI-powered customer service automation.
---
Fact: Consumers trust AI more for help with making business decision vs. personal decisions
38% trust AI more than their boss for decision-making.
22% trust AI more than their parents.
15% trust AI more than their significant other.
As of today, consumers trust AI most for help with travel and entertainment tasks when it comes to interacting with brands. The tasks people trust to AI like a customer support chatbot are mostly around:
Choosing the best-priced flights (64%)
Booking restaurants during a trip (54%)
Choosing a moving/show to watch (52%)
Consumers are open to using a customer service chatbot for personal tasks and fun or creative decision-making in just a few clicks, but less willing to do so for significant life events…as you might imagine. Take a look at how many survey respondents would use AI to help with the following:
Picking a hotel for a family vacation (48%)
Choosing lottery numbers (43%)
Planning a dinner menu (43%)
Choosing your next vacation spot (40%)
Choosing a pet's name (22%)
Choosing a first dance/wedding song (13%)
Naming your first child (8%)
Not any old AI will do, either. Making sure consumers can trust the customer service chatbots and other automed support team experiences you provide is paramount.
---
The bottom line
Consumers value a human + AI-powered customer support strategy, are looking for alternatives to traditional IVR systems, and automation to help them with specific tasks. While AI still has a way to go in gaining consumers' trust, businesses can leverage its capabilities today for improving online customer experience with consistent support and decision-making assistance.
---
It's time to say hello to a modern voice experience — and say goodbye to IVRs
Visit our Voice AI resource page or watch this on-demand voice ai technology webinar on how to level up customer engagement.
---