Blog
article
WhatsApp Business enables richer, more dynamic customer engagement
Brands can boost sales, satisfaction, and efficiency by supplementing traditional support channels with the world's most popular messaging app and LivePerson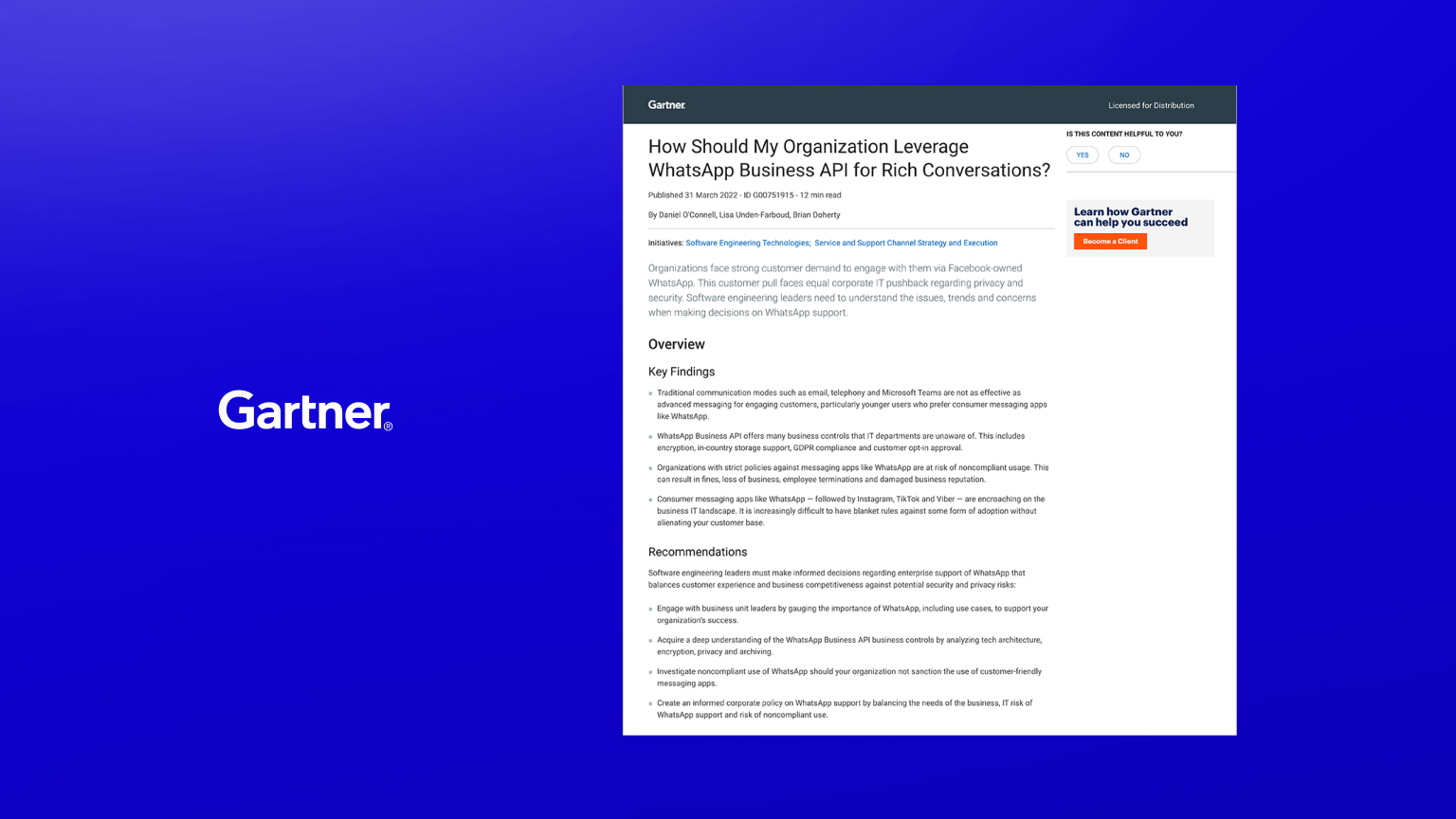 ---
Out of convenience, familiarity, or simplicity, customers want the option to receive support on the messaging channels of their choice. With over 2 billion users around the world and growing, WhatsApp (a Meta-owned company) is revolutionizing the customer experience with their WhatsApp Business API.   
Launched in 2018, WhatsApp Business allows brands to directly connect with customers in a way that's highly personalized and scalable. This individualized approach to customer engagement has vast and transformative benefits, particularly when integrated with LivePerson's Conversational AI. In fact, LivePerson was recognized as a SaaS Vendor in the recent Gartner® report: "How Should My Organization Leverage WhatsApp Business API for Rich Conversations?" 
Among other wins, a well-oiled LivePerson+WhatsApp Business chatbot and messaging strategy can:
It's critical for any brand to explore how to best leverage WhatsApp Business. The Gartner report offers key takeaways to consider when implementing WhatsApp-focused engagement. 
Keep reading for the high-level upshot.
---
Customers – especially younger ones – already know WhatsApp
Brands are wising up to the awesome potential of connecting with customers through a WhatsApp Business account. According to the Gartner report, by 2025, 75% of enterprises will use advanced messaging tools such as WhatsApp to engage with their end-user customers, estimated at less than 20% today. 
What's more, 98% of customers say that effective support is crucial to their choice of brand loyalty, which makes easy, streamlined engagement all the more impactful. To help grease those wheels, WhatsApp Business enables brands to put a WhatsApp logo on shopping cart webpages, giving customers quick and familiar access to support before finalizing a purchase. 
Pairing WhatsApp Business with LivePerson's Conversational Cloud and a powerful AI-driven chatbot can take personalized engagement to the next level. Learn more about how you can cut down call center costs, boost sales, and increase customer satisfaction with WhatsApp Business API + LivePerson.
---
WhatsApp Business API = powerful tools for a transformative impact
To maximize the benefits of WhatsApp Business, we believe the Gartner report emphasizes the importance of strategic planning among a brand's marketing, support, and sales leaders. Brands that ignore the trend toward WhatsApp messaging are bound to lose ground to those who take advantage of it. 
The API features a plethora of out-of-the-box tools for a wide array of business needs with an eye toward richer customer engagement, including the ability to integrate the following:
QR codes
Maps & addresses
Videos & pictures
Payments 
Encryption
GPS/geolocation
To make implementation of these tools as easy and efficient as possible, WhatsApp Business includes vertical use case templates, such as: 
Food delivery – Payment tools give customers the chance to order and pay for food via WhatsApp, while newly integrated carousel designs and map services enable menu browsing and order tracking.
Banking and wealth management – From mobile-oriented fintech and crypto banking to traditional legacy banks and financial planners, WhatsApp Business supports account notifications and investment messaging, payments and payment reminders, and transactional confirmations. 
Insurance – Customers and insurers are empowered to file and fulfill routine insurance claims remotely by using automations in the app to process pictures, text, analytics, and more.
COVID-19/Health management – WhatsApp users can receive notifications and information about public or private health, including appointment scheduling, contact tracing, testing results, and QR-coded record keeping. 
Airlines – Jet-bound customers are given the ability to purchase and manage tickets, as well as receive important information and updates about their flight, such as delays, cancellations, changes, and other support-related inquiries. 
Brands should work with LivePerson's Conversational AI experts to form a holistic, customized engagement strategy, integrating relevant WhatsApp Business tools for transformative customer interactions in commerce and/or care.
---
IT's kind of a big deal
Security, privacy, and regulatory compliance are massively important to online brands, particularly when it comes to fostering engagement via messaging apps like WhatsApp Messenger. There's no faster way to lose customer trust, loyalty, and business than by failing to keep their sensitive personal data protected and safe. 
Fortunately, the WhatsApp Business API provides a host of administrative tools that mirror key IT functions. These core functions include: 
End-to-end encryption of all messaging between brands and customers 
Processes that adhere to regulatory compliance 
Policies that prevent controversial use and promote user safety and privacy 
Control over compliant data storage and archiving processes 
While WhatsApp Business can do much of the heavy lifting, it's no substitute for a brand ensuring its employees are compliant in how they use advanced messaging across the board. Some scenarios may tempt employees to circumvent the business API, but the short-term gains often pale in comparison to the long-term consequences, including hefty fines and terminations. 
Remaining compliant while maximizing gains is a balancing act, indeed, and one that's well worth it. Read the report for more of Gartner's top-line takeaways on growth through compliance.
---
App-based messaging and support will continue to grow
Brands will continue to diversify engagement channels and cater to customers in the messaging app of their choice, and brands that don't will find themselves in the dust. What's more, a staggering 80% of customers say their experience with a brand is as important as the product itself. 
As messaging apps continue to grow in popularity and become the norm, the WhatsApp Business API is a powerful, cost-effective way to improve the customer experience today for an even better tomorrow. 
Learn more about why we believe WhatsApp Business and LivePerson can transform customer engagement for a competitive advantage
---
Gartner: How Should My Organization Leverage WhatsApp Business API for Rich Conversations? Daniel O'Connell, Lisa Unden-Farboud, Brian Doherty, 31st March 2022
Gartner does not endorse any vendor, product or service depicted in its research publications and does not advise technology users to select only those vendors with the highest ratings or other designation. Gartner research publications consist of the opinions of Gartner's research organization and should not be construed as statements of fact. Gartner disclaims all warranties, expressed or implied, with respect to this research, including any warranties of merchantability or fitness for a particular purpose.
GARTNER is a registered trademark and service mark of Gartner, Inc. and/or its affiliates in the U.S. and internationally and is used herein with permission. All rights reserved.
---