Blog
article
6 ways a WhatsApp chatbot + LivePerson will transform your business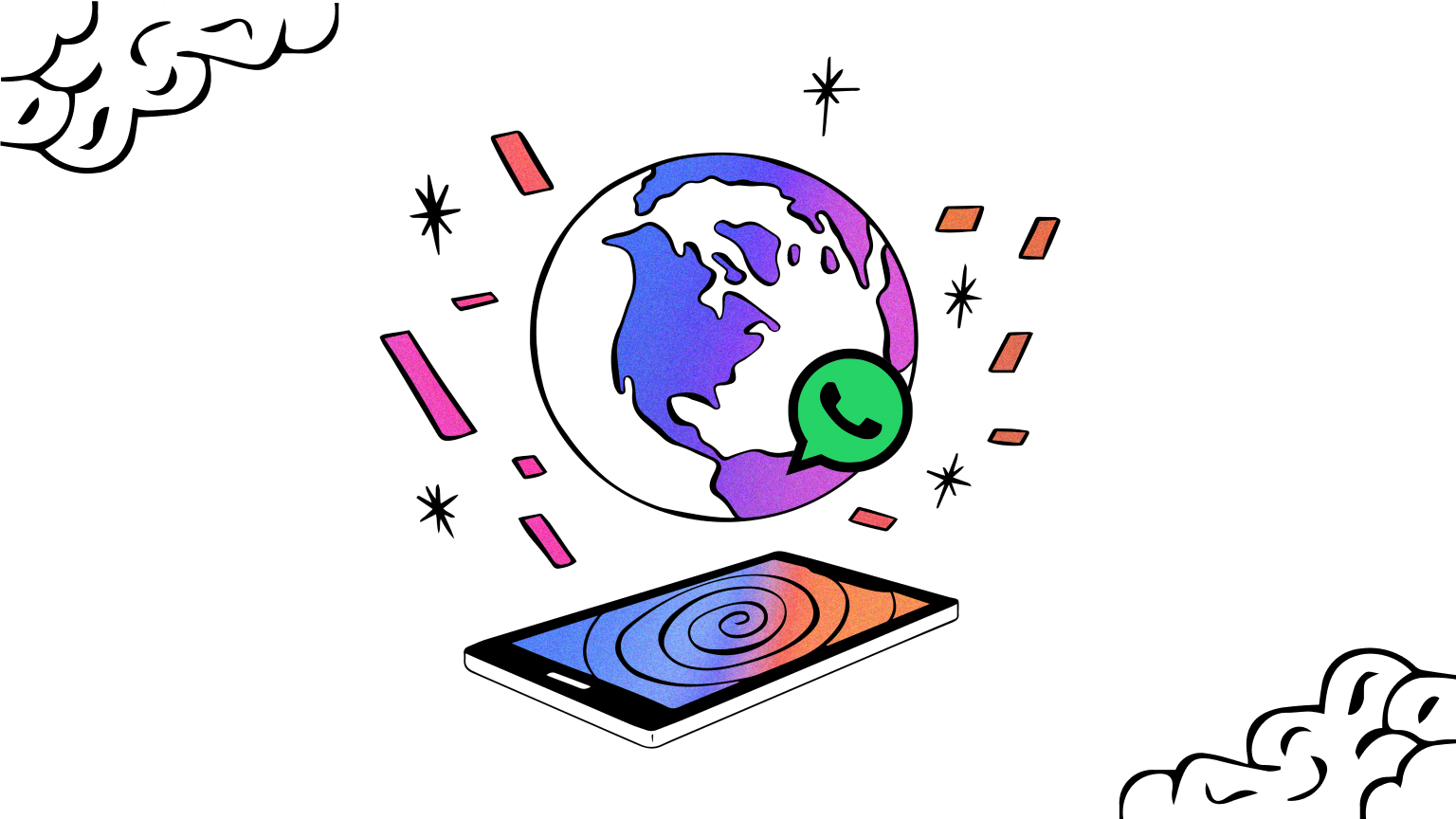 ---
Integrating the official WhatsApp Business API into your customer connections can boost first contact resolution, CSAT score, and agent efficiency. After all, with 2 billion active users, it's likely your customers are already on the platform! It's the perfect place to develop personalized experiences at scale, which can build long-lasting connections and skyrocket sales. In fact, you can give a highly individualized, white-glove touch to millions of conversations with WhatsApp chatbots built on and managed through LivePerson.
Scan the infographic or read below for 6 ways you can benefit with us as your WhatsApp Business solution provider: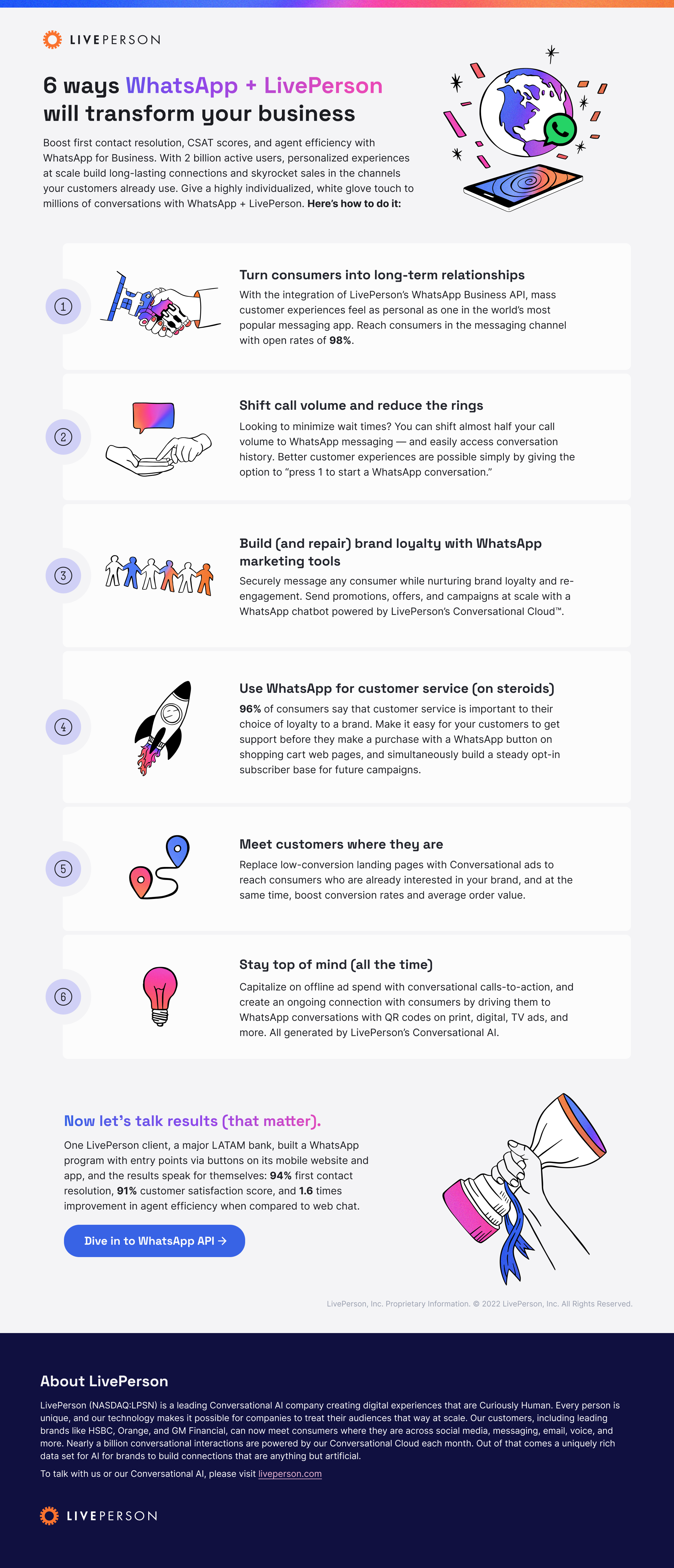 1. Turn consumers into long-term relationships
With LivePerson's WhatsApp Business API integration, mass customer experiences feel as personal as one in the world's most popular messaging app. Not only are open rates higher than emails on this messaging platform, it's simple for customers to reach out themselves. Your brand's WhatsApp Business account will be on their list of chats, just like their friends and family. And the next time they have a question, they can tap to engage your bot!
Speaking of that, you don't need a WhatsApp chatbot development company to set this up. LivePerson's award-winning AI-powered Conversational Cloud® has all you need to create WhatsApp chatbots, from NLU to recognize customer intents, to a chatbot builder, conversation management workspace, and analytics you can use to improve bot and agent performance.
---
2. Shift calls to messages for more efficient customer experiences
Looking the minimize wait times? With LivePerson's IVR deflection (using our Connect to Messaging technology), you can shift almost half your phone call volume to messages on the WhatsApp platform — and easily access conversation history. Better customer experiences are possible simply by giving the option to "press 1 to start a WhatsApp conversation." You can easily build a WhatsApp chatbot concierge through LivePerson's AI suite to route these messages to the right human agent or another WhatsApp bot best suited to handle the inquiry.
---
3. Build (and repair) brand loyalty with WhatsApp marketing tools
Securely message any consumer while nurturing brand loyalty and re-engagement. LivePerson's Proactive Messaging solution and WhatsApp API integration mean you can send promotions, offers, and campaigns at scale. A WhatsApp chatbot can guide the resulting conversation flow, answer customer questions, and even help complete the transaction or registration you're promoting.
---
4. Use WhatsApp messages for customer service (on steroids)
96% of consumers say that customer service is important to their choice of loyalty to a brand. Make it easy for your customers to get support before they make a purchase with a WhatsApp button on shopping cart webpages, simultaneously building a steady opt-in subscriber base for future marketing campaigns. Plus, LivePerson's Proactive Messaging makes it simple to notify customers of various actions needed, from appointment and payment reminders to flight reservation updates and other important customer communication.
---
5. Increase ad conversions by meeting customers where they are
Replace low-conversion landing pages with Conversational Ads that can drive consumers to WhatsApp messenger or Facebook Messenger. Instead of adding another step for them, you'll be able to start immediate chatbot conversations with people already interested in your brand and, at the same time, boost conversion rates and average order value.
---
6. Stay top of mind, all the time
Capitalize on offline ad spend with conversational calls-to-action, as well. You can create an ongoing connection with consumers by driving them to WhatsApp messages with QR codes on print, digital, TV ads, and more. These are all generated by LivePerson's Conversational AI and chatbot platform, and you can tune your WhatsApp chatbot to nurture these conversations down the sales funnel.
---
Now let's talk results that matter
One LivePerson client, a major LATAM bank, built a WhatsApp program with entry points via buttons on its mobile website and app. And the results speak for themselves:
94% first contact resolution
91% customer satisfaction score
1.6 times improvement in agent efficiency when compared to web chat
---
Ready to learn more?
Download our expert guide to using LivePerson + WhatsApp Business, including how our AI can make your own WhatsApp chatbot even more powerful.
---