Blog
article
How a conversational AI strategy transformed The RealReal's customer experience
The power of understanding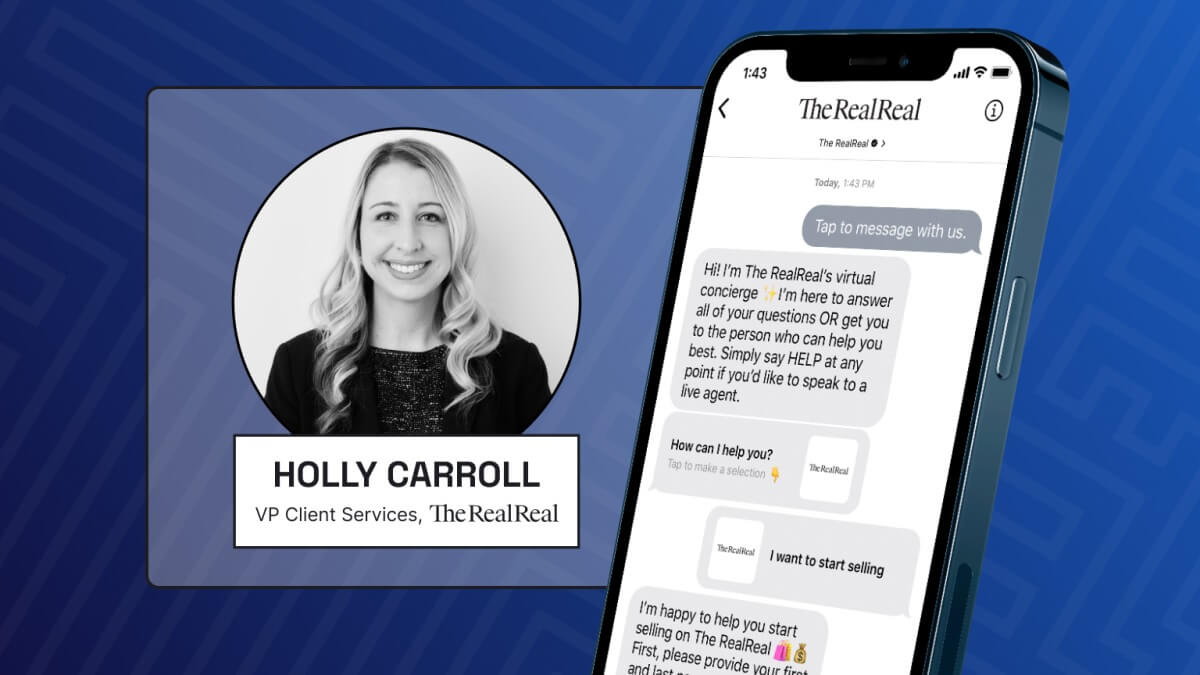 ---
If you had a way to understand exactly what your customers wanted from your brand, what would you do with that information? In a recent webinar, we spoke with Holly Carroll, Vice President of Client Services at The RealReal to hear the story of how her team took learnings from verbatim customer data and turned it into a conversational AI strategy that transformed their customer experience.
---
From David's Bridal to The RealReal: A journey rooted in customer excellence
Holly's journey with conversational AI began during her tenure at David's Bridal, where she partnered with LivePerson and used their conversational AI platform. Together, they pioneered a customer engagement strategy based on the principles of "Easy, Effortless, and Personalized," fundamentally shifting the way customers interacted with the retail brand. Building on this success, Holly's transition to The RealReal marked the beginning of a new chapter in her quest for more personalized and authentic customer service.
---
Bringing the Conversational Flywheel™ to The RealReal
As The RealReal ventured deeper into enhancing customer experience, they discovered the power of the Conversational Flywheel, a framework championed by LivePerson. This flywheel isn't just a concept; it's a dynamic process that integrates advanced conversational AI platforms with human-like conversations, optimizing both customer satisfaction and business efficiency.
At its core, the Conversational Flywheel emphasizes the cyclical nature of customer interaction, fostering continuous improvement and innovation. There are four essential components that make up this transformative approach:
Understand: Dive deep into customer conversations to extract genuine insights, prioritizing verbatim data over assumptions from clicks or hovers.
Connect: Engage customers across platforms, from WhatsApp to Apple Messages for Business, and ensure uniform and consistent interactions with seamless integrations.
Assist: Use intelligent virtual assistants and conversational AI technology to empower, not replace, customer support teams, optimizing interactions and ensuring focus on critical tasks.
Automate: Elevate personalization through automation, scaling up conversational data and refining natural language processing (NLP) and natural language understanding (NLU) to better understand customer intents.
For The RealReal, adopting the principles of the Conversational Flywheel has meant a more intuitive understanding of their customers, personalized interactions on a grand scale, and the ability to keep refining their approach for even better results in the future.
---
Understand: The power of conversational data
One of the key takeaways from the webinar was the pivotal role of conversational intelligence data in enhancing customer experiences. Holly emphasized the value of LivePerson's intent data — conversational AI technologies that analyze and glean insights from customer conversations across messaging and voice — as an invaluable asset for truly understanding their customers' needs.  With the ability to capture real-time, verbatim feedback, The RealReal tapped into an ocean of insights that empowered them to better serve their customers.
---
Connect: Supporting customers when they need it most
As a luxury consignment service, The RealReal often handles belongings that hold both financial and emotional value for their customers — whether on the buyer's side or the consignor's side of the business. Understanding their customers helped them to see new ways to connect and strengthen their customer relationships. For example, they discovered that consignors often sought assurance regarding the handling of their precious items, especially after the drop-off. Armed with this knowledge, they took steps to provide consignors with real-time updates and peace of mind — all with the ability to ask questions to their trusted TRR team via messaging along the way in channels they use every day.
---
Assist: How conversational AI solutions arm bots and agents with the power to personalize
The strategic integration of automation into customer interactions was another cornerstone of The RealReal's conversational AI strategy success story. Holly highlighted the implementation of an API that connected customer information with LivePerson's bot system. This integration allowed conversational AI chatbots and human agents to address customers by name and access background information, fostering a more personalized and luxury experience. These measures not only improved efficiency but also added a personal touch to customer interactions.
---
Automate: A continuous learning process
As Holly peeled back the layers of The RealReal's conversational AI strategy, she revealed the brand's commitment to driving more powerful automation. By targeting specific customer intents and understanding the customer journey, they've been able to lay the foundation for automating a wider range of customer inquiries. The goal is not just to increase operational efficiency but to make every interaction as smooth and frictionless as possible.
Miriam, a LivePerson product expert, added a high-level overview of the conversational AI tools available to make the most of understanding and acting on customer data. LivePerson's conversational intelligence capabilities enable brands to capture and analyze conversation data across multiple channels, transforming it into actionable insights. The result is data-driven decision-making, better targeting of automation and IVR deflection strategies, and the delivery of customer-centric conversational experiences.
---
Get the full story
The RealReal's story is a perfect demonstration of how conversational data can generate rich, actionable insights for brands that transform the customer experience and meet business objectives. If you're eager to delve deeper into this story of transformation and discover how conversational AI strategies can revolutionize your customer experience and strengthen customer loyalty, make sure to catch the entire webinar, on-demand now.
---
---