Blog
article
What the best conversational AI platforms need
Introducing the Conversational Flywheel™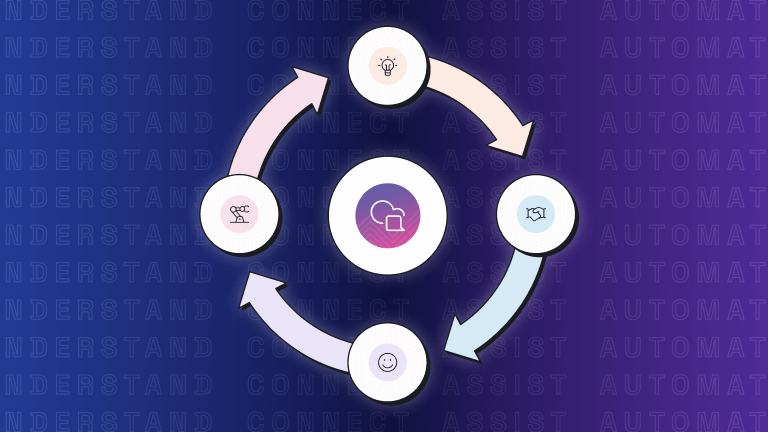 ---
In a time where artificial intelligence (AI) can compose symphonies and robots walk among us, brace yourself for a revelation: the most powerful tool in business isn't a high-tech gadget or a cutting-edge algorithm. It's the humble act of conversation.
What is it about conversations that continue to captivate us? Why have text messages, group chats, and messaging apps like Slack, Teams, and Zoom transformed our world so swiftly? The answer lies in their speed, convenience, and the sense of familiarity they offer. They reflect how we naturally communicate with friends and family, and they serve as a gateway to genuine personalization.
At the same time, businesses grapple with rising customer expectations and demands. As technology grows more complex, it becomes increasingly challenging for customer support agents to access the information needed to serve both customers and the business effectively. And according to consumers, hold time really does matter. In a recent survey of 1,000 consumers, when asked, 45% would remain on the line for just 5 minutes, and 95% would prefer to talk to AI chatbots if the hold time was over 15 minutes.
So, how can brands bridge the gap between maintaining genuine human connections and harnessing the efficiency and seamlessness of modern technology like GPT-4? The solution: Conversational AI.
---
The Conversational Flywheel
Conversational AI is where advanced technology meets human-like conversation, offering benefits for both businesses and customers. First and foremost, it empowers your team by equipping them with advanced tools and valuable insights, enhancing their capacity to provide exceptional customer service and improve customer satisfaction. Second, it accelerates the shift to digital, not merely as a cost-effective strategy but as a proactive approach to meet customers in channels they're already using. Lastly, embracing automation expedites customer issue resolution, enabling customers to self-serve their concerns and get instant satisfaction. 
These benefits elevate service quality, engage customers on their preferred platforms, and increase operational efficiency — all within a continuous, mutually advantageous cycle. We call it the Conversational Flywheel, which comprises the four essential components that the best conversational AI platforms support: Understand, Connect, Assist, and Automate.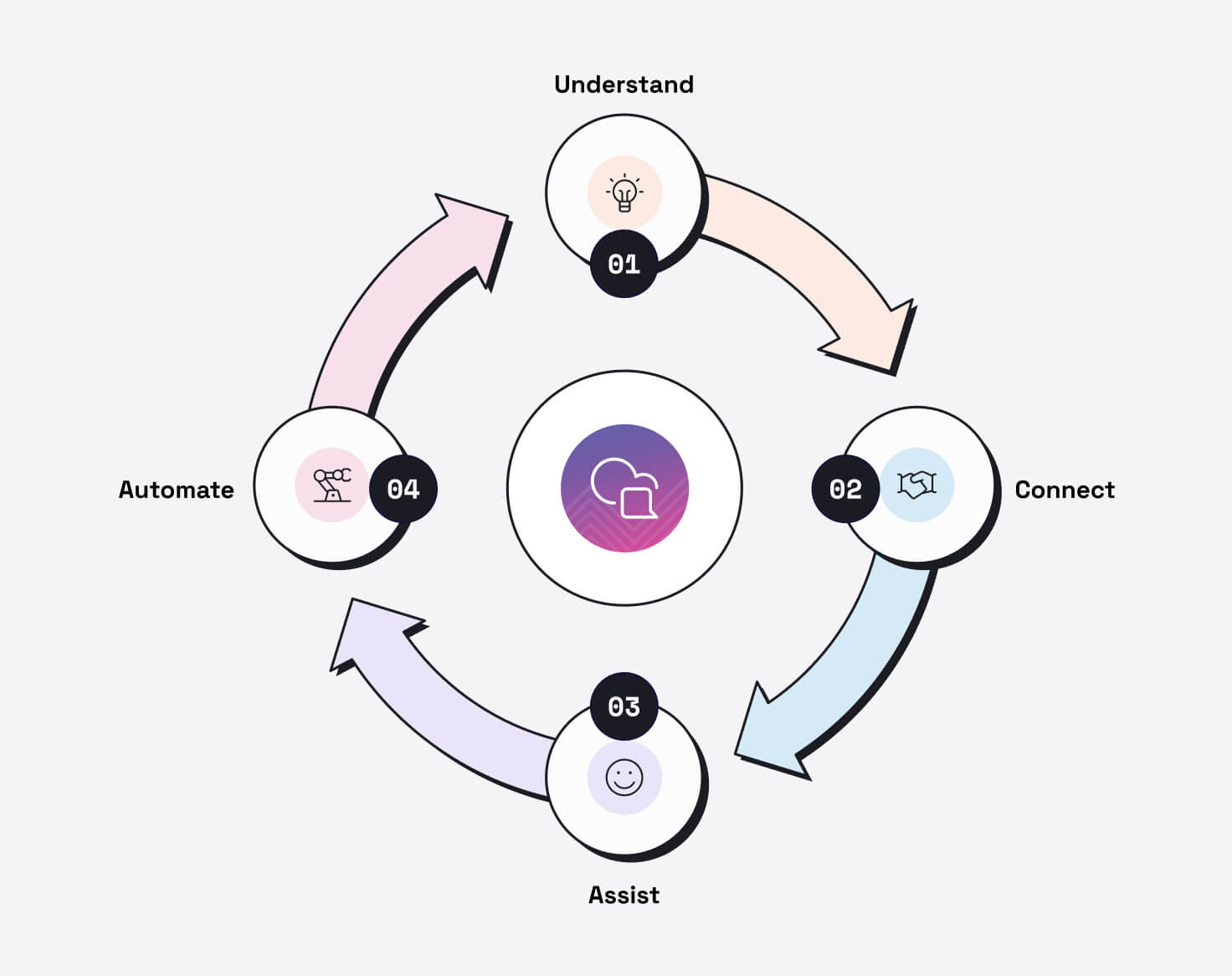 ---
A closer look: The Conversational Flywheel in action
Conversational AI tools have had a transformative impact on brands across industries and across the globe. Let's take a look at some common use cases to illustrate Conversational AI solutions and the flywheel in action. 
Understand – Finding gaps in the customer experience
With Conversational AI, you get access to a rich pool of first-party, verbatim data from customer queries. When used strategically, this data can be leveraged to improve nearly every corner of your customer experience. Here's a real-life example from the retail industry: 
A popular bridal retailer noticed that customers were getting stuck when they tried to initiate exchanges with the brand. Through conversation data, they uncovered that "exchange" intents were routing to the "returns" flow, confusing and frustrating their customers and leading them to attempt less cost-effective channels like voice for support. Instead, they were able to build out a new AI automation flow, just for exchanges, improving customer support efficiency and cutting costs.
Connect – Meeting customers in channels that make sense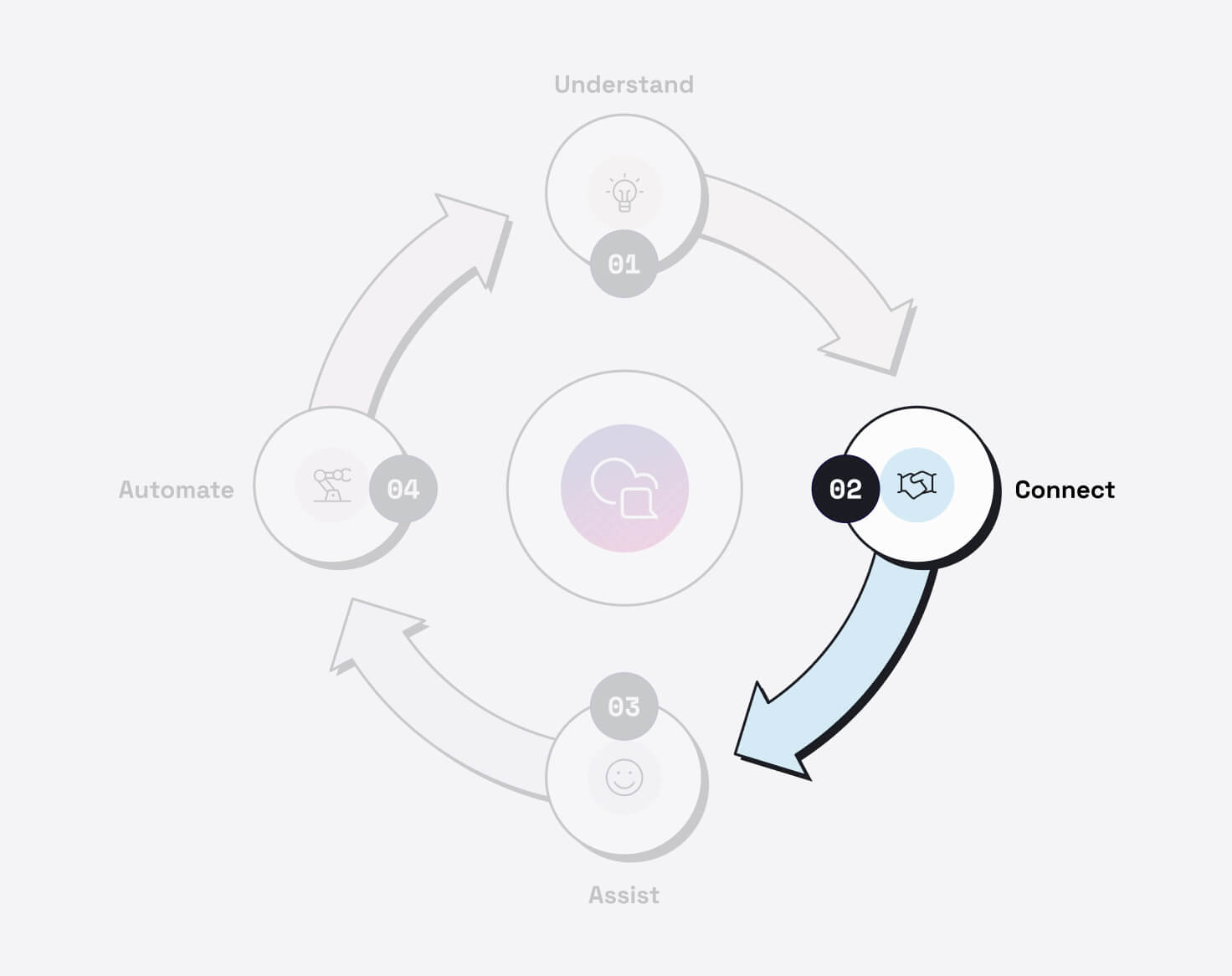 Conversational AI allows you to give your customers the power of choice. That means they're able to engage with your brand on their preferred channel. Plus, with voice and digital channels seamlessly integrated with your conversational AI platform, you create a constant feedback loop of data to continually improve your customer experiences. Let's check out a real-life story from the travel industry:
This top global airline understands that their customers are always on-the-go. And when you're in a loud airport lugging suitcases and children around, it's not always convenient to be on the phone for support. To give their customers more choice, they launched Apple Business Messaging, SMS, and in-app messaging, among others. The airline knew they'd have to educate their customers on the new ways to get in touch with them. To spread the word, they used tools like IVR deflection to messaging, so when customers called they were given the option to "press 1" for messaging. They also used tools like Apple's Message Suggest, which gave customers the option to message when they clicked to call a company in search. Lastly, they put QR codes on in-terminal signage so that mid-travel customers could simply scan and chat. The results? They've seen a 5x increase in messaging adoption since 2019 with CSAT averages in the 90s.
Assist – Enhancing agent support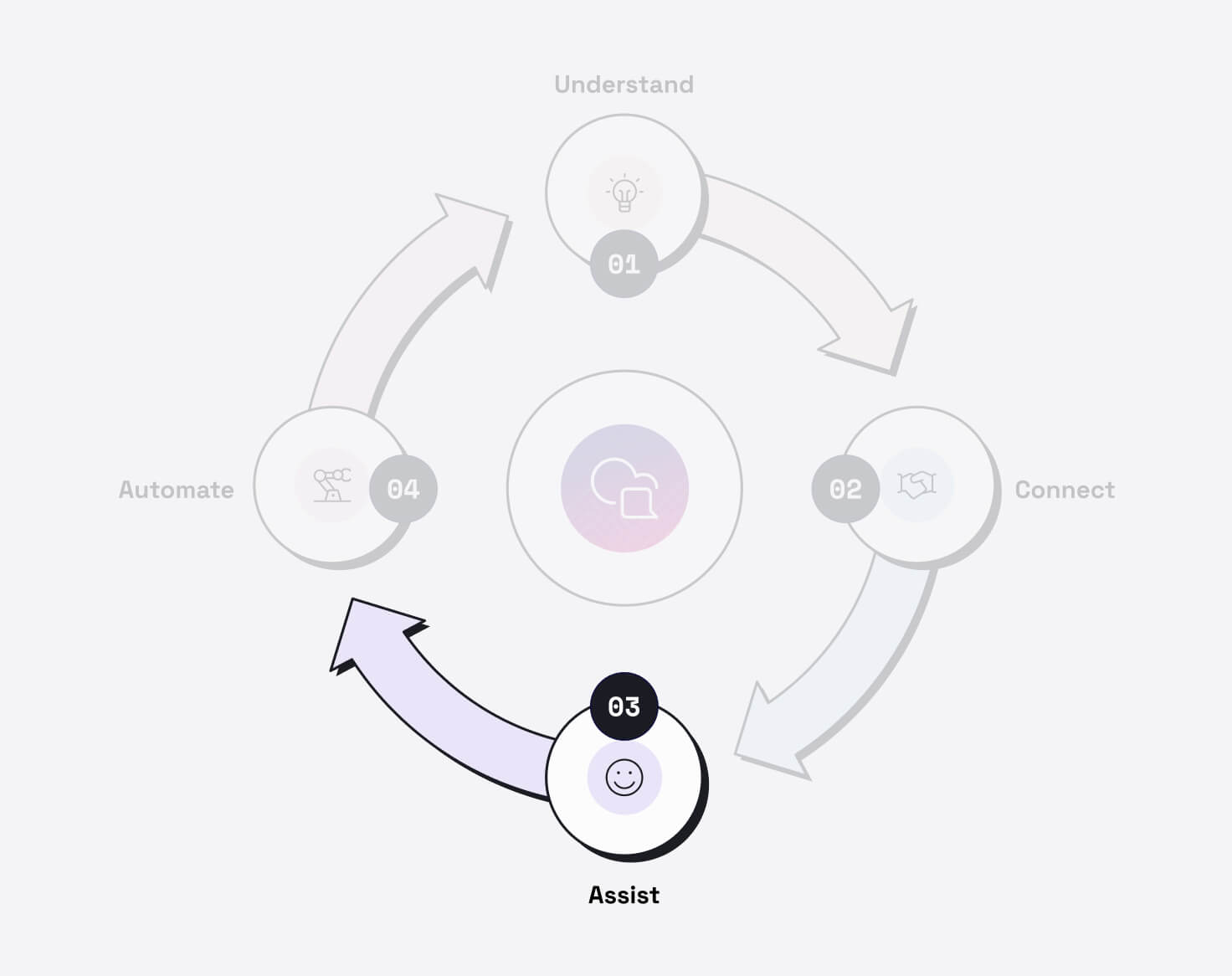 Conversational AI platforms empower your support agents behind the scenes, elevating the customer experience to new heights. One AI-powered automation can provide human agents with responses that have had high success based on customer intent, offer up knowledge base articles to support the query, and more. Here's a look at how conversational AI in contact centers works in the telco sector: 
A prominent UK telco brand has seen great success with messaging and automation — with results like 42% increases in conversion rates and 35% increases in agent efficiency. This led them to go all in on automation, but this time, not just a customer-facing AI chatbot. They now leverage conversational AI tools like LivePerson's Conversation Assist to provide agents with real-time support in customer interactions, making conversations more efficient and experiences more consistent. On average agents using these tools outperform those who don't by 42%.
Automate – World-class customer experiences, world-scale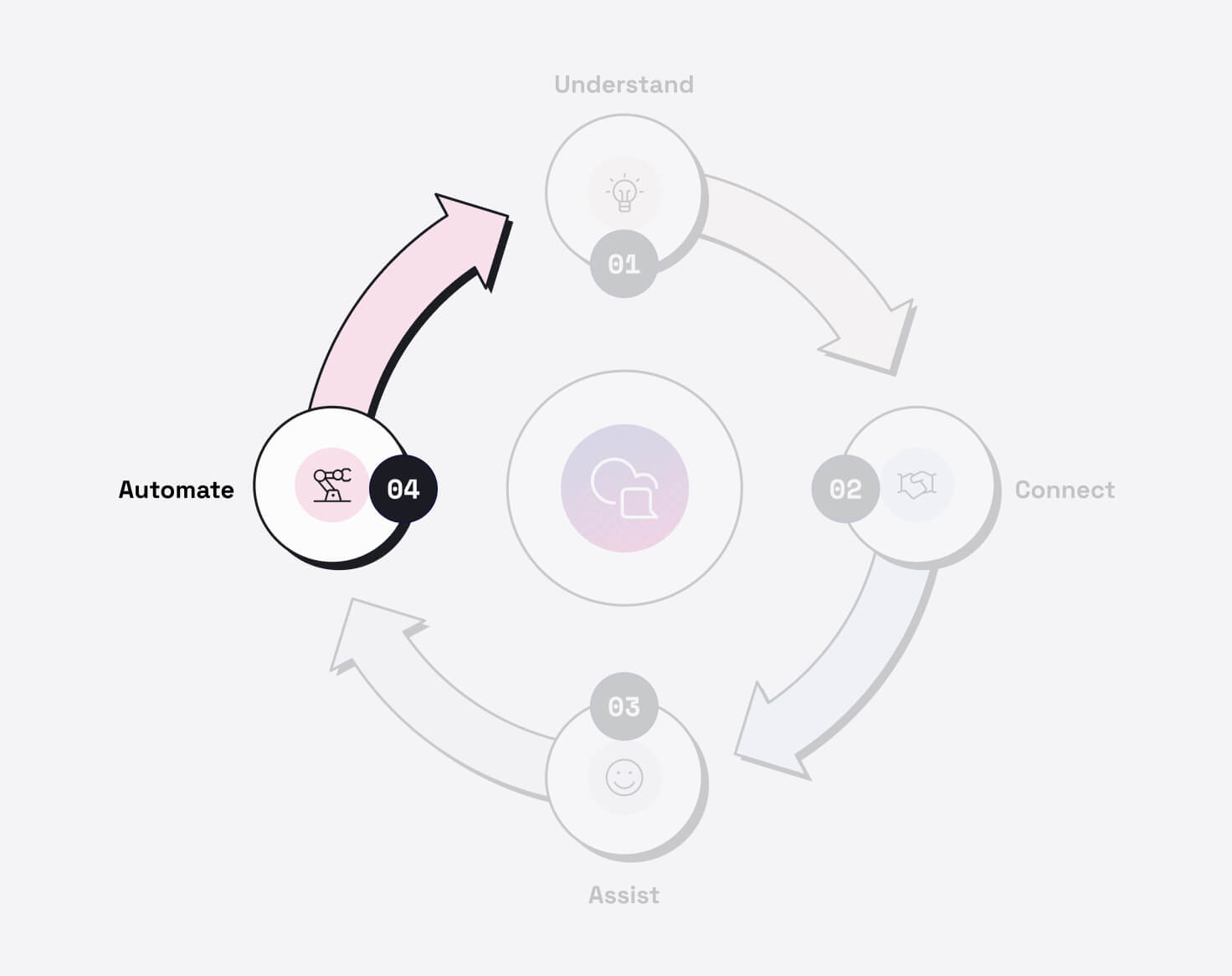 It's easy to think of automation as something cold and impersonal — but, in reality, the best AI acts as an accelerant for best-in-class customer experiences at scale. Take a page from this example at a financial services brand:  
One of the largest banks in the UK was looking to scale their operations so that they could continue on their path of massive growth, without exponentially adding headcount to their agent pool. They decided to lean into automation to help limit the conversations that needed human support and to make those that did more efficient. They used LivePerson's top conversational AI platform for tools like Conversation Builder to empower their agent teams to quickly build and launch AI chatbots that would improve the customer experience. This was so successful that they have now adapted their agent career paths to include tracks like bot builders and managers — after all, who knows the customer pain points better than agents?
---
Final thoughts
Conversational AI transforms customer engagement across industries. While technology continues to evolve, the enduring power of genuine conversations remains the key to building trust, providing support, and delivering memorable experiences for customers.
In an era where technology sometimes threatens to replace human interaction, conversational AI bridges the gap by enhancing the quality of conversations. It allows businesses to meet customers where they are, engage in personalized interactions at scale, and provide timely assistance. The result is not just satisfied customers but loyal advocates who appreciate the human touch, even in the age of AI technology. As businesses embrace conversational AI, they discover the timeless truth that, no matter how advanced technology becomes, conversations will always be at the heart of exceptional customer engagement.
---