Blog
article
What's new in LivePerson®'s Conversational Cloud®: Improving your conversational experience
Meet the latest AI-powered customer engagement improvements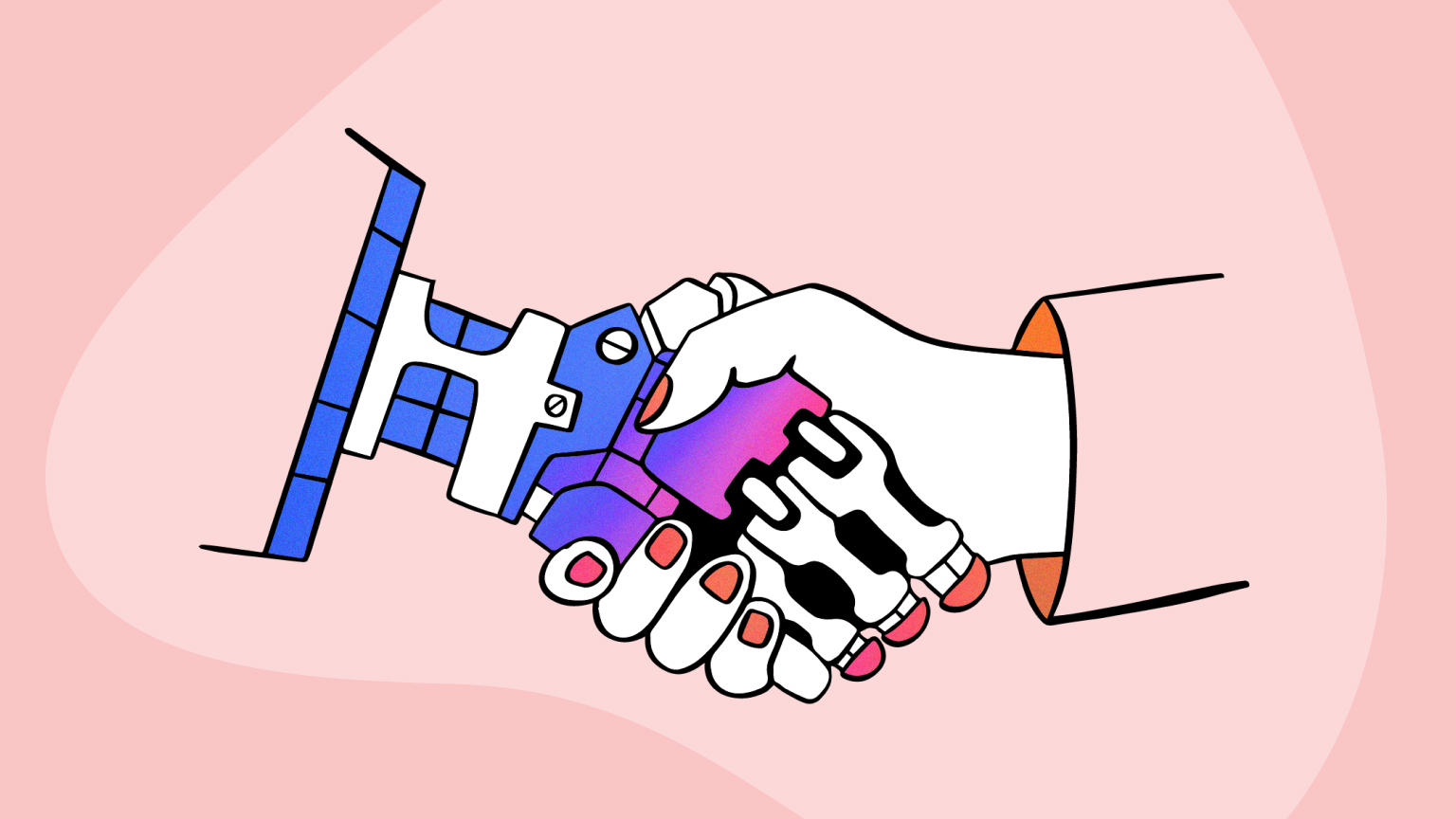 ---
In an orchestra, there are many instruments that need to come together for a harmonious sound, such as the timing of when the violins play and when the cello solo hits — everyone must do their part. Customer conversational experiences are much the same. Multiple entities — the system, bots, and humans — must work together to orchestrate amazing, personalized experiences across the customer journey. That's why LivePerson is delivering new product enhancements this quarter, to better serve brands and their customer experience. 
---
Communication Channels: Updates for creating conversational experiences
Conversational AI goes beyond machine-learning chatbots and into all the different digital communication channels customers are familiar and comfortable with. Brands can have conversations with customers across multiple channels, and measure each interaction's impact to create a holistic view of who their customers are and what they want. This allows them to proactively introduce customers to new products and information. 
This proactive conversational approach allows brands to plan ahead and steer the message, getting ahead of problems before they arise. Tone is a key difference between proactive and reactive communication. Proactive communications tend to be more positive and forward-thinking, whereas reactive ones can seem defensive. Our Proactive Messaging tool allows organizations to initiate conversations with customers by sending outbound messages via SMS, WhatsApp, and the in-app messaging channel. 
Once the consumer responds, it creates a two-way conversation within the Conversational Cloud, increasing connectivity with customers, and the probability of both achieving goals and personalizing the customer experience. Improvements to LivePerson's Proactive Messaging tool include:
Lookback Routing: Route all conversations within a lookback period to proactive skills.
API Handoff: The Handoff API lists WhatsApp MTM messages, template text, and variable names, allowing agents to select an existing WhatsApp MTM template, message, and variables from their web form so they can craft a WhatsApp message directly from that form.
Agent Role: Added ability for agents to send personal messages, which allows them to send proactive messages.
Error Chart: We have added an error chart in the Proactive Web Tools > Analytics dashboard that will help agents understand the error breakdown.
An effective engagement strategy also should include a social media element that is personable and targeted. Through our Twitter connector, brands can now reply only to the author rather than everyone tagged in a tweet. This helps brands focus on the issue or question at hand without including other handles who do not need to be part of the discussion, including competitors who might have been tagged by the customer.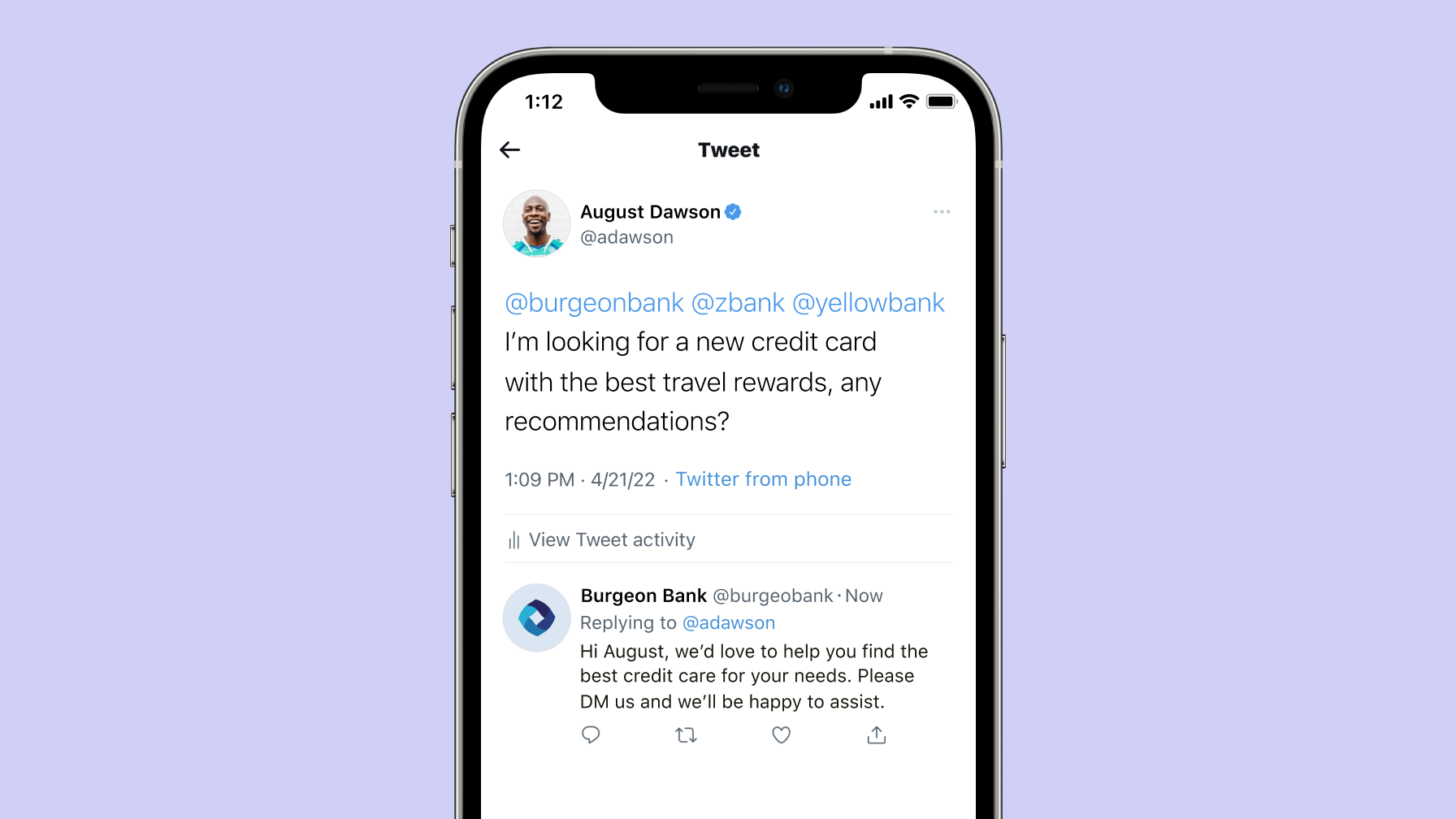 ---
Conversational AI and Automation: Updates in the conversational experience
After personalized and proactive communication, the next step is automation. According to McKinsey & Company, the COVID-19 pandemic collapsed nearly a decade of digital transformation in a few years, forcing many companies to fast track their digital customer engagement strategy. Unprecedented call and text volumes coupled with smaller customer care workforces has forced many companies to think about automation as a necessity instead of a luxury. 
While automation is the goal, not everything can be fully automated. Providing a road to a human agent is always a wise idea. Automations and digital assistants can also help agents solve customer issues more efficiently, both lowering the time they spend per interaction and increasing your CSAT score. LivePerson's Conversation Builder®, our chatbot builder, helps brands do this, and recent updates include:
Version descriptions: We have added the ability to write version descriptions to make it easier to know exactly where conversations were paused. 
Disambiguation dialog: We've improved this feature to catch instances that otherwise would have gone to a fallback.
KnowledgeAI™, one of our Conversational AI applications, unifies and leverages curated content to provide fast answers to common questions and issues, effectively automating consumer conversations at scale. It lets brands seamlessly insert content into customer messages to give accurate answers and engage in rich, automated conversations. Sometimes it's possible to avoid needing an agent — bot or human — at all, allowing customers to quickly and easily find what they need without further assistance.
Conversation Assist™ (within KnowledgeAI) automatically recommends answers and bots to agents, inline in conversations, based on consumer intent and conversation skill. And the On-Demand Recommendations widget allows agents to look up answers and virtual assistant bots on demand, using the Bots & Answers tab to ask any question or enter a phrase to get the appropriate bots and answers.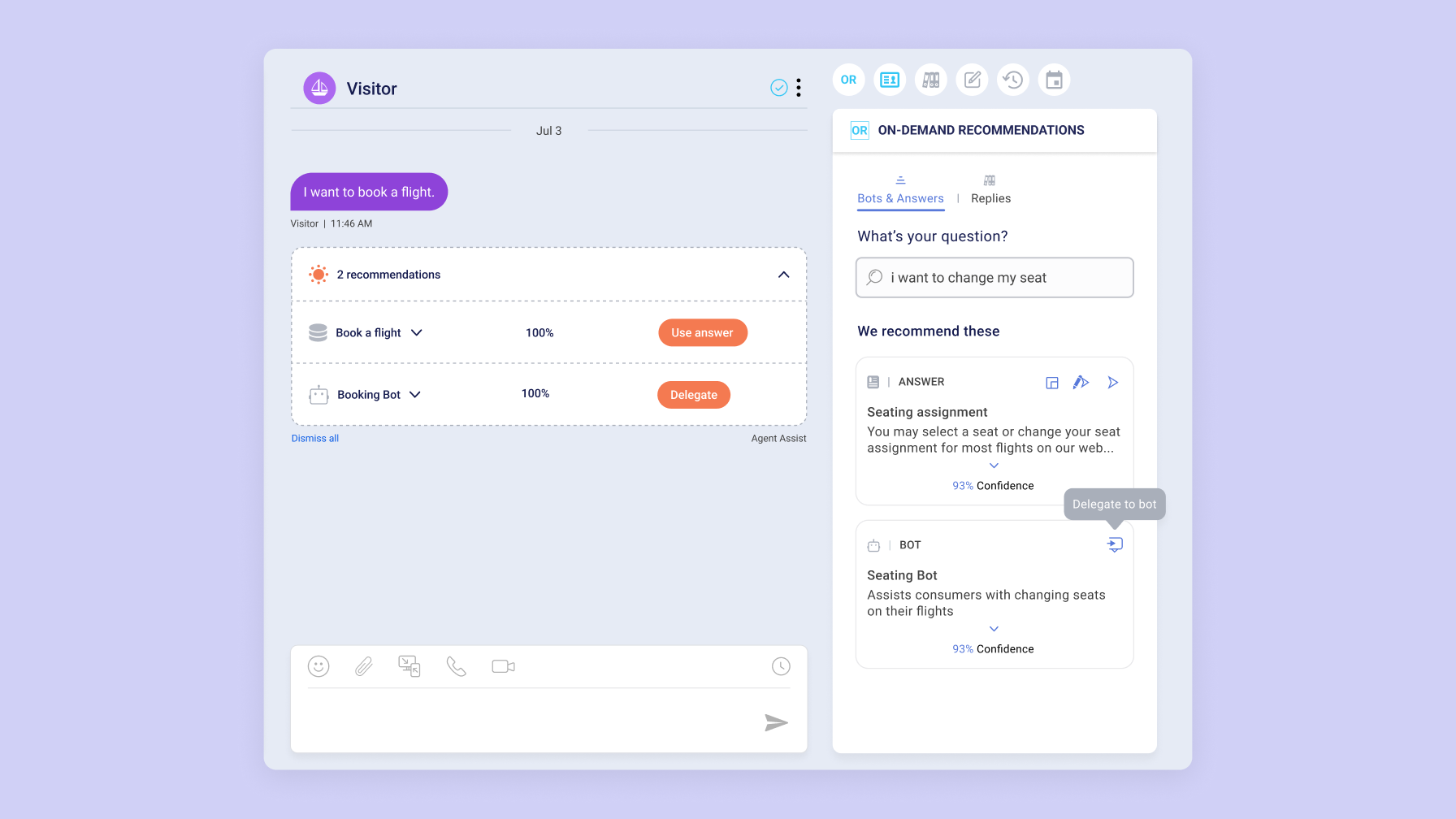 In addition, creating the customized outreach that we spoke of in our proactive messaging section requires obtaining specific data from your customers. To help with this, we have replaced the existing Stanford entity recognition model with a BERT-based model for global entities. This increases the number of recognized entity types, and improves the entity recognition model in our natural language processing. For instance, instead of asking for location, you can specifically ask for an airport, city, street name, and country. 
---
Conversational Intelligence: Updates for measuring the conversational experience
Conversational Intelligence is the way we gain a deep understanding of consumers through insights from every conversational experience, which applies learnings across the enterprise to improve every Curiously Human™ interaction.
Another way to put it: Conversational Intelligence is the knowledge you can attain from conversations agents have with customers.
This is important so brands can record and analyze conversations from both sales and service calls to help reps easily access key information across the customer journey, speed up data entry into your CRM, and pass information to other stakeholders. It improves onboarding and makes training new employees much easier. 
Analytics Builder — our primary conversational analytics tool — provides vital business insights that enable data-driven decision-making for optimizing contact center operations, tracking, and increasing revenues. Using the Analytics Builder, managers can slice-and-dice their operational and business data according to measurable brand-specific KPIs. They can track historical performance data about individual/groups of agents and bots, conversations, skills, channels, campaigns, queue health, and surveys.
In order to help further your customization and analytics gathering for conversational experiences, LivePerson has released several new updates, including:
A new messaging performance template: A new "Templates" folder will become available for editors under the "LP Predefined Dashboards" folder. This folder will contain empty reports templates, allowing editors to easily create their own reports, without any built-in preview.
ConversationId for survey data: The conversation unique id has been added to the survey dashboard (for both post conversation and agent surveys), allowing brands to analyze the data all the way down to the conversation level.
New metrics 

Survey Dashboard: A new dedicated metric for each possible answer of the post-conversation survey's predefined questions (CSAT\NPS\FCR) is now available for editors under the "Survey Answers (Agent and Skill)" dataset.
AGENT ONLINE LOAD and AGENT AWAY LOAD: One of the key measurements to track the agent utilization is the AVG.AGENT LOAD. In order to differentiate the load in the different states, the AGENT ONLINE LOAD and AGENT AWAY LOAD are now available to be used by editors under "Agent Utilization" dataset, exposed in both "Messaging Performance Dashboard" and "Agent Operations Dashboard."
---
Agent and Supervisor Experience: Management and metric updates
Our agent and supervisor conversational experience products empower agents to provide unified and efficient Curiously Human™ customer engagement across channels, improve agent tools, provide context in real time, and increase supervisor visibility.
These products also help managers manage their workload and their employees. Manager Workspace is our landing page for messaging agent managers, which provides a centralized location for the data and agent information needed to manage a shift. It includes messaging data and messaging agents' performance.  
We have made a few changes to our Manager Workspace and added a few new features to help managers fully understand their agents' performance. For example, agent managers can see the current queue volumes, but it's a snapshot in time. With our new Queue Health Tracker, we have a visual graph that shows agent managers the queue size for the period selected on the Manager Workspace filters. This allows them to track the queue and identify trends. The graph also allows managers to view the queue by Skill (employee), which shows potential issues growing with a particular Skill and allows the Manager to view performance throughout the day.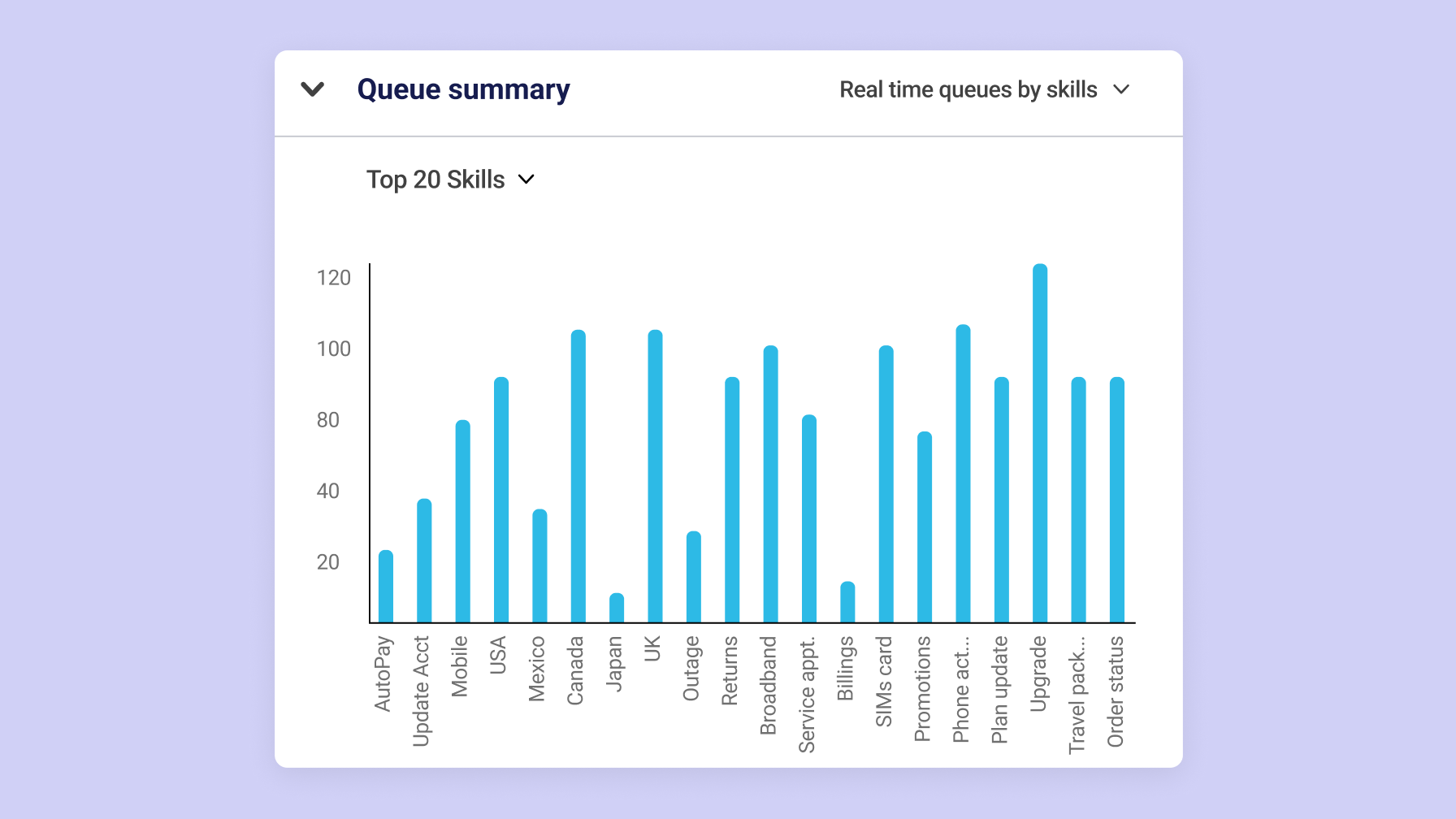 In addition to this new feature, we have also replaced the CSAT with NPS as a KPI. And we have not forgotten the administrative experience. We have enhanced our Engagement Controller (EC) capability to use Agent Online and agent load as rule criteria. Agent Online will streamline how brands manage onboarding their agents, and average Agent Load will enable brands to target based on the agent capacity.
---
Open Platform: Updates for better conversational experiences
Personalize and streamline your customer engagement with connections to systems that break down technology silos and enable better automation. The Conversational Cloud is an open platform that can be integrated with third-party services through a comprehensive set of APIs and SDKs. LivePerson Functions makes this process even easier by offering serverless customization and integration with the ability to create custom automated workflows within conversational experiences. As times and technology change, we are constantly expanding our third-party connectors and improving our open platform capabilities. 
According to recent LivePerson research, 88% of consumers say they are more likely to buy from companies that connect the history of their interactions. Our most exciting new third-party capability is our CRM Connector: a tool that extends its CRM integration capabilities into Webex Calling. Doing this, brands can deliver a connected, streamlined experience for both agents and customers. Benefits may include improved data accessibility, consolidated workflows, and more personalized and relevant customer interactions at scale. The CRM Connector helps brands modernize contact centers and conversational experiences by connecting Webex Calling with market-leading CRM systems such as Salesforce, Microsoft Dynamics, and ServiceNow. It is now available through the Webex App Hub.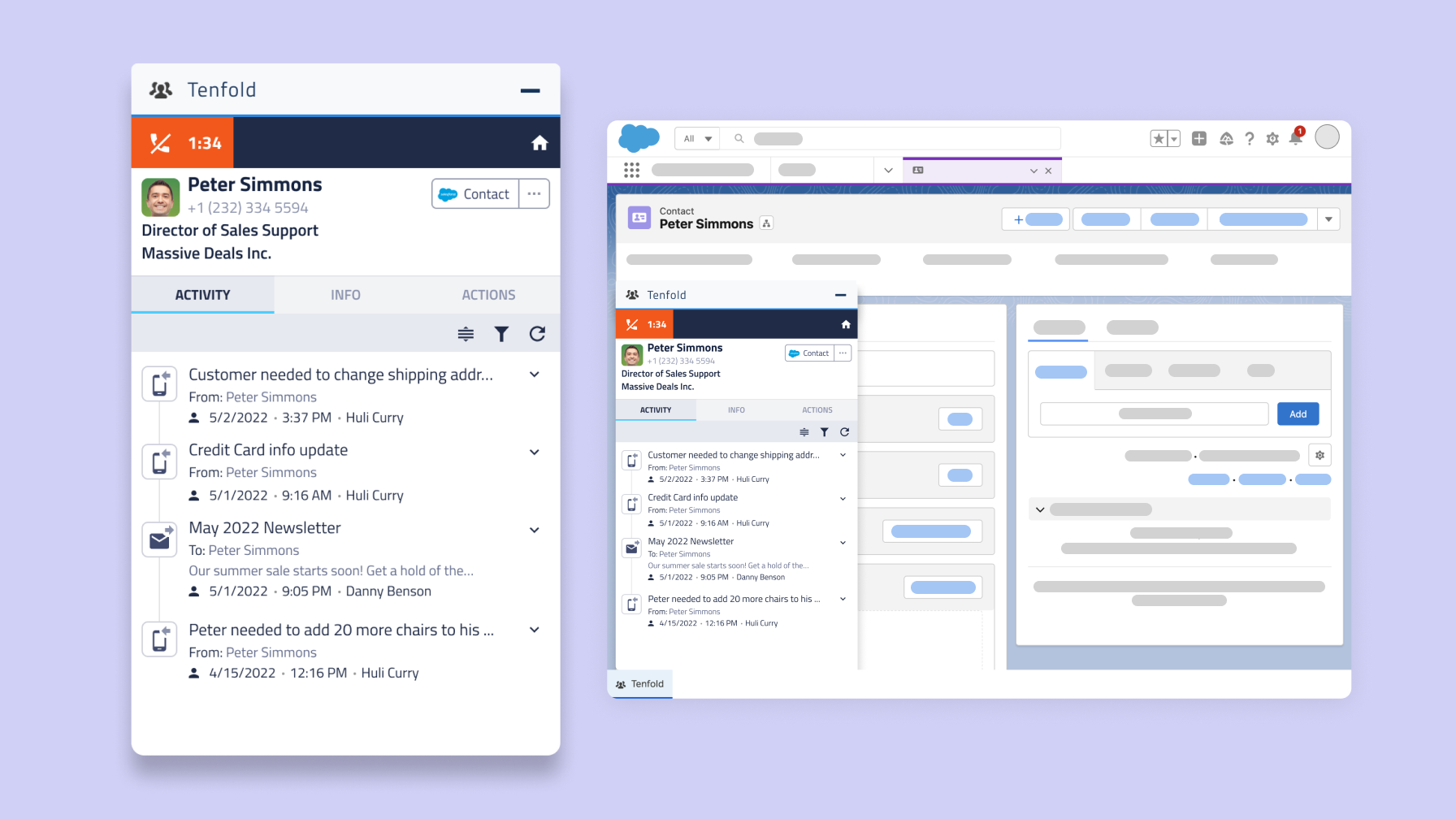 Additional updates to our APIs include enhancing handle time — the time an agent has a conversation selected within the enhanced agent workspace — to take into consideration an agent's "away state" as well as improved API security requirements.
And finally, we have updated our Medallia iHub integration to trigger surveys based on conversation interactiveness. Sending surveys to consumers who aren't interacting with your brand can negatively impact your CSAT score without cause. Our new survey trigger will allow you to send surveys only to engaged consumers by specifying the minimum number of messages that must be sent by the bot/human agent and by the consumer for the survey to be triggered. 
---
As you can see, the orchestra analogy is fitting. A brand needs all parts of its customer conversational strategy working together in order to perform a masterpiece. When these pieces are working seamlessly together, brands can create that for every stakeholder involved, whether they are the agent, the customer, the marketing manager making the hard decisions, or the person in charge of the call center. 
---
Stay updated on the latest LivePerson product details and scientific approaches
---