In the News
Bloomberg TV: LivePerson CEO shares vision for Conversational AI and our automated future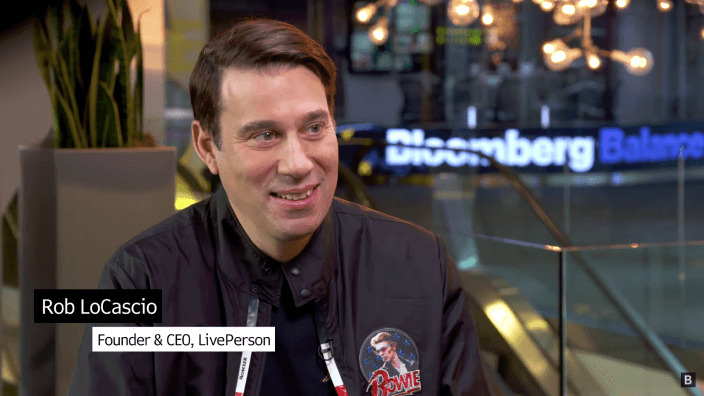 ---
LivePerson founder and CEO Rob LoCascio joined Scarlet Fu, Bloomberg Television and Bloomberg QuickTake host, for a conversation as part of the Cornell Tech @ Bloomberg Speaker Series. Rob shared the story of LivePerson's transformation from a chat provider to an AI innovator, and his vision for a future of customer experiences driven by Conversational AI chatbots that can truly listen and understand.
---
How LivePerson builds world-class Conversational AI chatbots
Rob shared with Scarlet how LivePerson launched its Conversational Cloud platform, which empowers brands to deploy Conversational AI to handle the customer journey, ranging from customer service inquiries to commerce.
Conversational AI requires huge data sets to improve, and LivePerson generates about 80 million conversations on its platform every month. Its vault of conversational data, going back over 25 years, gives LivePerson the ability to create true Conversational AI chatbots — not limited to a set of predefined commands, like "turn off the lights."
The true future of Conversational AI will allow for a real, human-feeling conversational flow, where the AI understands everything from a customer's intent to their emotion.
---
Customer service and contact center reps will help build and run the automated future
Rob and Scarlet also discussed how human agents in the contact center will help build the automated future. After all, they are the world's best experts in helpful conversations between businesses and consumers. As brands increasingly set consumer-facing AI chatbots as their first point of contact with their customers, the experiences these agents have will be critical to deploying, optimizing, and managing them.‍
---
Want to learn more about implementing Conversational AI?
Conversational AI is so much more than just "chatbots." Learn how you can automate and scale consumer interactions on the most popular messaging channels without hiring an army of agents.
---